At Kernow Coasteering, Praa Sands is where we do our coasteering most often. Here we look at why we like coasteering at Praa Sands so much.
Why is Praa Sands' coasteering our number one choice, with so much beautiful coastline on offer in west Cornwall? The reasons are many, but principally coasteering at Praa Sands offers the perfect mixture of an incredible coasteering route, relative shelter from the Atlantic Ocean, as well as a very convenient location for our guests.
Book Your Coasteering at Praa Sands Now!*
*If you book our 'Coasteering in West Cornwall' experience, the chances are you will be coasteering at Praa Sands. But do note that in certain weather conditions we will have to go to one of our other fabulous locations instead.
Kernow Coasteering have been using Praa Sands as its principle coasteering venue since 2014, and as soon as KC owner, Matt George, discovered it, it quickly became our primary route. It remains popular with our customers, many of whom have returned to do coasteering at Praa Sands with us many times.
Needless to say, no provider of coasteering has been coasteering at Praa Sands for as long as us. We know it intimately and have an unmatched knowledge of all its nooks and crannies, as well as how to use it in all viable sea conditions.
Coasteering at Praa Sands offers just the right balance of ingredients to provide a route we can consistently offer to people wanting to go coasteering in Cornwall.
"We've been coming Coasteering with Kernow Coasteering for five years, and today's session off Praa Sands was just fantastic."
---
Cornwall's #1 Coasteering Adventure
Praa Sands offers a top-quality coasteering experience whilst being easily accessible. After just a few minutes' walk from the car park, you will already be straight into your coasteering activity. That's infinitely better than having to tramp the southwest coast path for an hour whilst wearing a 5mm wetsuit!
At Kernow Coasteering we are proud of providing some of the best coasteering Cornwall has to offer. That means a healthy dose of adventure, for those seeking it. There are many remote stretches of the Cornish coastline that provide very adventurous coasteering in magical, hidden-away locations. But they are not very practical for taking groups to.
These coasteering routes are usually extremely remote, necessitating a long walk-in, difficult cliff access and few escape points. On top of all this, it is often the case that coasteering at these locations can only be carried out rarely, when the seas are at their calmest.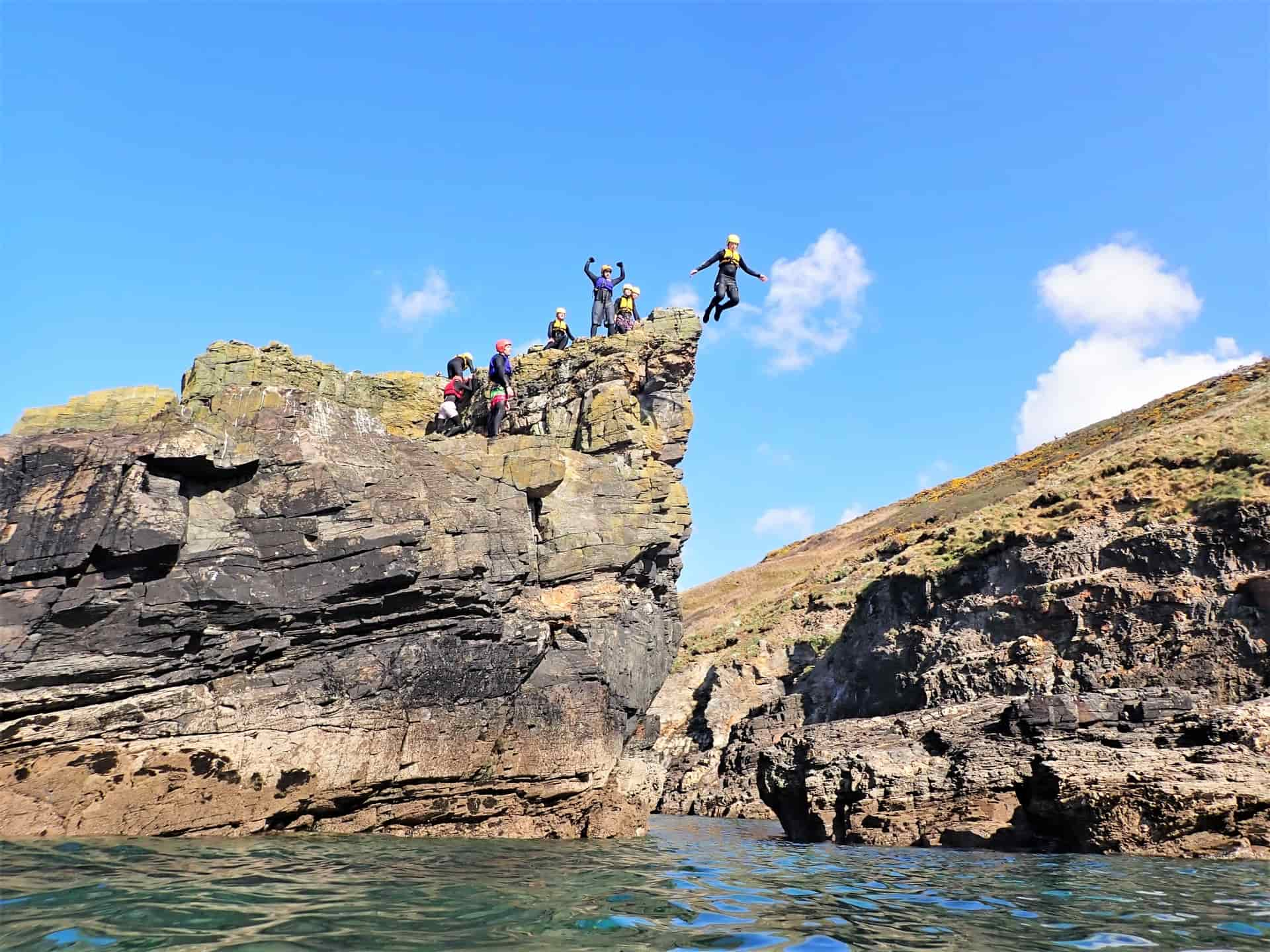 In our opinion, and great coasteering route should offer a large selection of jumps of all sizes. Cliff jumping is what most people associate coasteering with, so one could argue that that is the most important ingredient of all. Praa Sands offers a bewildering array of cliff jumps. Depending on the tidal state and conditions, there are approximately 30 different jumps of between 3 to 10 metres to go at here! That's an incredible tally for what is quite a short stretch of coastline.

You'll never do them all in a single session, as some come into condition at different stages of the tide, and some require very high spring tides to be usable at all. This is one reason our customers keep returning to coasteer with us, as we can always show them something new.
---
Praa Sands Coasteering Isn't Just Cliff Jumps
Here at Kernow Coasteering, we're always keen to point out that cliff jumping is just one element of coasteering, and there are many other activities that make up coasteering. Chief among these is simply explloring the coastline. Coasteering allows one to explore the coastline in a unique way. It's the most tactile way of exploring at sea-level, as you literally get up close and personal with the rocks. Unencumbered by craft, such as a kayak or SUP, you can explore every nook and cranny of the coastline.

Therefore, its only right that a top-quality coasteering route offers premium features to explore. Praa Sands has a huge number of narrow gullies to explore. In addition, it has some nice sea caves, and best of all, it has several through-caves and arches that form the highlight of the route.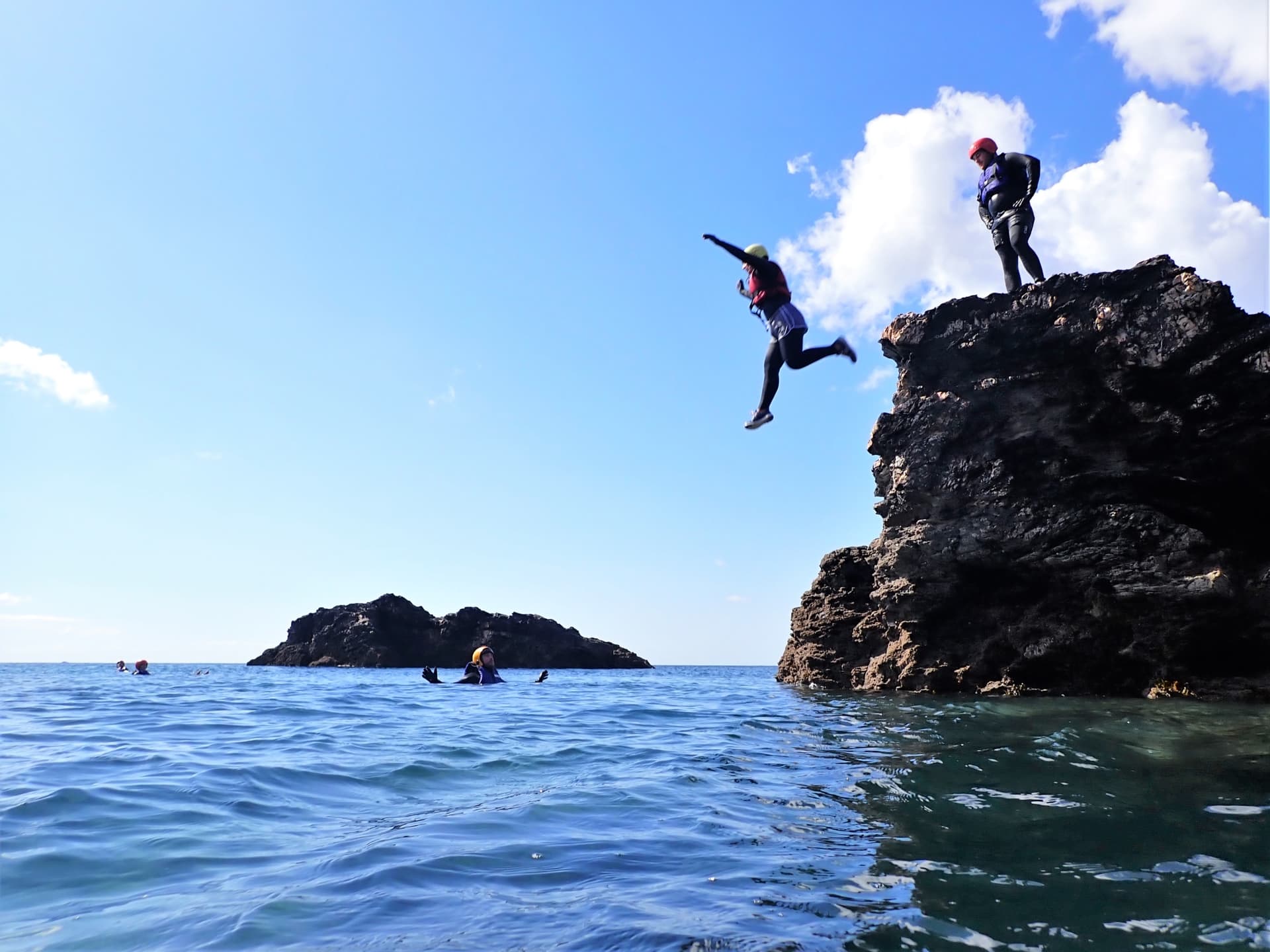 One of the features that makes Praa Sands such an excellent route is that a large amount of the route is comprised of lots of tiny islands. So rather than being compelled to go on a simple linear journey from point A to point B, we have incredible versatility to wend our way between these islands, enjoying all of their features and jumps.

This means we have limitless flexibility to respond to almost any state of swell or tide, to give each group a tailored coasteering experience that best suits the conditions on that day, as well as best suiting the groups' abilities and aspirations.
The largest of these islands is called Lazy Bank island. It's an impressive piece of rock, and is home to two fantastic tunnel-like sea arches, as well as multiple cliff jumps, including some of the largest jumps on the Praa Sands route.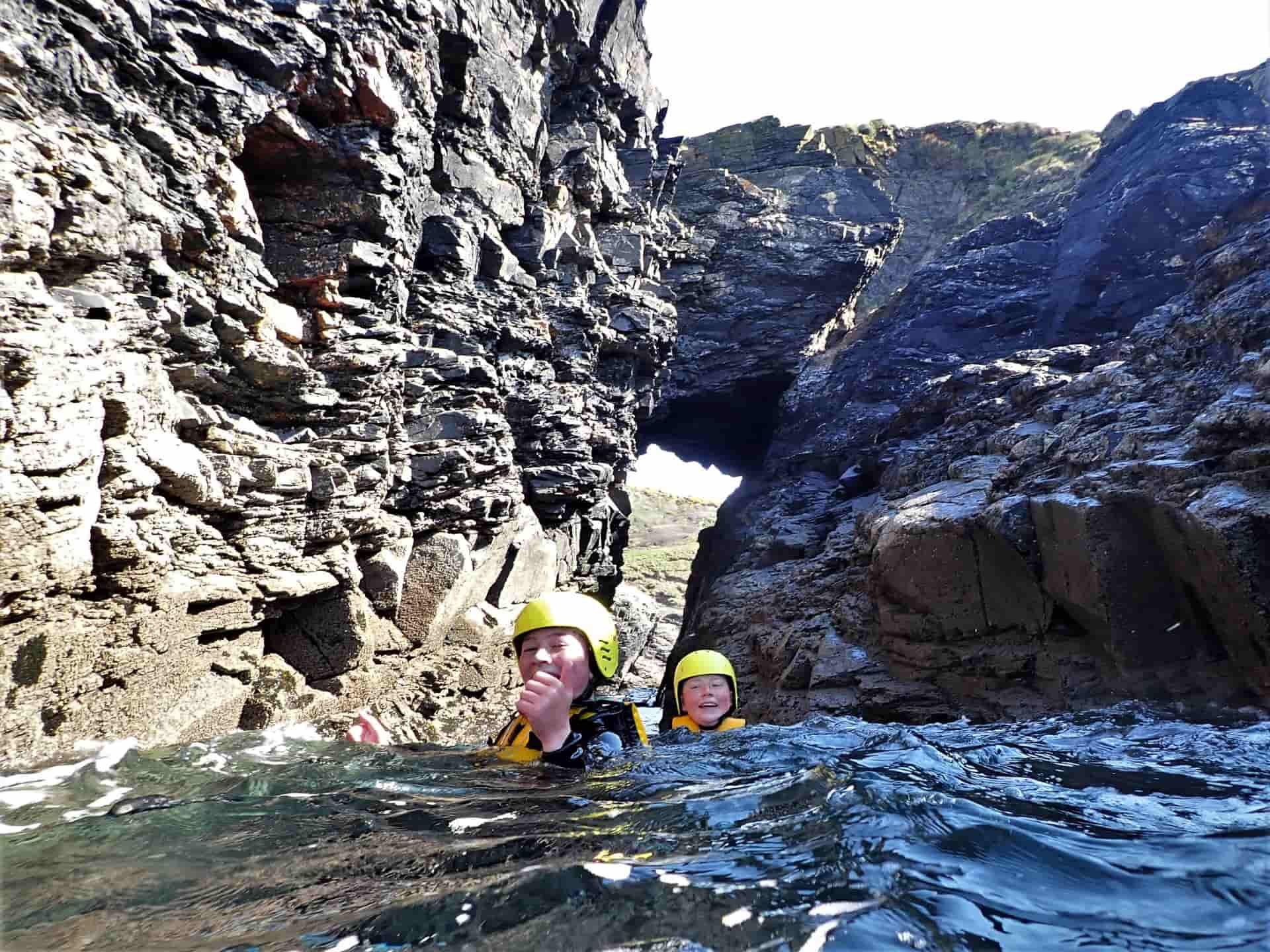 ---
Coasteering in the Atlantic Ocean
Let's not forget that the peninsula of Cornwall juts out into the Atlantic Ocean. The Atlantic is rarely still and as a result, Cornwall is very exposed to the swell coming in from the open ocean. Nowhere is this more apparent than in west Cornwall.

Another huge advantage Praa Sands gives us is its relative shelter from the ocean swells that harass our coastline. Being situated on the south coast of the peninsula means it enjoys much more shelter from the swell than the north coast. We have sites that we use for coasteering on the north coast, but as a comparison, we can only coasteer at these places a handful of times a year, when the sea is calm enough.

If the south coast didn't enjoy this shelter, it would probably be impossible to be able to offer coasteering in Cornwall to the public on a regular basis. I did say relative shelter though. The seas are still often volatile at Praa Sands, but the geography of the route means we can still coasteer here when the seas are quite rough.
Many of the gullies are sheltered from the brunt of the swell and the lee side of the islands that make up the route are always relatively sheltered from the open sea. Make no mistake though, the seas here do still get pretty rough. But, our years of experience on this route mean we can safely lead coasteering here, even in challenging conditions.

Now, there are even more sheltered locations in west Cornwall. However, they do not offer the other key ingredients needed for good coasteering. In other words, they lack any jumps worth speaking of, and they lack the exciting coastal features needed for a proper coasteering adventure.
---
Coasteering with Wildlife at Praa Sands
Coasteering is always a great opportunity to see the wildlife that inhabits the intertidal zone where we carry out our activity. The most noticeable types of animals found at most coasteering sites will be the seabirds that live and breed here. As this is their home, it's essential that we respect these species and don't interfere with their behaviour. This is particular important during the spring and early summer when they will be laying eggs and attempting to raise young.
When Coasteering at Praa Sands, the two most common types of birds we see will be herring gulls and European (or common) shags. Whilst shags tend to choose quite inaccessible sites for their nests, gulls tend to be less fussy. So it is, that we occasionally have to temporarily re-route our coasteering to avoid a seagull nest which may contain eggs, and hopefully, eventually chicks.

As we coasteer the route regularly during the time that birds are raising their young, it can be a real pleasure to watch this process, from when the little balls of fluff emerge from their eggs, to when the chicks finally fledge and take their first tentative flights around the area.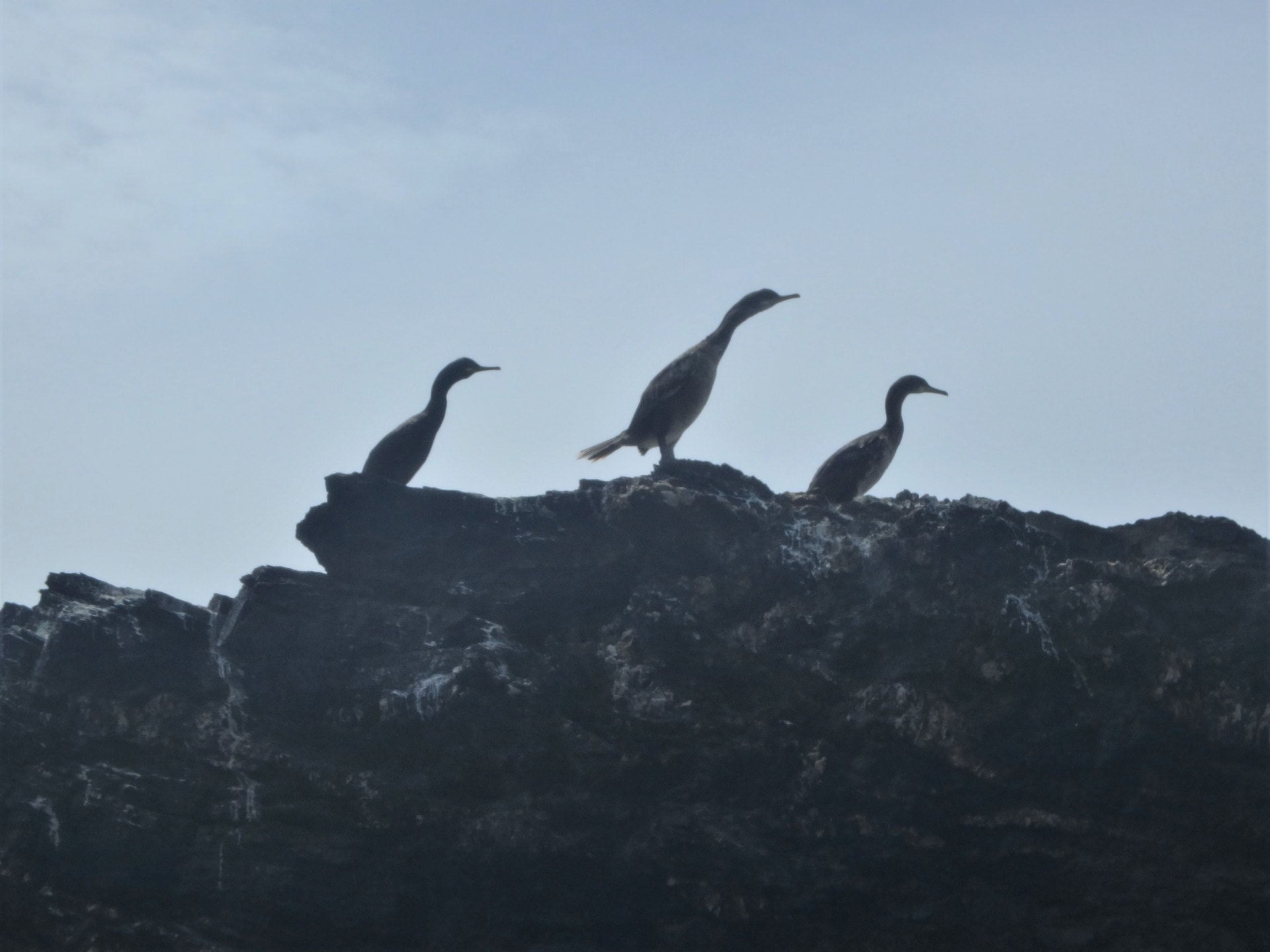 One particularly heart-warming tale took place in 2019. A pair of herring gull siblings had fallen from their nest of the cliffs and landed on a large ledge below. Despite landing in a relatively safe space, once they have fallen from the nest, their odds of survival drop dramatically. We did not expect them to make it.

But, as we continued to visit over subsequent coasteering sessions, they were still there, and the parents were still diligently watching over them. However, one day they were gone. We feared the worst, as they were no longer on their ledge. We'd assumed large waves had washed them off of their ledge, or a predator, such as a black-backed gull, might have taken them.

But, to our delight, we found them safe and well on another ledge, short distance across water away. Had they taken their first flaps to get there, or had they swum? We'd like to think that maybe they had indulged in some seagull coasteering! But at least they were safe, and there they remained for some time still. Finally, they were ready to take their first flights, and as far as we could tell, both of them successfully fledged. So, Sammy and Cecil, the world's first coasteering seagulls, we hope you're still out there, and we look forward to seeing you when we're coasteering at Praa Sands!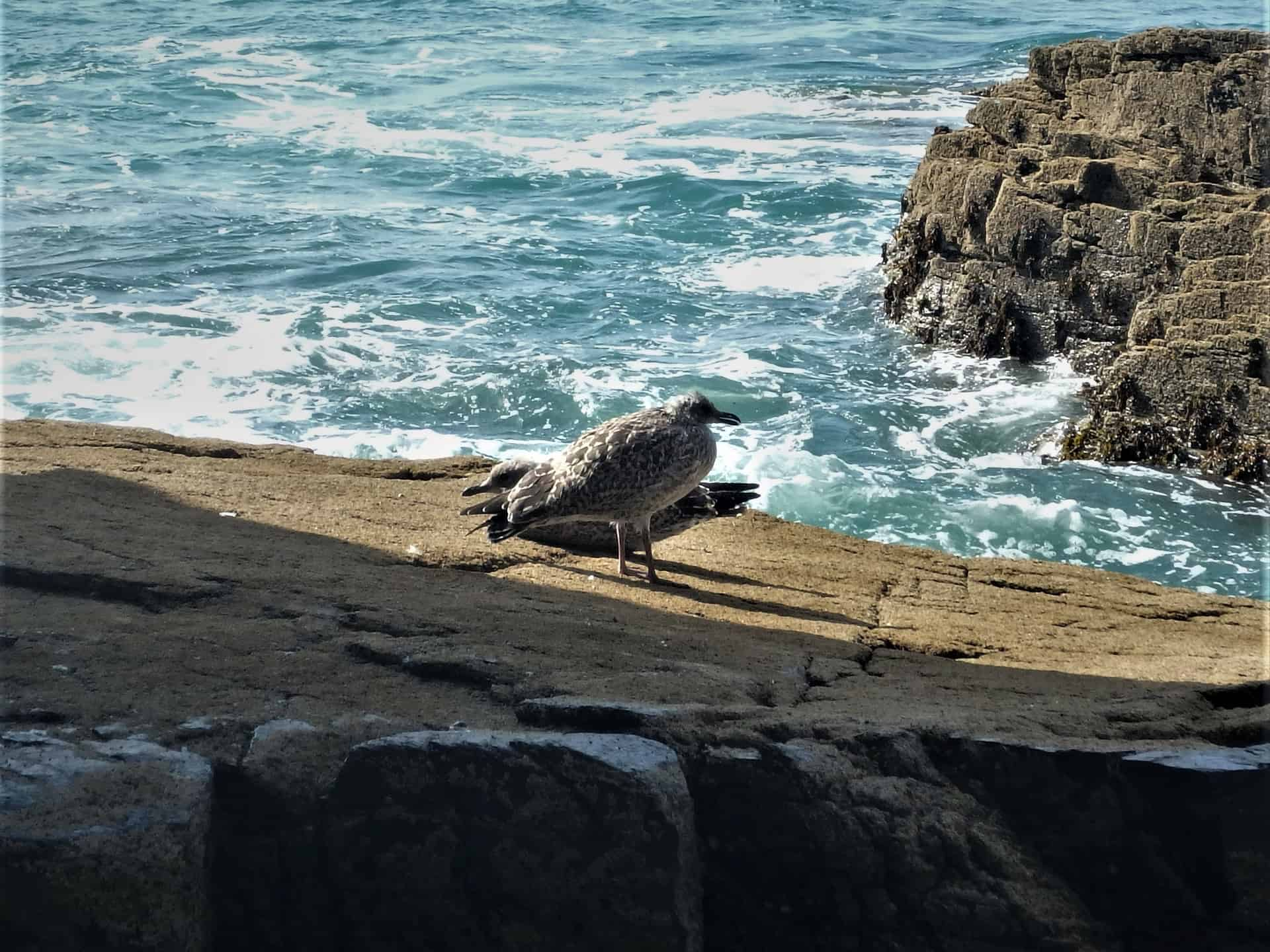 Back in the water, we may often overlook the millions of animals we come into close contact with every time we coasteer. They might not appear to 'do much', but they are key players in the intertidal ecosystem. These are the tiny crustaceans that adorn almost every rock surface we coasteer across.
We are talking, of course, about barnacles. Barnacles have been on earth, clinging to rocks, for at least 500 million years, meaning they definitely have the ultimate squatters' rights when it comes to the coasteering environment.

There are over 1400 species of barnacle to be found across the globe today. But, the most common barnacle to be found in British waters is the acorn barnacle (semibalanus balanoides). They can be up to 15mm in diameter and are characterised by their diamond-shaped aperture. The soft, fleshy animal dwelling within, is a filter feeder, and extends a feather-like frond through its aperture when submerged. This appendage captures zooplankton on which the animal feeds.
When coasteering, barnacles are simultaneously your best friend, and your worst enemy. Novice coasteerers, in particularly, tend to incur a few barnacle grazes at the very least, as they tousle with these sharp-shelled creatures. However, a surface encrusted with barnacles is possibly one of the grippiest surfaces to be found in the natural world. They provide unmatched grip, allowing us to move with surety over barnacle-covered ground. We really notice it when they are absent. Wave-washed rocks, devoid of barnacles, are comparatively much harder to move across. Their slippery surfaces must be traversed with much greater care to avoid any coasteering mishaps.

The barnacles are engaged in a never-ending war with various competitors for the rocky real estate to which they cling. Chief among these is the common limpet (patella vulgate). Limpets will actively displace barnacles, as will mussels. In addition, barnacles have a number of predators, such as whelks, which can drill through their hard shells to reach the soft animal inside.

The flora and fauna that inhabit the coasteering environment may not be overtly impressive, but these lifeforms have all adapted to survive in the intertidal zone, one of the highest energy environments on earth. Any living thing that can survive the relentless winter storms that bring gigantic waves to our Cornish shores certainly deserves our respect.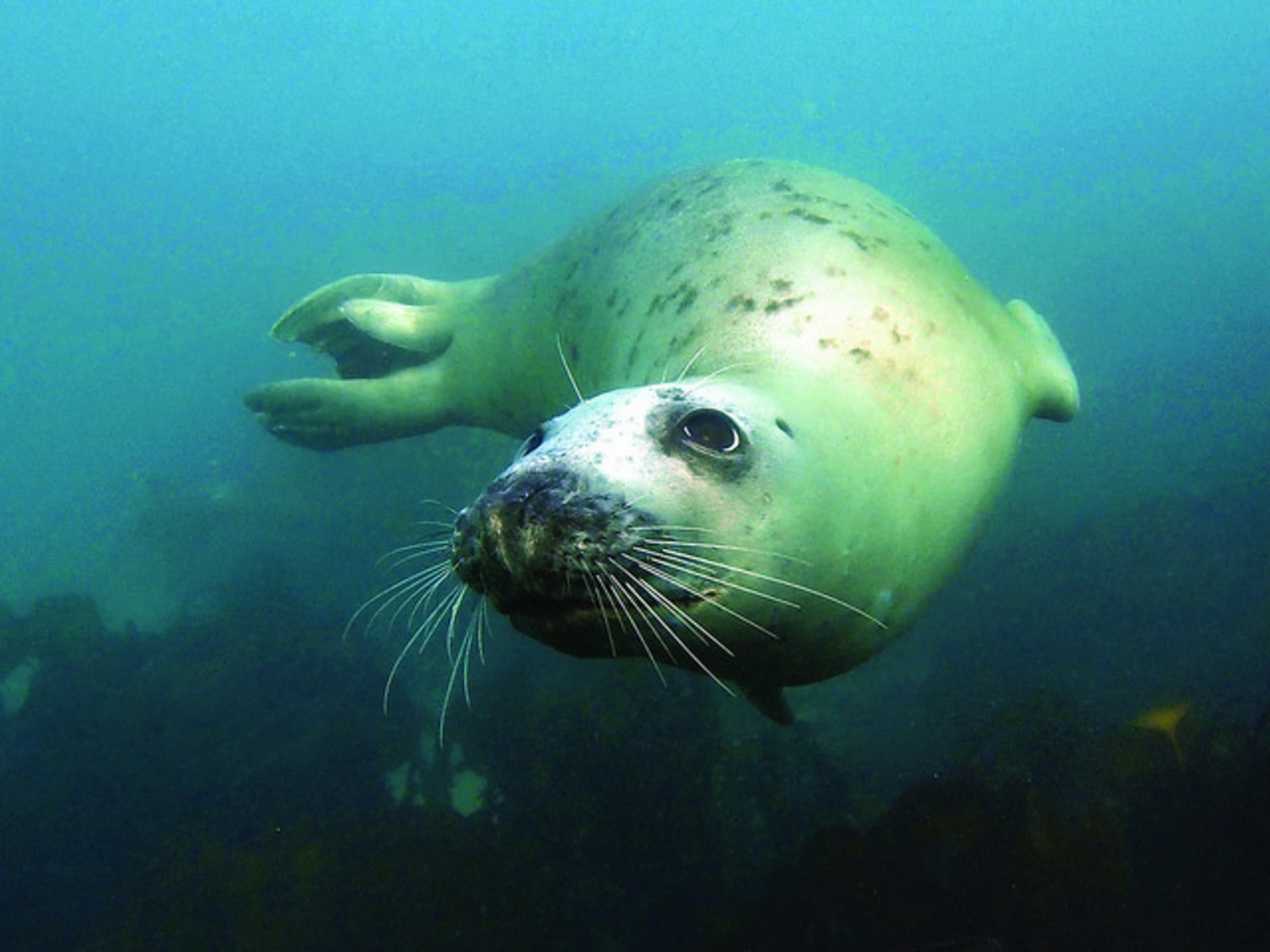 We are often asked about the more 'exciting' animals it is possible to encounter when coasteering. These would include dolphins, basking sharks, and seals. Of these, seals are by far the most common to encounter when coasteering. At more remote spots on the Cornish coast, one can expect to seal at least one seal every time you go coasteering. However, the truth is that, when coasteering at Praa Sands, the chances of seeing a seal are slim, as they only visit here occasionally.

There are exceptions to every rule, however. Some of my best seal encounters have occurred at Praa Sands. Once, when coasteering with a small group, we entered one of the arches on Lazy Bank island. To our great surprise we were immediately confronted with a large bull seal lurking in the middle of the arch. The seal was as surprised as we were, and when we gingerly re-entered the tunnel, the seal was long-gone, not waiting around to see if we were friend or foe.

During a rough coasteering session in 2020, as we headed around the infamous 'corner' back towards Praa Sands beach, a seal suddenly emerged from the swell, right next to our entire group. Quite a treat, as well as a shock, for us all, seal included!
---
The Perfect Cornish Beach Location
Praa Sands itself is the perfect place to meet for our coasteering. A coasteering adventure with us often introduces Praa Sands to people for the first time. Visitors to the area, staying in places such as St. Ives, Penzance, or anywhere else in west Penwith, might otherwise have not ever visited Praa Sands.

What they discover, is one of the longest, sandiest beaches in west Cornwall, surrounded by idyllic cliff scenery, and a wonderful beach that is rightly part of the Cornwall Area of Outstanding Natural Beauty. Praa Hands hosts all the amenities you could ask for. These include ample car parking, restaurants, cafes, and water sport equipment hire, as well as many accommodation choices.

If you're joining Kernow Coasteering for a session at Praa Sands, why not combine your coasteering session with half of the day spent relaxing on the beach? Or, enjoy a gentle stretch of the southwest coast path, which offers stunning coastal walking both east and west of Praa Sands, with some relatively easy terrain in both directions.
Eat
Whether you need to carb-load before your coasteering session, or find that well-earned lunch or dinner afterwards, Praa Sands offers the full gambit of food and drink options. The various kiosks, cafes, and restaurants offer everything from teas, coffees, and ice creams to full on wining and dining options.

Whether you're looking for a light bite, or a full family meal, we highly recommend the Sandbar restaurant. With a beachside location as good as any in Cornwall, both their inside and outside seating allow you to dine right above the beach with premium views across the bay. It's the perfect setting to enjoy their range of hearty breakfasts, stone-baked pizzas, gourmet burgers, and diverse range of mains.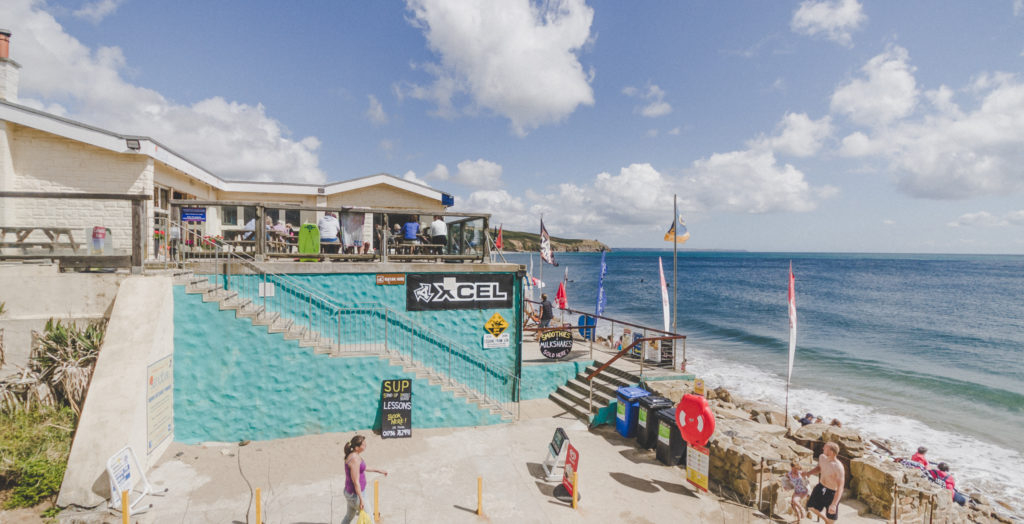 Sleep
With its coveted location, Praa Sands has every type of accommodation you could ask for. For those looking to commune with nature, Higher Pentreath Campsite is the one to go for. Just a few minutes' walk from Praa Sands beach, and with stunning views across its length, Higher Pentreath pride themselves on their rustic campsite with its long, family-run tradition.
At the other end of the scale, Beach Stay Praa Sands offer a range of stylish, luxury self-catering properties right above the beach, and throughout the village. These 5-star holiday homes have been renovated to the highest possible standard, with coastal themes, and all the modern conveniences you could ask for.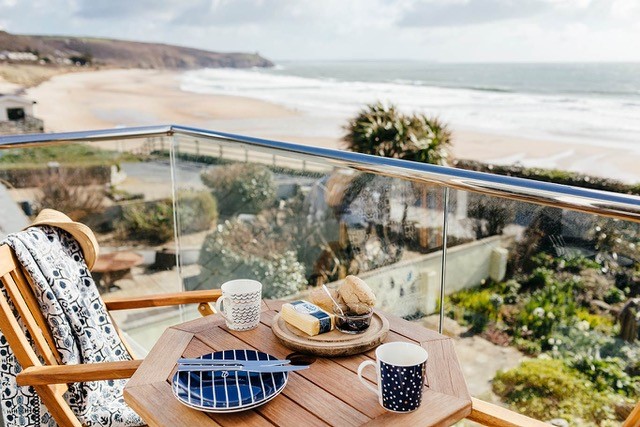 ---
Other Activities in Praa Sands
Surfing
Praa Sands is an important surf-spot for surfers in Cornwall. It is certainly regarded as one of the best surf beaches on Cornwall's south coast, and possibly the south coasts' second most important spot after the nearby reef break of Porthleven.

Popular year-round, it can get especially busy when offshore northerly winds can lead to the formation of a clean, hollow wave, with multiple breaks across the beach.
It's also a great spot to try surfing for the first time, with board hire and lessons available locally. After all, no visit to Cornwall is complete, it seems, without trying your hand at a bit of surfing.
Kayaking and SUP
It is also possible to hire sit-on-top kayaks and stand-up paddleboards at Praa Sands. On calm days we often see people making their way around Hoe Point, where we are coasteering, and even beyond, as far as the isolated beach of Kenneggy Sands, to the west.

Do use caution if venturing out of the bay on any of these craft, as swell and currents may be more than you anticipate, and once around the headland at Hoe Point, the lifeguards may not be able to help you if you get into difficulty. Please be sensible, follow the usual safety protocols for using these craft. If in doubt, stay close to the beach.
Walking the Southwest Coast Path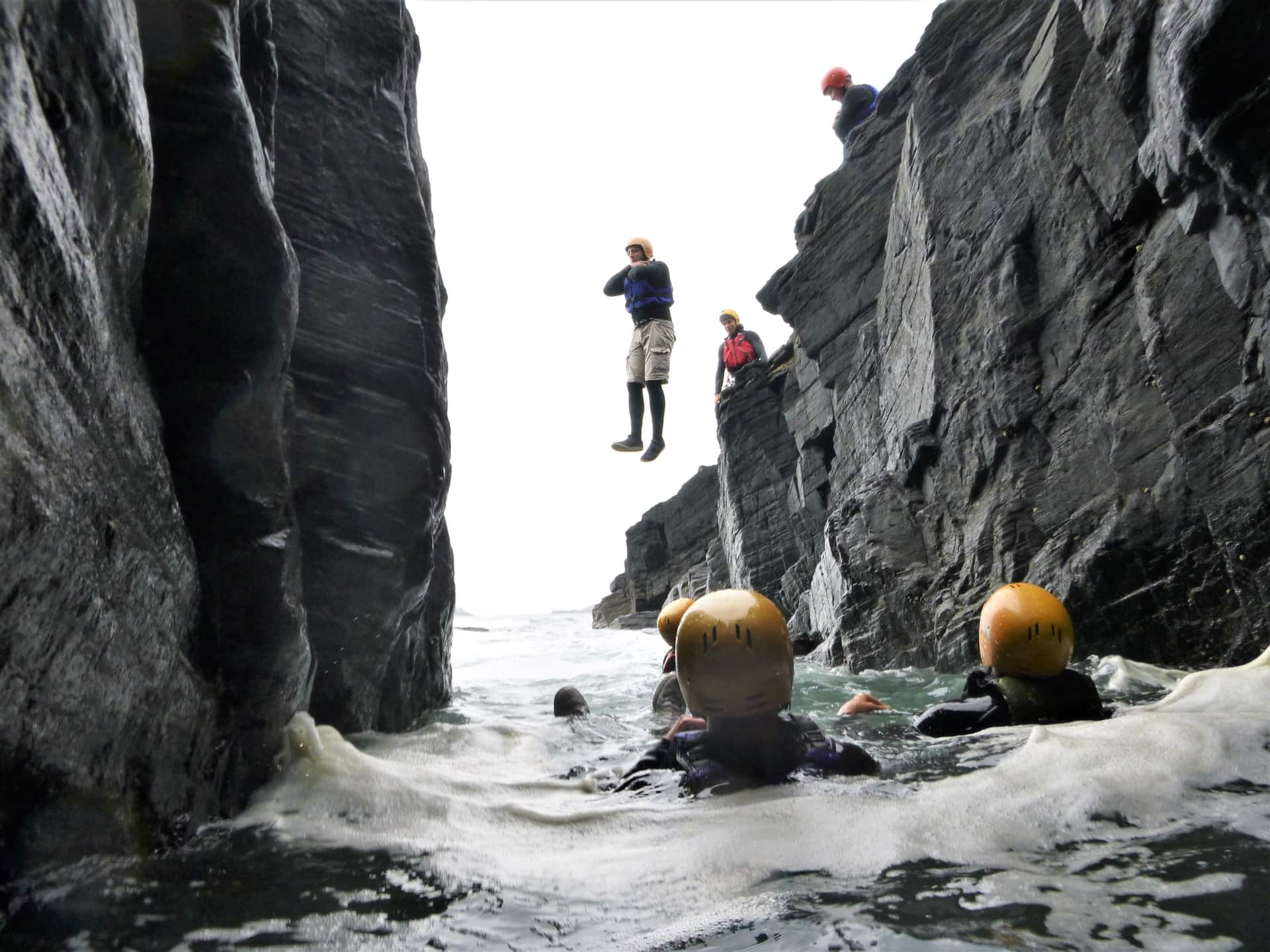 The southwest coast path runs along Praa Sands, so you have immediate access to it, in both directions. We would highly recommend exploring some of the coast path in this area. Being relatively easy terrain, its possible to cover a fair distance quickly, and there are many points of interest to note along the way.

If you head west out of the bay, you'll climb steadily until you reach Hoe Point. Maybe you'll see us coasteering down below, but here you can enjoy sweeping views from Lizard Point to the lighthouse of Tater Du, in the west, which form the outermost tips of Mounts Bay.

As you continue on, you'll reach a small valley where a man-made cutting leads down onto the pebbly beach. This is Pestreath Cove, and the cutting was created to allow access to the foreshore adits of Wheal Speed Mine. This was a mixed mine, producing both tin and copper, as well as a small amount of arsenic. It reached its peak in the mid-nineteenth century, but work likely began here much earlier. Various bumps on the hillside inland allude to the shafts that once served the mine workings beneath.

The coastal path now crosses above the beach of Kenneggy Sands. There is no vehicle access to this beach, but it can be reached by parking at the nearby car park for the Porth-en-Alls estate. Only accessible at low tide, it's awkward access means that it is never crowded, so for those desperate to avoid the crowds, it's worth adding to your list.
At the western end of the beach is the impressive buildings of Porth-en-Alls house. Not as old as they may appear, the house was built in 1911 and is a listed building. It has hosted a International Musicians Seminar biannually for the last fifty years.
Porth-en-Alls House forms the centrepiece of the estate at Prussia Cove. Prussia Cove is actually comprised of four smaller coves. Coule's Cove forms the western end of Kenneggy Sands beach. King's Cove is a private beach, belonging to the family who own the estate. The name is likely a reference to John Carter, an infamous smuggler who operated out of these coves in the eighteenth century.

Carter's brother, Harry, wrote in his book, 'A Cornish Smuggler', that John looked so like then King of Prussia, Frederick the Great, that he earned the nickname, the 'King of Prussia'. Eventually the name stuck and the area became known as Prussia Cove.

The natural beauty of Bessy's Cove and Piskie's Cove, the next two coves that make up Prussia Cove, make the place a popular spot for tourists and locals alike. Prussia Cove is approximately a three mile walk from Praa Sands.

If you're keen to cover even more ground, you can continue along to Cudden Point, from where it's not far to the next significant beach of Perranuthnoe. After taking refreshments here, you may as well continue. 6 miles walking from Praa Sands will get you to Marazion and the major landmark of St. Michael's Mount.

If you head east out of Praa Sands, you'll enjoy the full length of Praa Sands beach. Being far from the facilities at the western end of the beach, it's quite easy to escape the crowds, even on a busy summer's day. One notable feature of interest along the beach is an old WWII pill box, now resting on the beach.

Estranged from its former clifftop location, it is a stark example of how much of our coastline can be lost to coastal erosion. The pill box remained atop the cliffs until the 1970s, when the soft sediments that made up the cliff here finally succumbed to the relentless battering of the Atlantic Ocean.

The soft periglacial head (known locally as 'rab') is a poorly-consolidated recent relic of the last Ice Age. Being more like hardened mud than rock, it is very vulnerable to erosion. This is in marked contrast to the rocky cliffs, particular those of granite, that make up much of Cornwall.
If you stay on the beach here, you reach Lesceave Rocks and it is possible to explore the foreshore towards Rinsey Head. Do be careful if you venture here, as the area is extremely tidal and with no viable ways of gaining the cliff path above, it would be quite easy to get cut-off by the rising tide.

If you are planning a longer journey, you can gain the southwest coast path once again, and venture along Lesceave Cliff to reach Rinsey Head. Rinsey Head is home to perhaps one of Cornwall's most distinctive residences. The large, 5-bedroom house is sometimes erroneously referred to as the counthouse (or accounts house) for the mines at Rinsey. However, this is not the case. The house was, in fact, built by a London stockbroker c. 1930, long after mining had ceased in the area.

It is now a much sought-after holiday home, and can be rented via Stylish Cornish Cottages.
Rinsey Head is notable from a coasteering point of view for its impressive sea caves, including a through-cave that goes right through the headland. Check this blog post to learn about these caves, as well as the best sea caves in west Cornwall. The video above shows us on an exploratory coasteering trip around this area, which also includes some mine exploration. As far as we know, this is the only place where you can coasteer into an old mine shaft!
As your walk eastwards, you soon reach the area known as Rinsey Cove, or more correctly Porthcew. It's a stunning, quiet beach, poised between the headlands of Rinsey and Trewavas Heads. It's most notable landmark is the restored engine house of Wheal Prosper. This was a tin mine that hard a short life, operating only from 1860 until 1866.
As you round Trewavas Head, you will get your first glimpses of the harbour town of Porthleven, and if is your end goal, then it's a walk of 4.5 miles from Praa Sands.
After passing a rock formation that looks like a meerkat, or camel (you decide), you will reach the ruined engine houses of Wheal Trewavas Mine. These buildings were used in the first television setting of the Poldark stories, back in the late 1970s. The real-life story of the mine is no less dramatic: its 12 years of service were abruptly ended when a mishap led to a breach of the main shaft by the sea, which flooded the mine and forced its closure (this also inadvertantly created a way in to coasteer into this mine!).
As you continue along the coast path, you soon reach a distinctive outcrop of granite perched high above the sea. The crag is popular for rock climbing, and due to its ease of access, both to its top and to the base of its climbs, it's a great spot for beginners. Indeed, this is where we run many of our Beginner Rock Climbing courses. Once you see this idyllic spot, we're sure you'll want to give rock climbing here a try!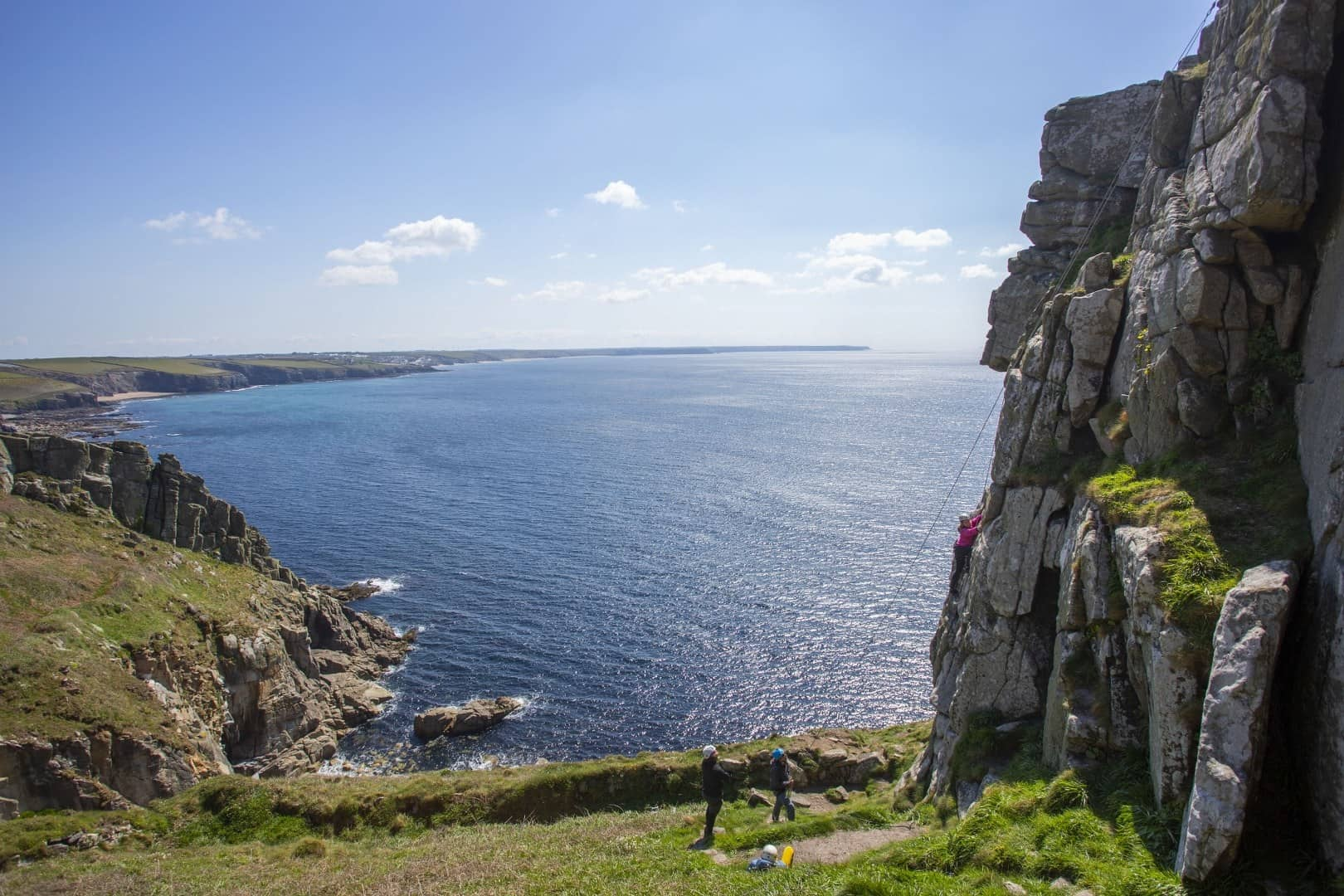 There's plenty more stunning scenery to enjoy before you reach Porthleven. If you're going all the way, the quaint harbour town has much to offer the visitor for a couple of hours of exploring. Definitely check out the Ship Inn for a well-earned drink after all the walking.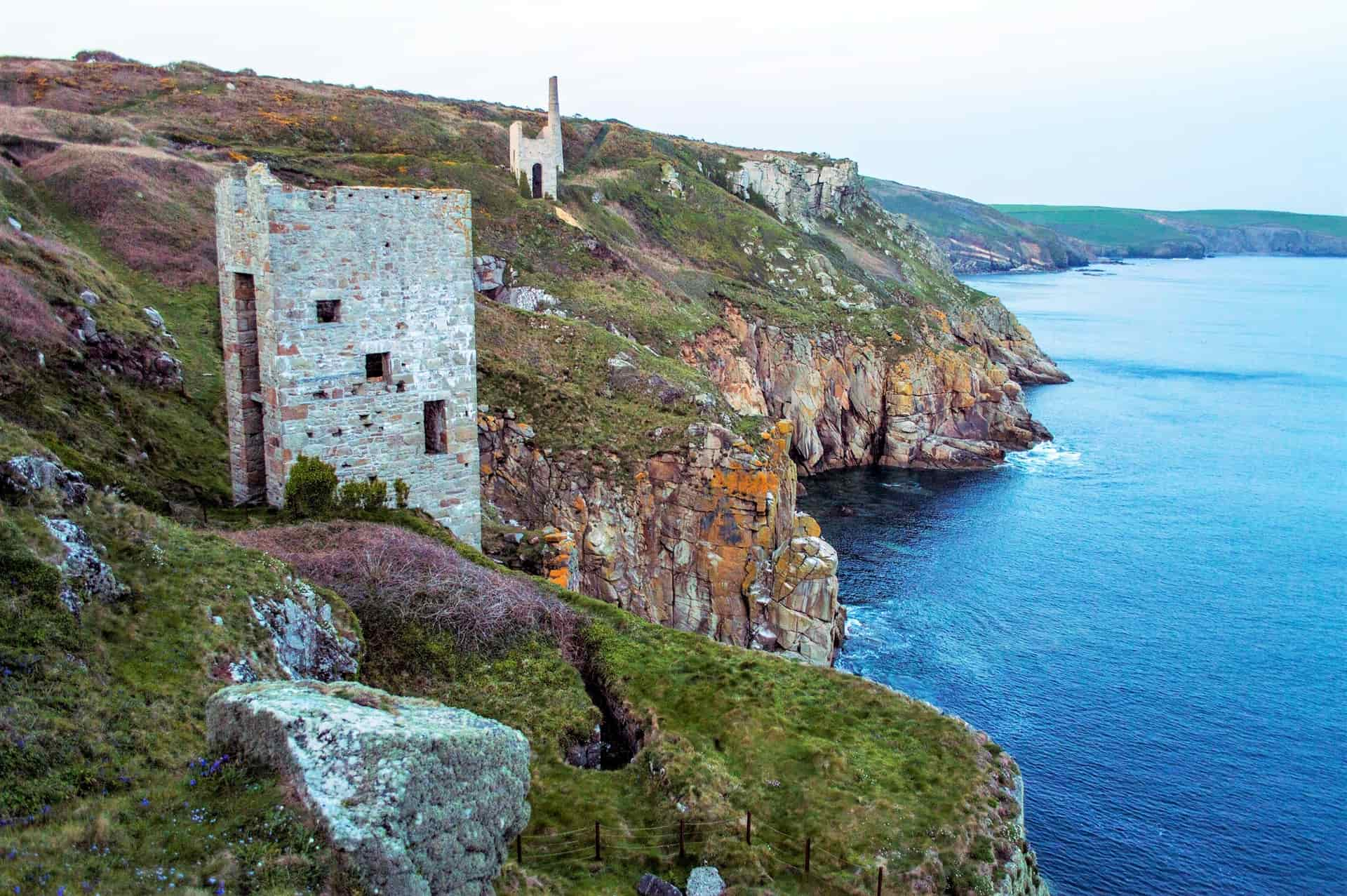 ---
History of Praa Sands
The nearby hamlet of Rinsey is mentioned in the Domesday Book of 1086, where it is called 'Rentis'. Rentis had "land for 12 ploughs, pasture half a league long and as wide." It consisted of 9.5 households. However, the oldest known evidence of human habitation at Praa Sands comes from an Iron Age axe head found on Praa Sands beach.
The name Praa Sands itself is recorded as far back as the fourteenth century. It appears to be a corruption of the Cornish words 'pol wragh' which means 'hole of the witch'. There's doubtlessly a wonderful local myth that accompanies such a dramatic name, but sadly this was never recorded.
The oldest building in Praa Sands still standing is Pengersick Castle, some parts of which date back to the 16th century. The tower house is one of the few towers of its type to be found in Britain. The castle was built in the early 1500s, partly funded using wealth acquired from the looting of a Portugese ship wrecked nearby in 1526.
The castle was built for John Milliton who, legend has it, had escaped from Devon to evade justice for the crime of murder, no less. Whether this was true or not, Milliton lived the life of a recluse and seldom left his dwelling at Pengersick. Over the years, the castle became notorious locally as a haunted house, occupied by the restless spirits who were victims of various heinous crimes alleged to have been carried out there. These include poisonings, murdered monks, and the mass graves of victims of the Black Death!

If these stories haven't put you off, then Pengersick Castle can be visited for educational visits, by prior arrangement. It is also is a fantastic venue to host your wedding or event. Visit their website to find out more.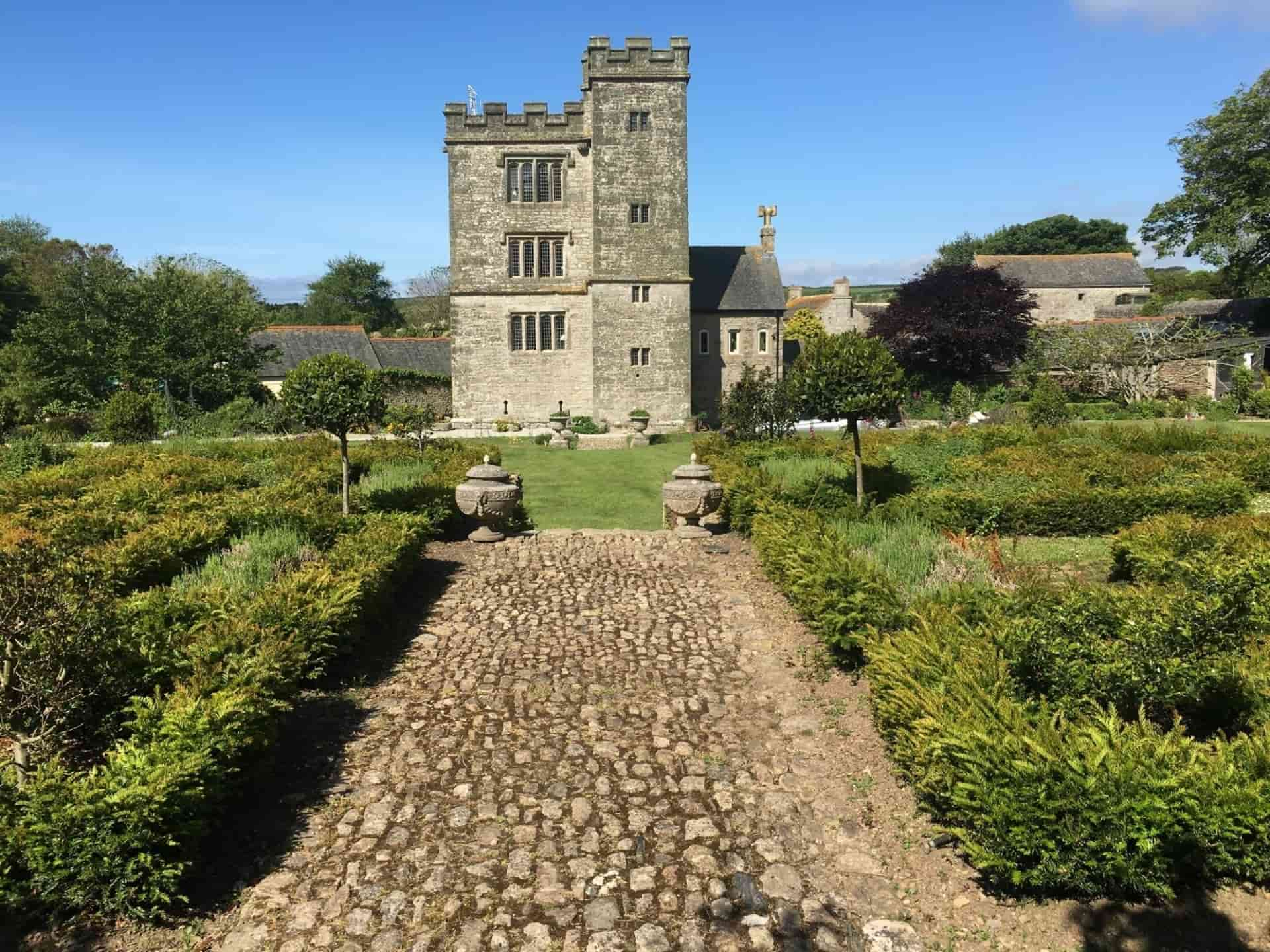 Seemingly far-flung from the battlefields of World War II, its effects were certainly felt in west Cornwall. Even at its westernmost tip, Land's End, the war came to Cornwall when a Luftwaffe bomber returning from a raid on Cardiff, jettisoned its remaining bombs, destroying part of the building that is now Land's End hotel.

On June 2nd, 1943, Praa Sands also had its brush with a more friendly air force, when a Royal Australian Air Force plane crashed just offshore at Praa Sands beach. The plane encountered hostile German fighters over the Bay of Biscay. With eight fighters engaging them, the Australian aircraft fought valiantly, destroying 3 of the attackers.

With one engine out of action and most of the crew injured, they managed to escape, and limping back to England, made it as far as Praa Sands before ditching into the sea and beaching the wrecked plane in the waters in front of Praa Green.

Of the eleven crew, all survived except RAF crewman, Ted Miles. Seventy years later, a memorial was erected at Praa Green to commemorate these brave men.
---
Mining at Praa Sands
Praa Sands became an important settlement in the 17th and 18th centuries due to mining. Like much of Cornwall during this time, huge efforts were made to exploit the area's natural mineral wealth. Throughout this period, Cornwall produced approximately half of the UK's non-ferrous metals.
In the immediate vicinity of Praa Sands there were at least five mines, with several others nearby. The western end of Praa Sands is known as Sydney Cove, and we pass through this area when we are coasteering here. It is one of a few examples to be found in west Cornwall where the Cornish miners actually decided to put a mine on a beach! When sand levels on the beach are low, the wooden casing that surrounded the shaft head is sometimes exposed.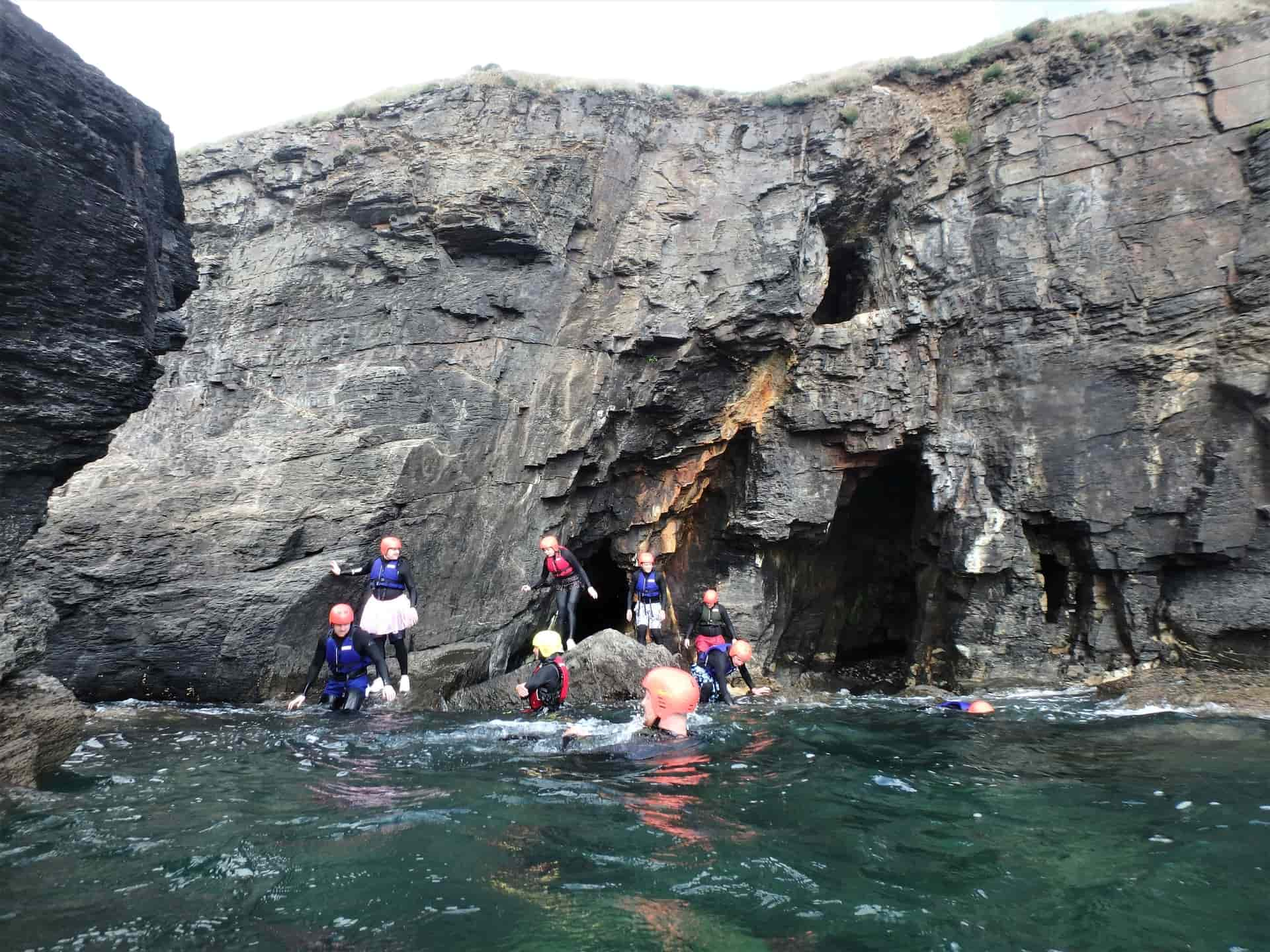 No known plans of these mines survive, but there are some records detailing production. For example, Sydney Cove Mine produced 350 tons of copper ore in 1839. From 1886 to 1889, Sydney Godolphin Mine raised 91 tons of black tin (tin ore).

There are also the remains of mine workings around the Hoe Point area i.e., on the route where we coasteer at Praa Sands. We go past a very unlikely trial tunnel situated above some sea caves. We are always keen to point this out to our coasteering guests as a feature of interest. A visit into the sea cave below reveals clearly what the miners here were looking for, as some lovely green and blue mineral deposits, distinctive of copper mineralisation, can be seen.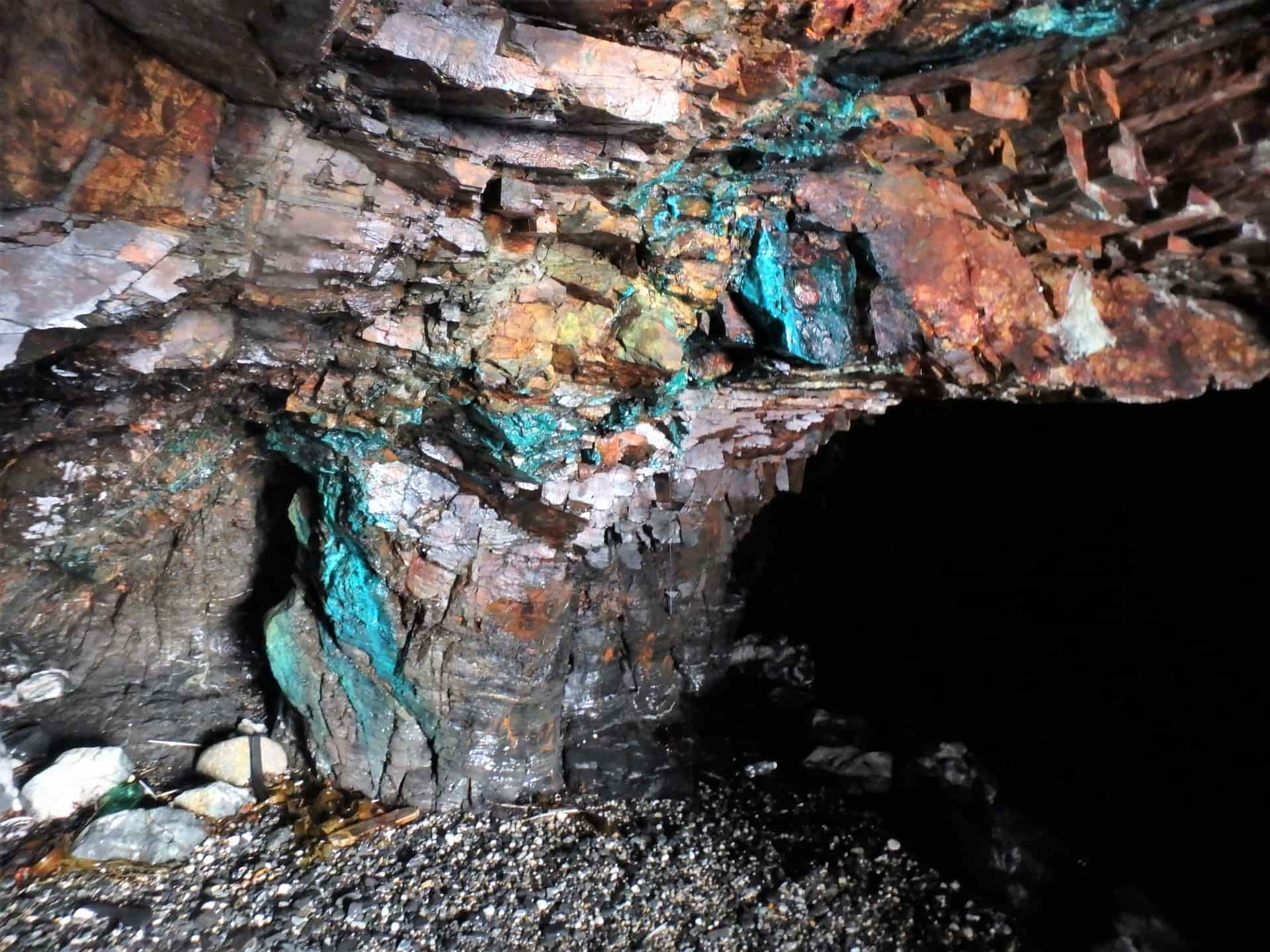 ---
Natural History at Praa Sands
Much further back into earth's history, long before John Milliton fled to Praa Sands, miners dug shafts on the beach, and longer ago even than when Kernow Coasteering started coasteering at Praa Sands, tumultuous geological events occurred that led to the area around Praa Sands recognised as a Regionally Important Geological Site.

At the eastern end of the beach, we see an outcrop of granite. This igneous rock is common in Cornwall and was formed when tectonic plates collided to form a mountain range over southwest England that was up to 5000m high! Thus, deep in the earth's crust, as a result of immense heat and pressure, a large granite batholith was formed. The granite extends upwards in several plumes, known as cupolas, which are all linked at depth. The granite here at Lesceave Rocks is the southernmost tip of the Tregonning granite outcrop, which has been recognised as being distinct from the neighbouring Land's End and Carnmenellis granites.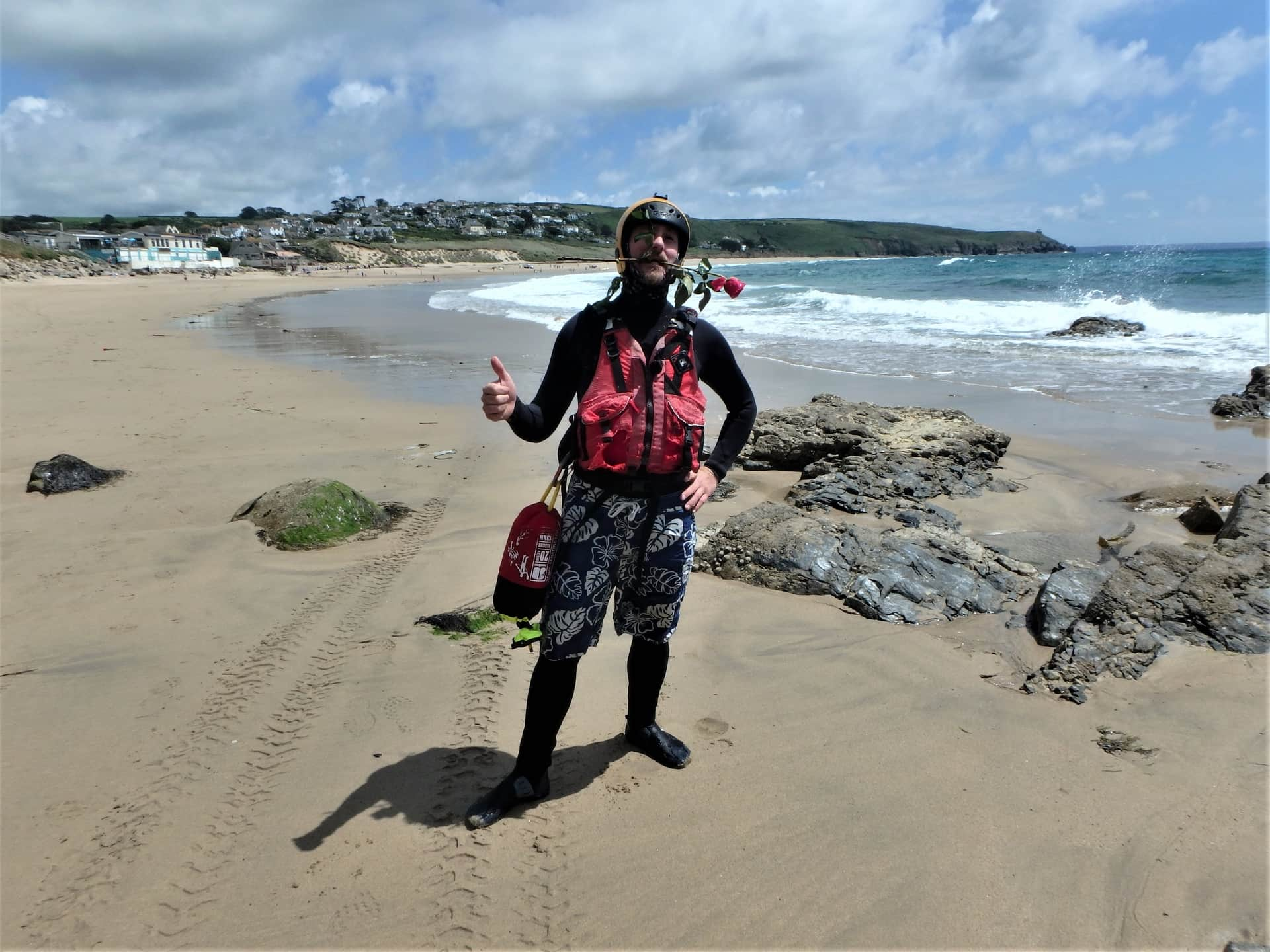 Back at Sydney Cove we have a rocky outcrop which is quite distinctly different from the slate-like rock (known locally as killas) that makes up the area where we do our coasteering. This outcrop is known as Folly Rocks and is, in fact, a granite porphyry dyke. Known locally as Elvan, porphyritic rocks contain large, well-developed crystals. In this case, we can see large feldspar crystals showing parallel alignment. This formation is a SSSI, recognised for its geological importance.

The granite intrusions found at Praa Sands were formed about 270 to 290 million years ago. Much more recent events in the earth's history have also created features of geological interest at Praa Sands.
Pebbles in the roof of a small adit tunnel for Sydney Cove mine have been identified as being part of a raised beach, a remnant from 100,000 years ago, during an inter-glacial period when the sea level was much higher than today. The last Ice Age also led to the formation of the rust-coloured periglacial head, or rab, that forms much of the cliff that forms the back of Praa Sands beach. Formed in a permafrost environment, there are also fossil ice wedges, cracks infilled with loose material, as the soil shattered due to being frozen.

So, there you have it. As well as one of Cornwall's top venues for coasteering, Praa Sands has plenty of things to do to fill a half day, or more. Whether you want to simply enjoy some beach time, enjoy some sports, or explore the area's natural and human history, we look forward to seeing you for some coasteering at this amazing place.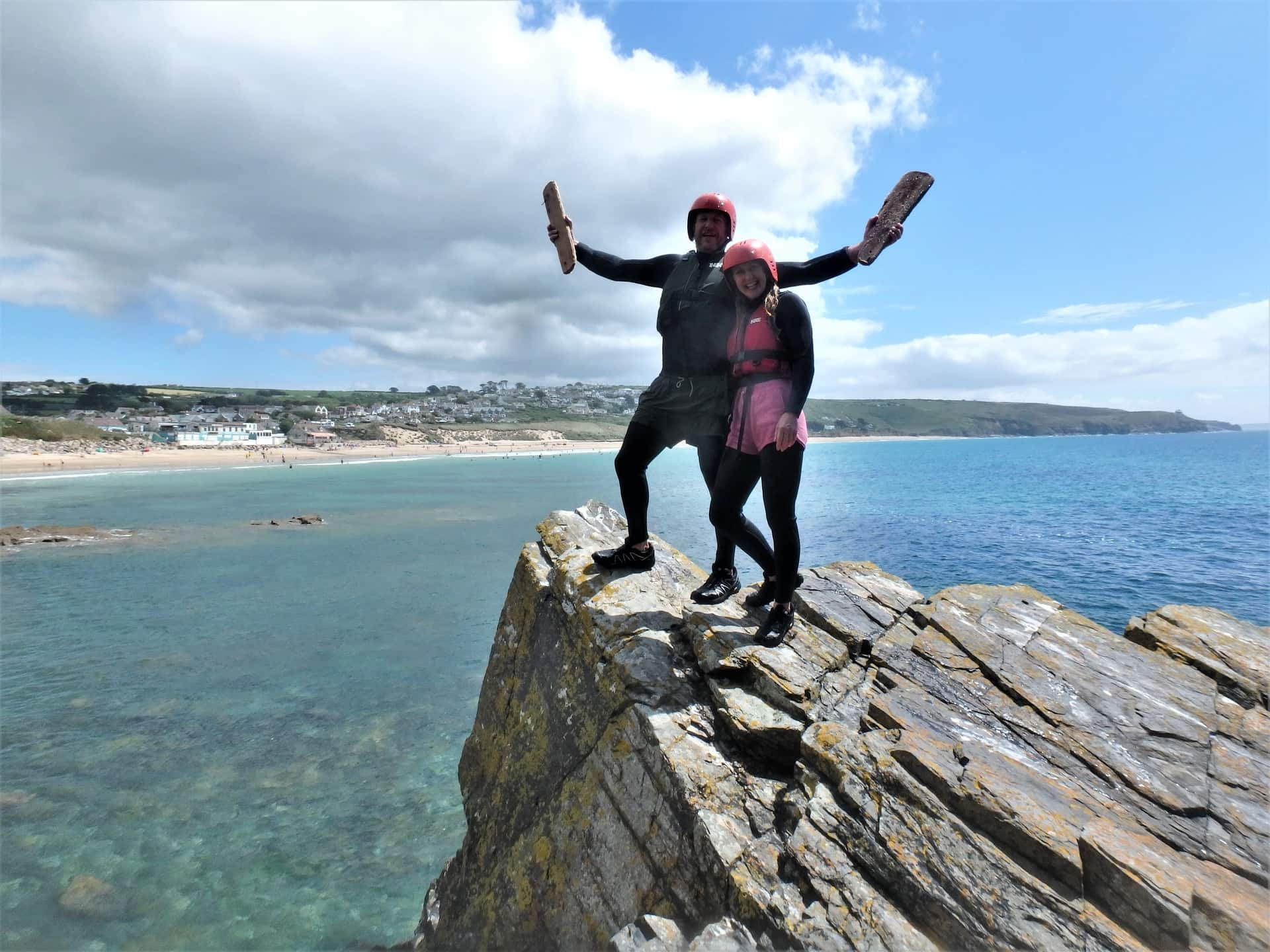 ---