Cornwall and the Isles of Scilly's Best Adventure Experiences
Kernow Coasteering is Cornwall's most westerly coasteering and rock climbing provider, offering coasteering and climbing around St. Ives, Penzance and throughout Cornwall. Since 2015, we have been running coasteering on the magical Isles of Scilly. Offering adventurous days out for total beginners to seasoned adrenalin junkies, we can offer you an unforgettable experience that will be the highlight of your visit to Cornwall.
Located on the Land's End peninsula in the far west of Cornwall, we're only a short drive from numerous awesome locations for coasteering, where you can experience towering cliffs, amazing caves, and countless cliff jumps. West Cornwall is also home to some world-class rock climbing areas, with stunning granite cliffs providing climbs perfect for beginners to advanced rock climbers.
West Cornwall is the jewel in the crown of Cornwall's breath-taking coastal landscape. Wide-open to the full force of the Atlantic Ocean, aeons of unrelenting winds and waves have sculpted the Land's End peninsula, from St. Ives round to Penzance, into the most breath-taking coastline, revealing the stunning granite cliffs we enjoy today.
Let Kernow Coasteering introduce you to the thrills of adventure activities in Cornwall. If you're looking for things to do in Penzance, St. Ives or the surrounding area, or maybe just visiting West Cornwall for a day trip, be sure to give us a call!
Book Now!
---
Coasteering in Cornwall
Cornwall is recognised as one of the UK's premier locations for coasteering. With over 400 miles of coastline, much of which is rugged cliffs, it's easy to see why. An experience with Kernow Coasteering will give you a chance to experience the wild side of Cornwall. Climb, scramble, swim and jump your way along the Cornish coastline, and get a whole different perspective that most will never see.
You can explore caves, sheer cliffs, secret gullies and stupendous jumps in beautiful locations not accessible any other way except by coasteering. You will visit places and see a side to Cornwall that most of the locals don't even know about! Most of our visitors say their coasteering experience with us was the highlight of their holiday.
Cornwall offers a wide range of coasteering options up and down the county. Kernow Coasteering have scoured the Cornish coast to find the very best coasteering locations to share with you. All of our coasteering routes have a huge range of exciting coastal features to explore, including sea caves, arches, gullies as well as a large range of cliff jumps from small to very large. We have been coasteering all over Cornwall and are confident that the routes we use are among the best.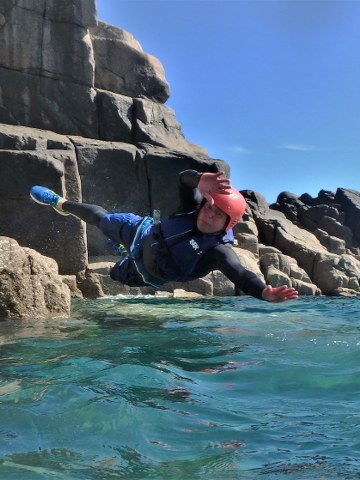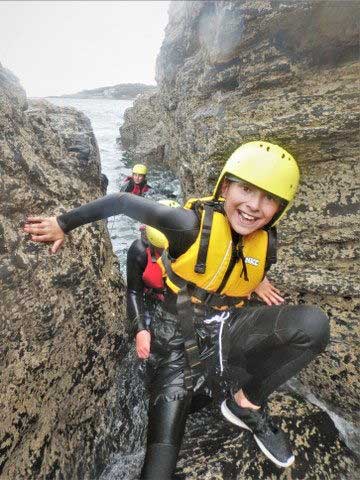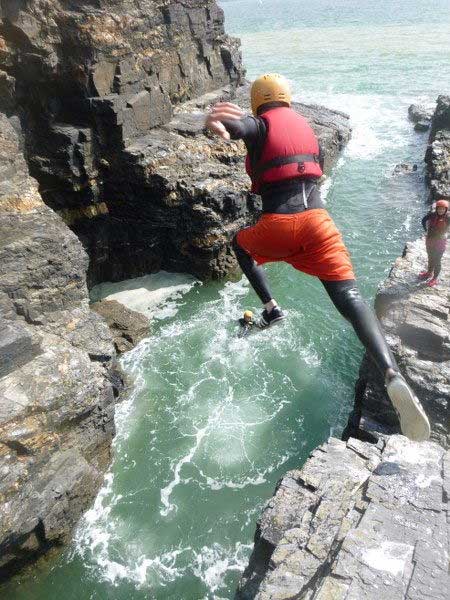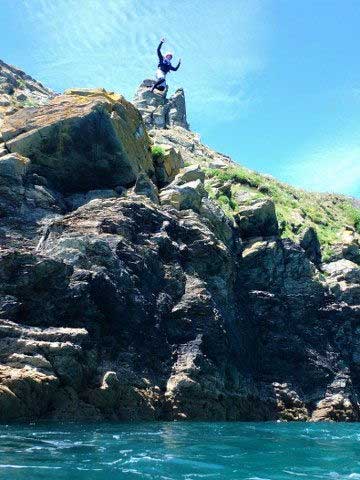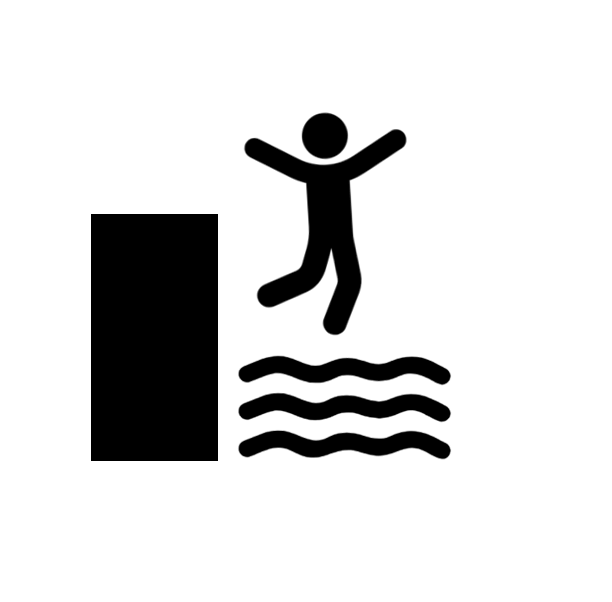 Try Coasteering in Cornwall with expert guides who have a passion for adventure on the Cornish coast.
COASTEERING


from


£45




(approx. 3 hours)
---
Rock Climbing in Cornwall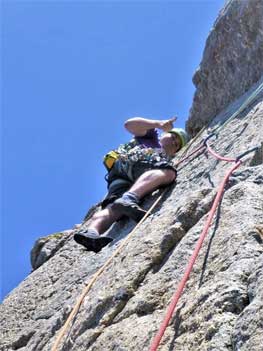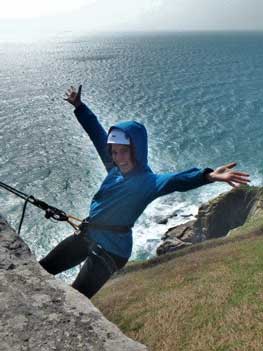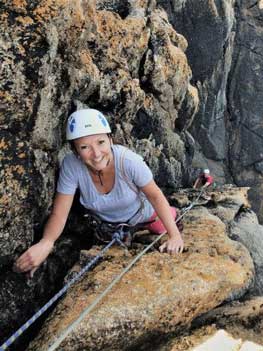 The Land's End peninsula has some of the best rock climbing Cornwall has to offer, with famous crags such as Sennen, Bosigran and Chair Ladder well known to climbers everywhere. Whether it's your first time climbing, or you're an experienced climber, we can offer you a taste of the rock climbing that Cornwall has to offer.
Make your way up granite cracks, chimneys, and sheer faces and experience the thrill of rock climbing in truly stunning surroundings on Cornwall's sea cliffs.
If you've never tried rock climbing before, Cornwall is a great place to try this exciting sport. Kernow Coasteering's experienced rock climbing guides will have you at the top of your first routes before you can say, "Free Solo."
But don't worry, unlike Free Solo, all ropes and equipment are provided, so you can try rock climbing in total safety. If you have some experience of climbing indoors or outdoors and are looking to take your climbing to the next level, we can tailor a rock climbing session to suit your needs.
Try Rock climbing by the sea on Cornwall's stunning cliffs. Courses for all abilities, from beginner to advanced.
CLIMBING


from


£70




(full day)
---
Coasteering on the Isles of Scilly
Kernow Coasteering is the only provider of coasteering on the Isles of Scilly. Your visit to Scilly will not be complete without coasteering at the incomparable Peninnis Head on the main island of St. Mary's.
This incredible location, with its incredible scenery and countless cliff jumps and exciting features, makes it one of the best coasteering venues in southwest England. We are confident that coasteering with us on the Isles of Scilly is the island's best adventure activity.
With our base on the Isles of Scilly's main island, we are accessible to visitors from all of the islands. Beginners will be amazed by trying coasteering at such a magical location. Whilst experienced coasteerers will be awed by the sheer quality of our coasteering route on Scilly.
The Isles of Scilly are known for their peace and tranquillity, but we invite you to supercharge your Scilly break with some high-energy coasteering action with us.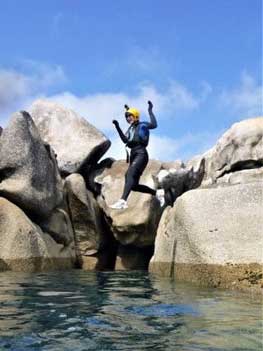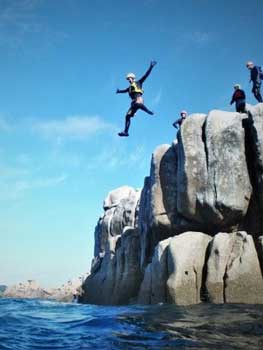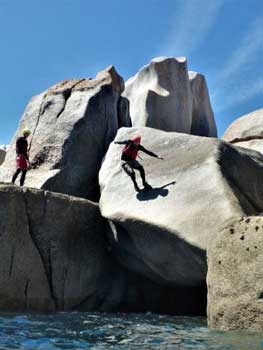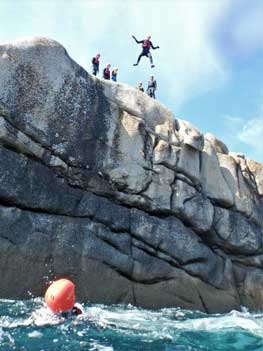 If you're visiting the Isles of Scilly, don't miss the islands' best adventure - coasteering at Peninnis Head on St. Mary's.
SCILLY COASTEERING


from


£50




(approx. 3 hours)
---
Mine Exploration in Cornwall
With our sister company, Cornwall Underground Adventures, you can now take a thrilling caving-style adventure into one of Cornwall's abandoned tin mines. Cornwall was a world leader for metal mining in the eighteenth and nineteenth centuries, resulting in thousands of mines up and down the county.
Now you can follow in the footsteps of Ross Poldark and venture underground to see first-hand the incredible subterranean world carved out by the Cornish miners, long ago. Various mine trips are on offer, from simple walk-in explorations to adrenalin-filled abseiling and underground via-ferrata challenges.
To find out more about this unique adventure, go over to Cornwall Underground Adventures now.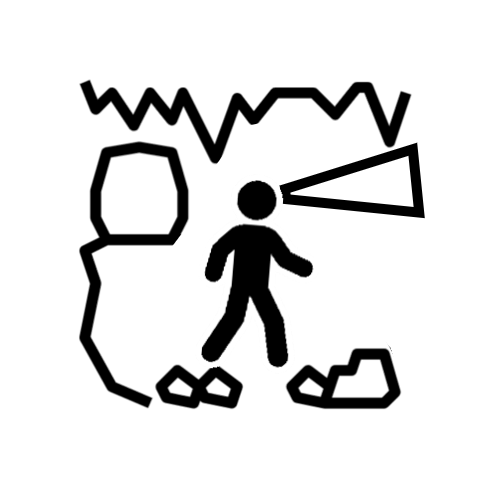 Don't miss this unique opportunity to have an exciting adventure in one of Cornwall's abandoned tin mines!
MINE EXPLORATION


from


£40




(approx. 3 hours)
---
---
Cornwall's Adventure Specialists
Kernow Coasteering is one of Cornwall's top providers of coasteering and rock climbing activities. Adventure is our passion, and when we are not guiding people on our adventurous activities, you'll find us out and about on the Cornish cliffs practising our skills and exploring the secrets of Cornwall's incredible coastline.
We specialise in providing unforgettable adventure packages to suit all levels, from tentative beginners to seasoned adrenalin junkies. With access to Cornwall's most scenic and exciting locations for both rock climbing and coasteering, contact us­ to book your adventure today!
We hope you enjoy browsing our website, where you will find everything you need to know about the activities we offer, and how you can take part in a thrilling adventure during your visit to West Cornwall.
Coasteering is a fun-filled journey along a rocky section of coast, spent mostly in the zone between high and low tide. More of an amalgamation of various activities, rather than just one activity, coasteering involves a mixture of wild swimming, cliff jumping, scrambling and climbing to negotiate this inter-tidal zone. The combination of physical activity with the exploration of otherwise inaccessible coastline, all taking place in the challenge of the high-energy coastal environment, makes coasteering a must-do activity!

When you come coasteering with Kernow Coasteering, we will provide with top-quality equipment. We will give you a full-length, winter wetsuit made by C-Skins. We will also give you a helmet and buoyancy aid made by our friends at Nookie.

You simply need to bring some lace-up shoes you can wear to protect your feet from the sharp rocks and barnacles. You also need to bring a pair of shorts that you can wear over the wetsuit we lend you. This gives you some extra padding where it's needed, as well as giving some protection to our wetsuits. Oh, and don't forget your swimwear and a towel.

The minimum age for coasteering is 9 years old. Please let us know if you have young children when booking, as rougher sea conditions may not be suitable for them. If this is the case, we will advise you on the best day during your visit to come out coasteering with us.

Note that children younger than 14 years of age must be accomapnied by an adult to particpate in any of our coasteering adventures.

To enjoy rock climbing with us, participants need to be 5 years old, so rock climbing is a perfect adventure activity for families with younger children.

If you are interested in doing our advanced coasteering route at Land's End, the minimum age for this particular activity is 16. Please see the Land's End Coasteering page of our website to learn more about this epic challenge, and to check that you meet the requirements.

Coasteering starts from just £40 per person. We also have family and larger group rates too.

Rock climbing starts from £70 per person for a full day.

See our Prices page for full information.

Yes, coasteering is a very safe activity! We've crunched the numbers and data collected by the National Coasteering Charter shows that coasteering is comparably safe to other adventurous activities. All activities have their elements of risk, and that's why we recommend you choose a company, such as Kernow Coasteering, who have your safety in mind throughout your coasteering experience.

Jumping is only one small element of coasteering and you do not have to jump off anything you don't want to while coasteering with us. That's right, you can complete an entire coasteering session with us and not do a single jump if you don't want to. And there are still many great reasons to give coasteering a go, such as exploring the beautiful Cornish coastline, enjoying the feeling of the raw Atlantic Ocean, as well as scrambling, swimming and rummaging around all the exciting features found on our coasteering routes.
See our full FAQ here
---
---
READ THE LASTEST IN OUR COASTEERING BLOG