COASTEERING AND ROCK CLIMBING FREQUENTLY ASKED QUESTIONS
COASTEERING FAQ
What is coasteering? Where does it happen? Who can do it? Find the answers to all these questions and more here.
Coasteering has risen to take its place as one of the UK's most popular adventure activities. Coasteering is a journey along a rocky section of coastline with most of the activity taking place in the 'inter-tidal zone'. Coasteering consists of many different elements and is generally considered a water-based activity. Unlike sea-level traversing, a sub-genre of rock climbing, that aims to traverse the cliffs staying above the water level at all times, coasteering requires spending a great deal of the activity in the sea. Climbers attempting a sea-level traverse will typically be equipped as is typical for their sport, and will not be equipped for falling into the sea. Coasteerers on the other hand, fully expect to be spending much of their time in the water and are thus equipped with wetsuits and buoyancy aids to facilitate movement in water.

Wild swimming forms a big part of coasteering, but unlike pure wild swimming, coasteering aims to stay in close proximity with the rocks and cliffs as much as possible, even if the sea state is quite rough. Indeed, interacting with the waves as they meet the coast is all part of the fun. In between time spent in the water, coasteering will also cross dry land by various means, including walking, scrambling, or climbing sideways (traversing) over adequately deep water.

Coasteering is best known for the cliff-jumping element, and jumps of various heights can be expected to form a significant part of any coasteering session. Coasteering is a flexible activity that allows a variety of routes to be taken and obstacles can be completed or avoided. This includes jumping, so anyone not keen on jumping does not need to be excluded from taking part.

Another huge part of the appeal for coasteering is the environment in which the activity takes place. The ocean is a constantly-changing, dynamic environment. The way the water moves via waves and currents adds an additional challenge to coasteering as it meets the cliffs and interacts with the rocky coastline. Coupled with this is the chance to explore a fascinating environment and witness first-hand features that may not be accessible by other means, even by kayak. These can include sea caves, arches, blow-holes, gullies, secluded zawns, etc.

The chance to take an adventure in an environment that challenges us, pushes us out of our comfort zone, but yet can be enjoyed in relative safety by almost anybody, surely explains why coasteering has become so popular, and why coasteering providers have begun offering coasteering on pretty much every suitable stretch of coastline in the UK. Coasteering continues to proliferate with more and more providers setting up coasteering operations around the globe.

One reason that makes coasteering such a popular activity is that no previous experience is required to take part. As long as you are happy to get wet and have a basic level of fitness, you can turn up and get stuck into some coasteering right away. After getting changed and having the safety briefing, you will be able to get into cliff jumping, wild swimming, and all of the other elements of coasteering. In fact, the majority of our visitors our first-time coasteerers too.

It is not necessary to be a strong swimmer to take part in a coasteering adventure. The wetsuit and buoyancy aids we wear give us a great deal of flotation, making the task of swimming easier than swimming unassisted. Also, no single stretch of swimming should be more than fifty metres under normal conditions, and many stretches of swimming a very short indeed.

Not being able to swim does not necessarily mean that you cannot come coasteering. As long as you are happy to float in a buoyancy aid, you will be able to take part on a calm day. So if you are a non-swimmer and want to try coasteering, let us know. We would advise that you have some flexibility in which days you can come out with us. When the seas are rougher, non-swimmers may be unable to manage.

Coasteering is perceived by some as a dangerous activity. This may be partially attributable to the media. Like many adventure sports, coasteering maybe only really gets media coverage when something goes wrong. Also, there is the possibility of confusing coasteering with tomb-stoning, the latter referring to the pursuit of purely seeking high drops into water to jump off.

The reality is that coasteering is a very safe adventure activity. As with all adventure activities, it is impossible to remove risk altogether, but these can be managed to very acceptable levels. We recommend that you only go coasteering with a provider who is a member of the National Coasteering Charter, an organisation of individuals and providers whose collective aim is to 'promote safe coasteering'.

If you come coasteering with us in Cornwall, the route we use depends on the weather and sea conditions. This cannot be known until a day or two in advance of the session, so if you book with us, we will inform you of the coasteering location 24-48 hours before we meet for our session. We are based in Penzance, in west Cornwall and use numerous sites on the Land's End peninsula, with includes the stretch of coast from St. Ives on the north coast, around to Porthleven on Cornwall's south coast. We are most frequently to be found coasteering at Praa Sands on the south coast, in between Porthleven and Penzance.

All of our west Cornwall coasteering venues have a car park, but what other amenities are on offer varies from place to place. There may be zero amenities, or a full range of beach amenities including shops restaurants and toilets, as at our most frequently used venue at Praa Sands.

If you come coasteering with us on the Isles of Scilly, we use the site of Peninnis Head. A truly incredible place, situated conveniently just outside of Hugh Town on the Scillies' main island of St. Mary's. Our meeting point at Peninnis Farm is easily reachable on foot from anywhere in the environs of Hugh Town. That also means we are just a fifteen-minute walk from the quay for those travelling from off islands such as Tresco and St. Agnes.If you have selected to take on our challenge of coasteering at Land's End, that means we will be coasteering the stretch of coast that that forms the most westerly point in the mainland UK. We will meet in the main car park for the Land's End tourist attraction before descending the cliffs to conduct our coasteering adventure on the cliffs below.

For our standard coasteering session in Cornwall and on the Isles of Scilly, we are typically in the water for 2 to 2-and-a-half hours. Allow three hours or so for the entire experience, including time to meet and get ready.

The Land's End coasteer is a little longer, and expect to be in the water for up to 3 hours, plus additional time to meet and get changed.

We will provide you with a full-length, winter wetsuit as well as a buoyancy aid and helmet. We only use top-quality equipment which undergoes regular inspection. We use wetsuits by C-Skins and our buoyancy aids and helmets are supplied by a Cornwall-based company, Nookie. You do need to bring some items, which you can read about in the next question.

You do need to bring a few things with you to go coasteering with us. Most importantly is footwear. Suitable footwear is crucial for coasteering, so please don't forget! A pair of trainers is our recommendation (obviously a pair you are happy to get wet), but wetsuit boots are fine if you have them (they don't grip as well). Slip-on shoes are not suitable, as they are easily sucked off by waves and jumping. People often bring reef or 'sea shoes' along. Whilst not ideal, these kind of shoes are OK, so long as they fit very well. If they are too big they can easily come off and get lost. If you lose your footwear during a session, for reasons of safety you will have to stop taking part in the activity at this point. No refunds will be given to anyone who is prevented from taking part due to inadequate footwear.

You also need to bring an extra pair of shorts, to go over the wetsuit. This gives you a little extra padding and helps protect our wetsuits from the barnacles. Finally, please bring your usual swimming kit and a towel.

We would recommend that you only use your own wetsuit if it is a full-length, winter wetsuit i.e. 5/4mm in thickness. If you in any doubt, feel free to bring your wetsuit along and we can have a look at it and decide which is best. Our wetsuits are well-maintained, good quality wetsuits that we are confident will keep you warm for the duration of your coasteering session.

Our minimum age for coasteering is 9 years old. Do let us know if you have young children in your group when booking, as younger coasteerers do struggle if the sea is rough. Ideally, if you have some flexibility on the day you come coasteering, let us know and we will try to get you out on one of the calmest days during your stay to ensure you all have the best time possible.

Note that children younger than 14 years of age must be accompanied by an adult to particpate in any of our coasteering adventures (apart from Advanced Coasteering, which has a minimum age of 16-years-old).

We have an absolute maximum jump height of ten metres, or 33 feet. Whilst we don't always get up to that height, all of our routes have several large jumps that are in this ballpark. As well as that, you can expect a range of smaller and medium jumps on our coasteering routes. So there is something for everyone, and you will only progress to higher jumps after you have honed and demonstrated good technique on the smaller jumps.

Being afraid of heights is no problem, as we spend the majority of our time at sea level. Almost all edges and heights are avoidable if desired. There is no obligation to jump when coasteering with us and as jumping is only one element of coasteering, there's still plenty of good reasons why you should try it. You can still enjoy the wild swimming, interacting with the waves and exploring all the hidden coastal features not accessible in any other way, other than coasteering.

You only need a basic level of fitness to take part in coasteering. The element of coasteering that tires people out the most is the swimming, especially if they are not regular swimmers. Don't worry, the largest single sections of swimming on our coasteering routes are rarely more than fifty metres and there's plenty of time to catch your breath when we get back on the rocks or whist we are waiting for others to jump.

Contact lens wearers should have no problem wearing their lenses when coasteering. As it happens, Matt, owner of Kernow Coasteering, wears contact lenses for every coasteering session he does and he's never lost one. That being said, we cannot rule out the possibility of losing a contact lens whilst coasteering. If you do not have spares with you, or simply cannot afford to lose them, you may want to consider removing them before entering the water.

People do wear glasses when coasteering with us. Ideally, you have a bespoke retaining strap that will keep them in place. If not, we can fashion something out of a shoelace and a couple of cunning knots. Start with small jumps and see how they feel before progressing to larger jumps.

The inter-tidal zone in which we do our coasteering is teeming with wildlife. Almost every rock surface is covered in some kind of life, from barnacles and limpets to various seaweeds and algae. Low tide reveals an unbelievable hidden world of brightly coloured seaweeds and sponges and even starfish which can look positively psychedelic.

In terms of larger animals, the cliffs are home to numerous sea birds, the most common of which are herring gulls, cormorants and shags. It's great to be able to see them in their natural environment. Of course, if we are lucky we may even have an encounter with a seal or two. On some of our coasteering routes, we see them almost every visit, whilst at others, we see them infrequently.

We've only seen dolphins once or twice when we've been coasteering, so if you are lucky enough to see them coasteering with us, consider yourself extremely lucky.

Whether it is raining has no bearing on whether we can go coasteering or not, as we will be spending much of our time in the sea anyway. In fact, rainy days are perfect for coasteering – it certainly beats a day stuck indoors!

Make no mistake, the seas around Cornwall are never warm! The sea temperatures range from 9 degrees celsius in the winter, up to about 17 degrees in the summer. You can find more information about Cornish, as well as national sea temperatures here. With that in mind, we use good quality winter thickness wetsuits all year round. That means when you're coasteering with us you will be comfortably warm throughout the activity. If you come coasteering with us in the colder months we can provide you some wetsuit gloves as well.

Like any outdoor activity, coasteering is weather dependent, and we do occasionally have to cancel or postpone our sessions if the sea is very rough. Should this be necessary we will give you as much notice as is possible to help us make alternative plans. Our preference will be to postpone the session to another mutually convenient day or suggest an alternative activity, such as rock climbing or mine exploration. If none of those options work, then we offer a full refund if we have to cancel your coasteering session because of rough seas.

Yes, we can offer private coasteering sessions for you and your group. Note, that these are subject to availability and will not be available during the school summer holidays. Private sessions are a great option, allowing us to tailor the coasteering specifically for your groups' abilities. That may mean a very mellow session at a sheltered spot, great for younger coasteerers. Or it may mean you prefer to ramp it up and have a coasteering session filled with as many jumps and challenges as possible.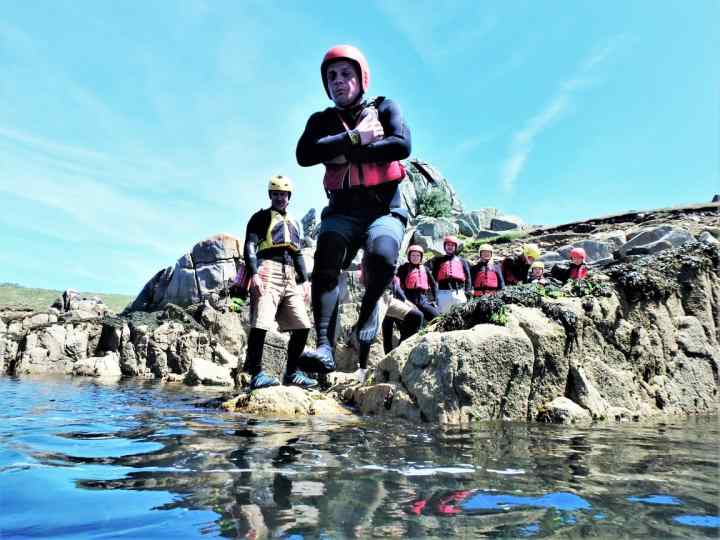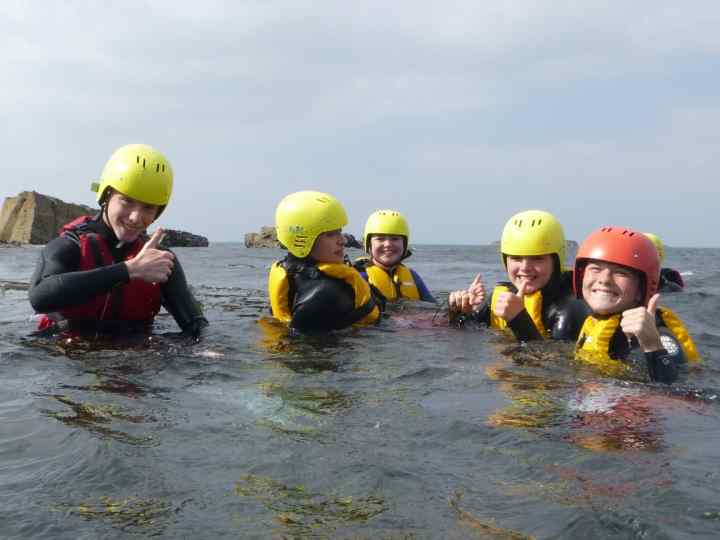 ---
ROCK CLIMBING FAQ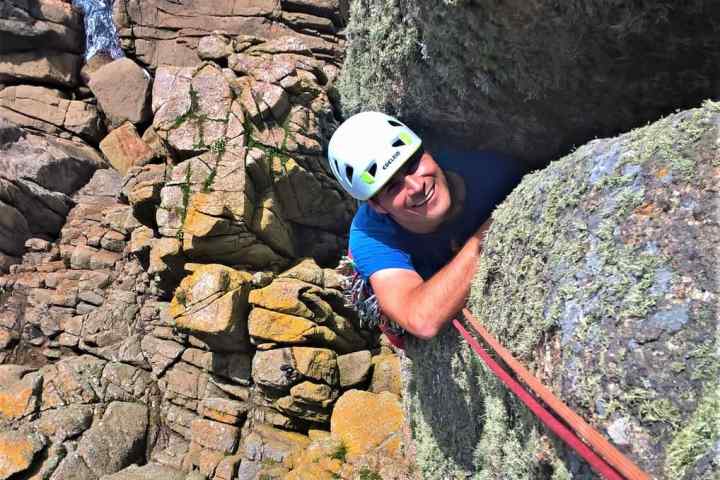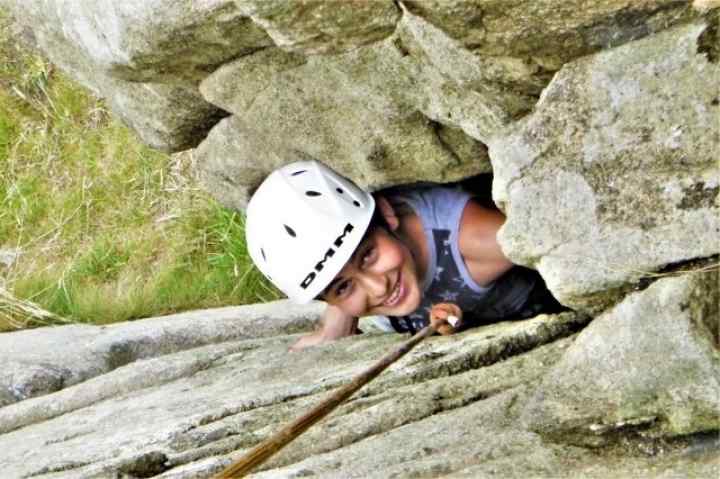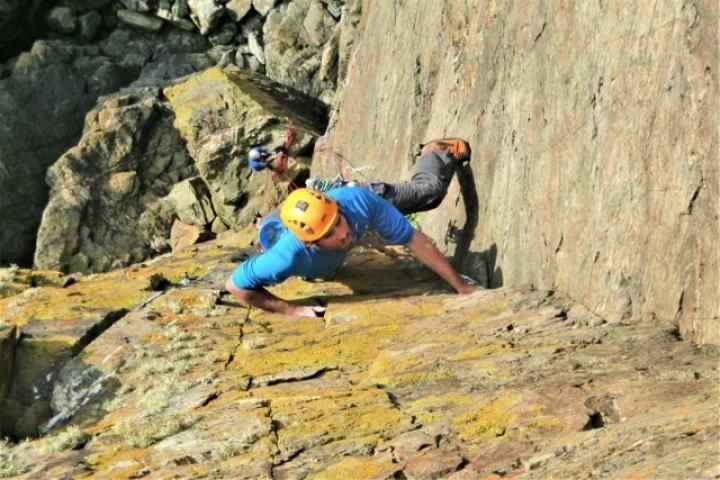 All your questions about rock climbing in Cornwall with us, whether it's your first time, or whether you're a regular rock jock!
Yes, even if you've never climbed before outdoors or even indoors, we're confident you'll have a blast giving rock climbing a try. Rock climbers have established a system or recording and grading routes according to their difficulty. That means we have a huge selection of routes for you to try your hand at. The easiest routes are like natural rock ladders with lots of ledges to stand on and plenty of places to rest those arms. Once you've successfully 'sent' your first route, you'll be keen for more, and you can increase the level of challenge at your own pace. Warning: You may well find this process addictive!

It's a common misconception that only those people who can do a hundred pull-ups can do rock climbing. It's actually much more important to try and climb with technique. We'll coach you with the basic skills to make instant progress on some beginner-grade climbs without the need to pull like a hero. Regular climbing will lead to gains in fitness and strength, allowing you to tackle more challenging routes. So it is a great hobby to get into as a means of keeping fit.

Rock climbing can certainly be a risky endeavour. But it can also be completely safe. You can rest assured that during any rock climbing course with Kernow Coasteering, we will keep you safe at all times. To put it into perspective, data gathered by RoSPA suggest that there is a much greater likelihood of getting injured participating in common sports such as football and rugby, than getting injured rock climbing.

No problem! We're always going to be using ropes when we climb. In almost all situations you will have a rope above you, so if you come off the rock you only fall a matter of inches. The exception to this would only be if you are learning lead climbing on one of our advanced courses. Even when lead climbing we are still using ropes and placing protection in the rock to minimise any fall. Falling is actually a very normal part of climbing and allows us to push our own limits to climb harder routes. As they say, "If you're not flying, you're not trying!"

As with many adventurous activities, climbing can be scary at times. It's natural to be scared when climbing high above the ground. Compare it to riding a roller-coaster, or even watching a scary movie - being scared can actually be part of the fun. Facing a little bit of fear, as well as overcoming the technical challenge of rock climbing, is a very rewarding process and one the main reasons why people who try this sport often get addicted to it.

There's no pressure to reach the top of a rock climbing route if you don't want to or feel that you can't do it. You only need to climb as high as you want to go and when you're done you can be safely lowered back to the ground at any point. That means there's no reason not to give rock climbing a go, even if you are scared of heights. Learning to trust the security of the rope means that, even though it's natural to be scared, you also know that you are safe and can be lowered back to terra firma at any moment.

Rest assured there will be no free soloing on any rock routes when you are climbing with Kernow Coasteering. Free Soloing if a very niche sub-genre of rock climbing only practised by a minority of individuals who have, through years of experience, very high levels of skills, judgement and managing their fear. Needless to say, this style of climbing only appeals to a tiny fraction of climbers as the consequences of a slip are so serious. Our aim to make you safer climbers, whether it is your first time on rock, or whether you are on an intermediate or advanced course and are looking to improve. We do this by teaching you safe systems of rope management, as well as how to select appropriate route objectives for where you're at, and finally, by making you better climbers by learning better technique and also developing the judgement to know when to back off a route that might be beyond where your current skill level.

No, rock climbing is for normal people like you and us, too! Most rock climbers do not consider themselves to be adrenalin junkies. You have to bear in mind, that when you see and accomplished rock climber climbing a route that looks very scary and impressive, that they have most likely acquired years of experience to get to that level. They started on very easy, very safe routes too. Only by a gradual process of improving their skills, strength and mental control, are they now able to climb the apparently impossible-looking route they're on now.

Rock climbing is actually a problem-solving sport. Think of any particular rock face as a puzzle – you have to figure out how to move between the available holds, deciding what techniques, footwork and body positions you will need to use to stay on the rock. Rock climbing, therefore, particularly appeals to people who enjoy this problem-solving element.

West Cornwall has a huge variety of crags we can choose from. Where we go on any given day depends largely on the weather and also the sea conditions, as some of the crags we used can be affected by rough seas. For our advanced and guided sea-cliff climbing courses, we may head to more remote venues, but our beginner rock climbing courses are usually conducted at Trewavas Head, near Porthleven and Praa Sands. For this crag we meet in the car park at Rinsey Cove. The nearest post code for this location is TR13 9TS.

We also have a fondness for the crag at Sennen, near Land's End, and this is often where we conduct our intermediate rock climbing courses.

We usually meet at 0930 to 1000 for our rock climbing courses and will climb through until mid to late afternoon. This allows us to get a lot of climbing done, leave plenty of room for learning, and also means we can take things at a relaxed pace. We don't have a set finished time, it's more important to us that we give you a fulfilling day on the rock and cover all the things you set out to accomplish.

We do get asked whether we do shorter, half-day climbing sessions. We have found that be the time we meet, walk to a crag, get everything set up to go, that we can't really get much done with only half a day to play with. Therefore, we think the best value we can offer you is a full day at the crag.

We will provide all equipment needed for your rock climbing experience, including harnesses, helmets and rock climbing shoes. We will also provide all ropes and other paraphernalia needed to equip all of the routes we climb. We only use good quality climbing equipment by brands such as DMM. All of our equipment is subject to regular checks, in line with industry standards.

You do need to come prepared for a day's climbing with us, and that includes bringing a few things with you, including:

- Suitable, loose-fitting, comfortable clothes for climbing. Shorts are not recommended, to prevent rock rash!

- Suitable footwear for walking the coast path to the crag i.e. trainers or walking boots. It is recommended to bring a light rain jacket, as you never know!

- Food, drink, and sunscreen for the day.

- A rucksack, or similar to carry the above and to carry the climbing equipment we lend you (shoes, harness, helmet, etc.)

If you have any of your own climbing gear, such as shoes, harness, and helmet, feel free to bring them along. Subject to a quick inspection by your climbing instructor, you are welcome to use them for the duration of your climbing course.

Climbing is a great activity for children and our minimum age for taking part is 5 years old. The climbing we do with very young people will all be done using a method known as 'top-roping', which means they will be attached to a rope at all times, so taking a fall of more than a few inches is not possible. Climbing can be very beneficial to young children, promoting the development of full-body coordination, muscle development, as well as problem-solving skills.

Climbing wet rock is no fun at all. So if the weather forecast is dreadful, we will postpone your activity, or offer you an alternative, such as coasteering or mine exploration. If maybe one or two showers are forecast, we will probably head out, so if that's the case make sure you bring some extra layers and some waterproofs in case we need to shelter briefly. If the weather does prevent us from going out at all and we cannot postpone your activity, you will get a full refund.
---
GENERAL FAQ
Here you will find answers to any other questions you may have about Kernow Coasteering and how we do things.