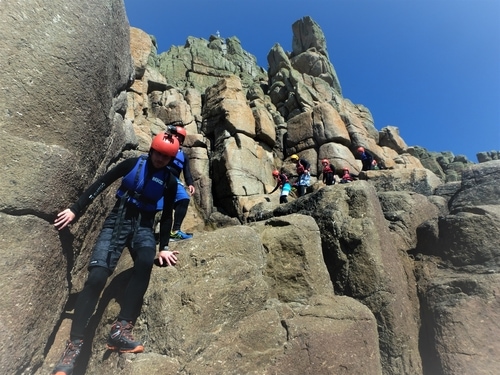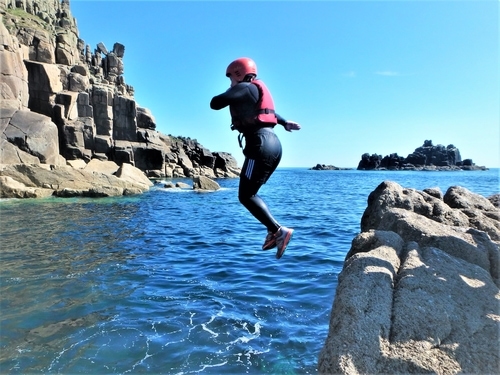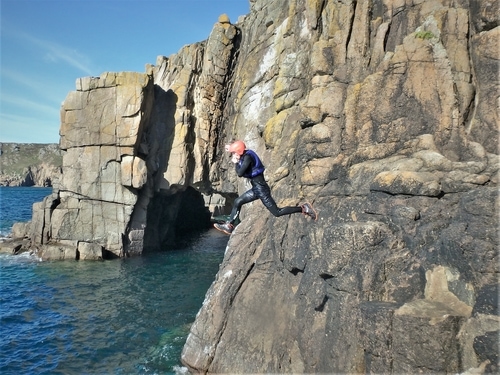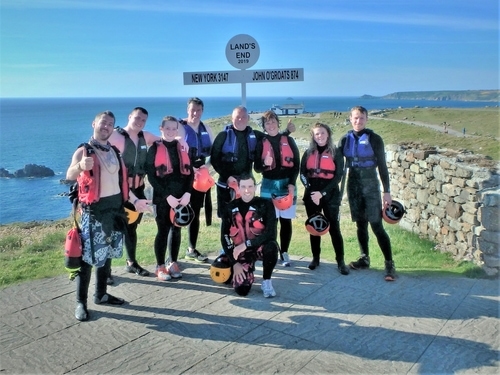 Coasteering at Land's End - Our Advanced Route for Experienced Coasteerers
---
We are proud to present the ultimate coasteering adventure Cornwall has to offer: taking on the challenging cliffs of Land's End, the most westerly point in the mainland British Isles. With nothing standing between you and the open Atlantic, experience the raw excitement of coasteering at its fullest. If you have been coasteering before and are looking to step things up, this trip ois for you.
With its incredible mix of stunning cliff architecture, jaw-dropping sea caves and arches, as well as indescribable features and plenty of tasty jumps, this is the next-level of coasteering challenge you've been waiting for. And there is, of course, the infamous 'Ghost Train'...
"Had a fantastic time coasteering at Land's End. Would definitely do it again."
---
So what is it about coasteering at Land's End that makes this the ultimate coasteering in Cornwall? As soon as you start descending the towering cliffs you'll realise that, first, it's the scenery. The golden granite cliffs have been chiselled and sculpted over the ages to form a breath-taking landscape of vertical cliffs, rocky promontories, arches and caves.
Land's End draws visitors from far and wide, but none of them will be seeing it from our perspective, down at sea level, exploring every nook and cranny of these cliffs in fascinating detail. Having explored the coasteering all around Cornwall, we can safely say simply being in this place is an unforgettable experience.
Each zawn, gully and cove presents its own challenge which we need to work as a team to cross. Explore all of the coasteering features: wave-washed slabs, pour-overs, islets, sea stacks and caves. The caves at Land's End need special mention. Huge, cathedral caverns; luminous seaweed-stained grottos; incredible arches to swim through and the Ghost Train, the indescribable highlight of the route that has to be seen to be believed.
As we round the UK mainland's most westerly point and finally scramble up the buttress over the final archway of Gamper Hole, you'll feel a great sense of achievement, exhausted, but delighted to have ticked Cornwall's ultimate coasteering challenge.
---
Requirements for Land's End Coasteering
Make no mistake, this is our most adrenalin-filled coasteering adventure, and is for experienced, physically fit coasteerers only. The route is very committing with only one way in, one way out, and with a lot of adventurous ground to cover in between.
Those who are up for the challenge will be rewarded with a truly memorable experience at one of England's iconic landmarks. To do the Land's End coasteer you must meet the following requirements:
You must be at least 16 years of age.
You must be able to swim 200m unassisted in a swimming pool.
You must have been coasteering before in a tidal, swell affected setting, ideally with Kernow Coasteering.
The exit requires some easy scrambling, and may not be suitable for anyone with a fear of heights. Rope assistance can be given, if required.
LAND'S END COASTEERING
£50 per person
(approx. 3-4 hours)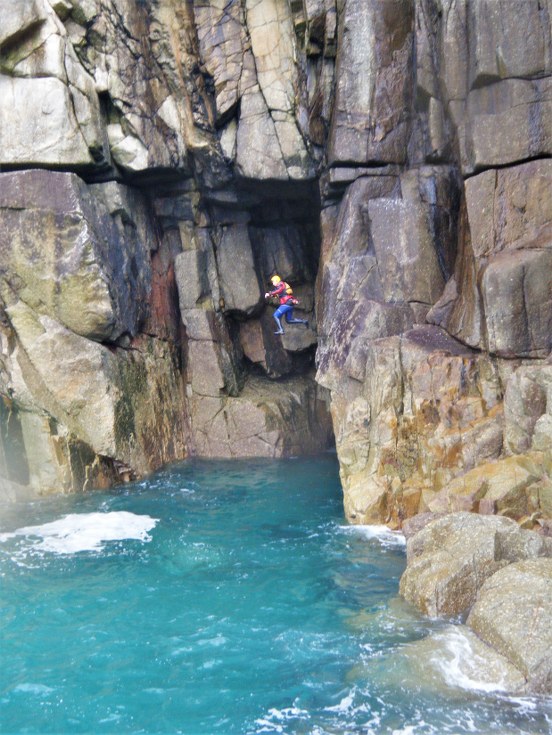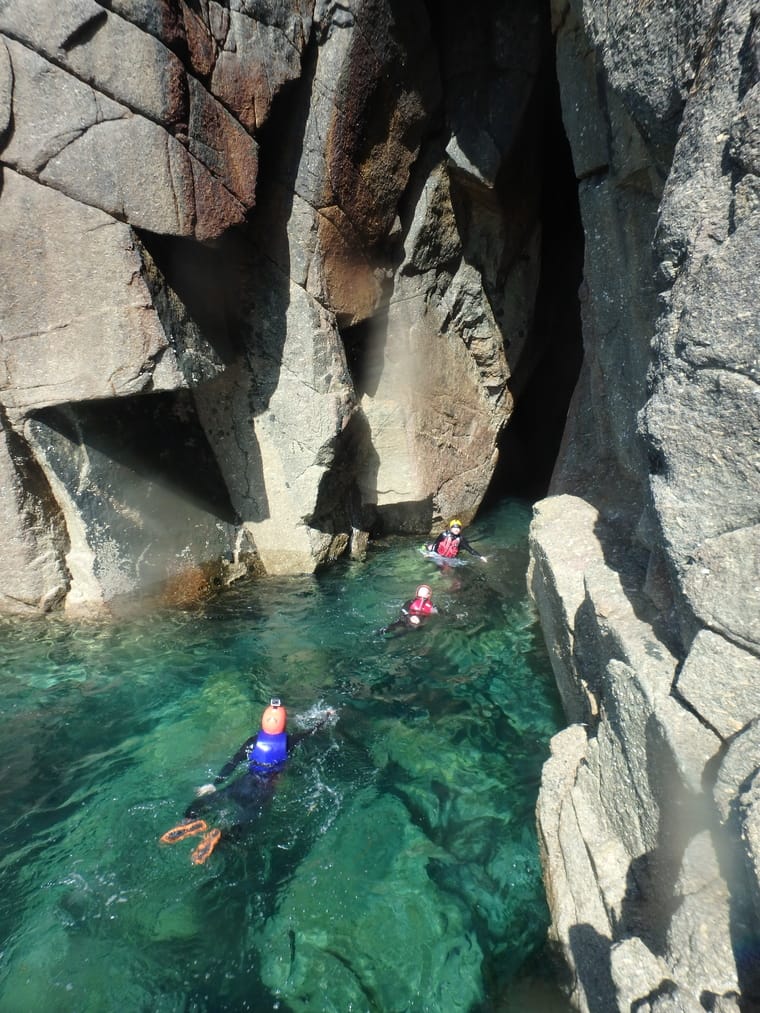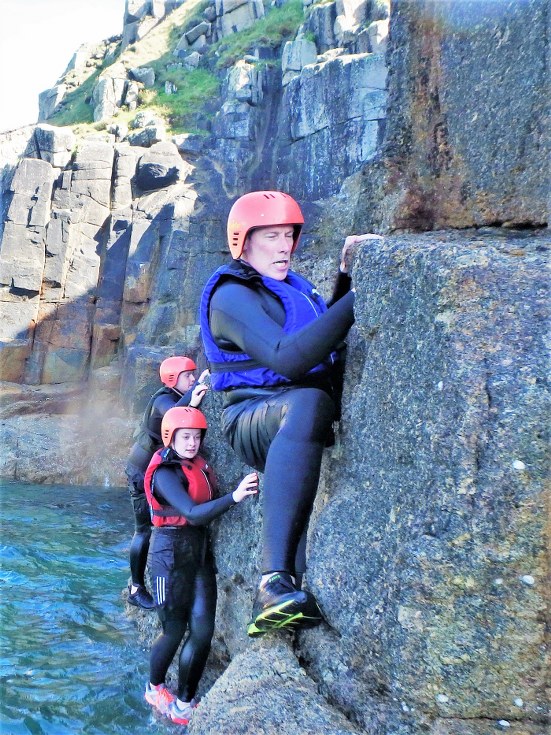 ---
---
How Does Land's End Coasteering Work?
Land's End is very exposed to swell coming in from the Atlantic Ocean, so it is not possible to do coasteering here every day. Therefore if you would like to do this coasteer, contact us to register your interest, and let us know the time period in which you can do the activity. We will then pick the best day during that period to do the coasteer.
Your flexibility is greatly appreciated, as the weather forecast changes constantly. If during your time in the area suitable conditions for Land's End coasteering don't occur, we will take you on one of our other fantastic coasteering routes instead.
(Please note that the two very large cliff jumps at the end of the video on this page are not part of this route.)