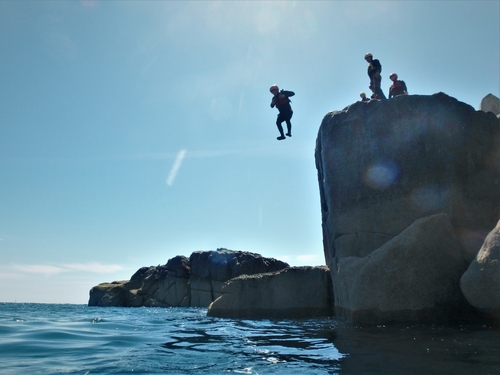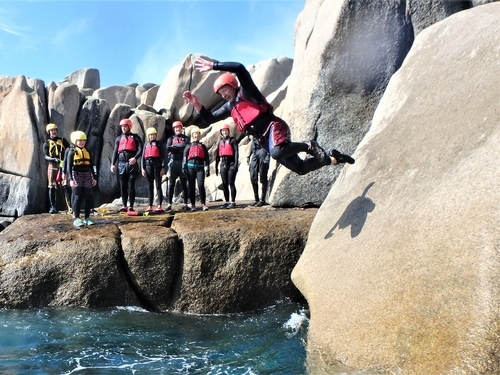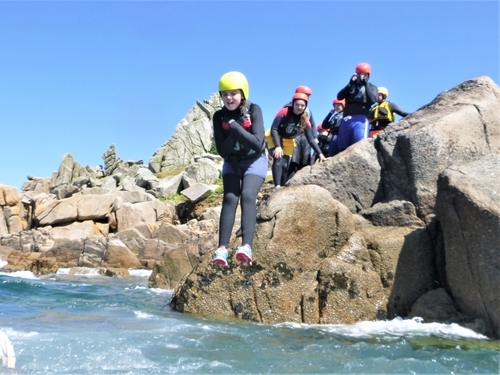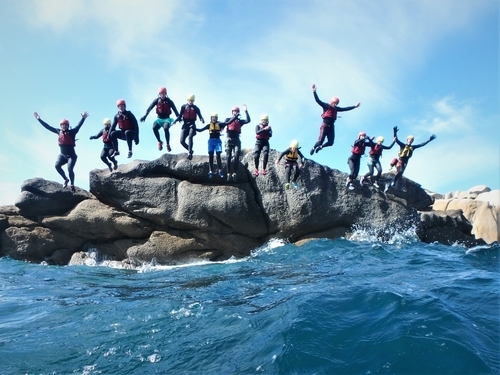 ---
"Fantastic day on the Isles of Scilly! Brilliant leaders, and amazing experience - would do it again and would highly recommend!!"
SCILLY COASTEERING
£50 per person
(approx. 3 hours)
We are very proud to be the only providers of coasteering on the fabulous Isles of Scilly. With a truly incredible coasteering route at our disposal on Scilly's main island, St. Mary's, we truly feel this is one of the best experiences you can have on the Isles of Scilly. The Isles of Scilly offer a multitude of things to do and places to visit. But top of your list should be Kernow Coasteering's adrenalin-filled coasteering adventures.
Working in collaboration with the Isles of Scilly Wildlife Trust and Natural England, we do our coasteering at the magnificent site of Peninnis Head on the main island of St. Mary's. This is just a stone's throw from the centre of Hugh Town. For those travelling from the off-islands, such as Tresco, we are only a fifteen-minute walk from the quay.
Our first visit to Peninnis Head filled us with great excitement, as we instantly knew we'd discovered a site of incredibly high-quality coasteering. The landscape is unique, with other-worldly granite rock formations jutting into the sea.
And if journeying through this wonderful landscape wasn't enough, you will find coasteering of the highest quality. Explore incredible features, such as gullies, piles of giant boulders to scramble, swim and get washed under, towering granite cliffs and, of course, HUGE jumps.
---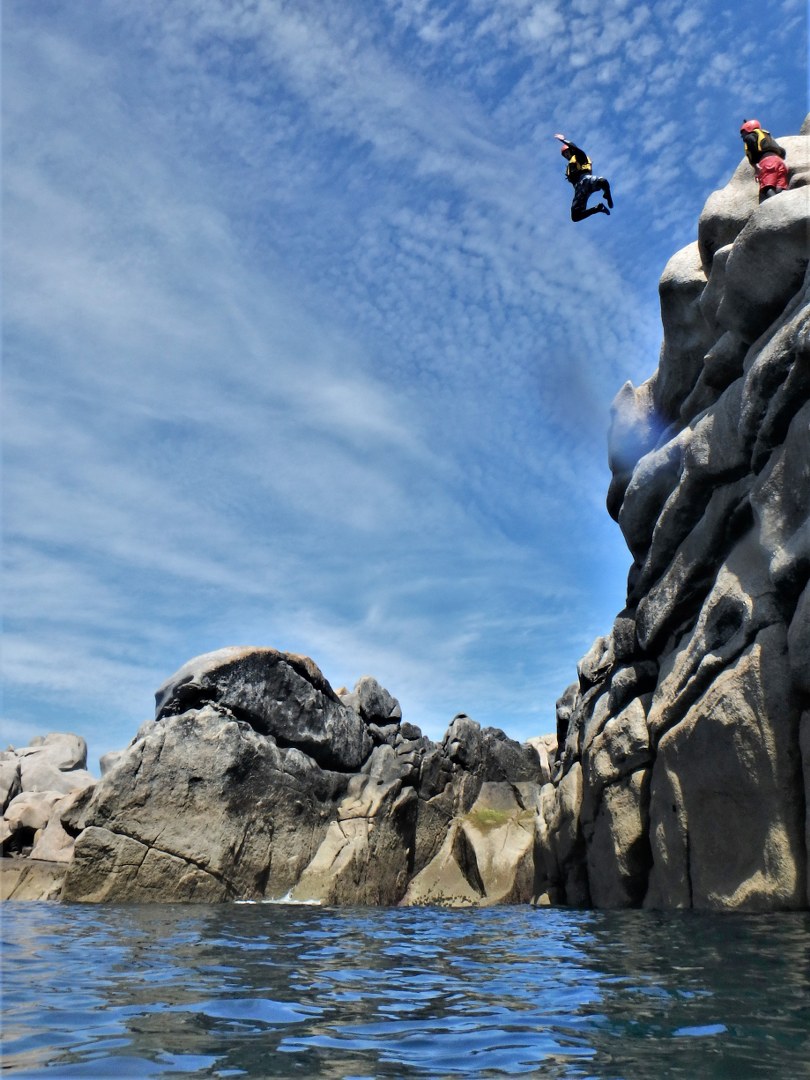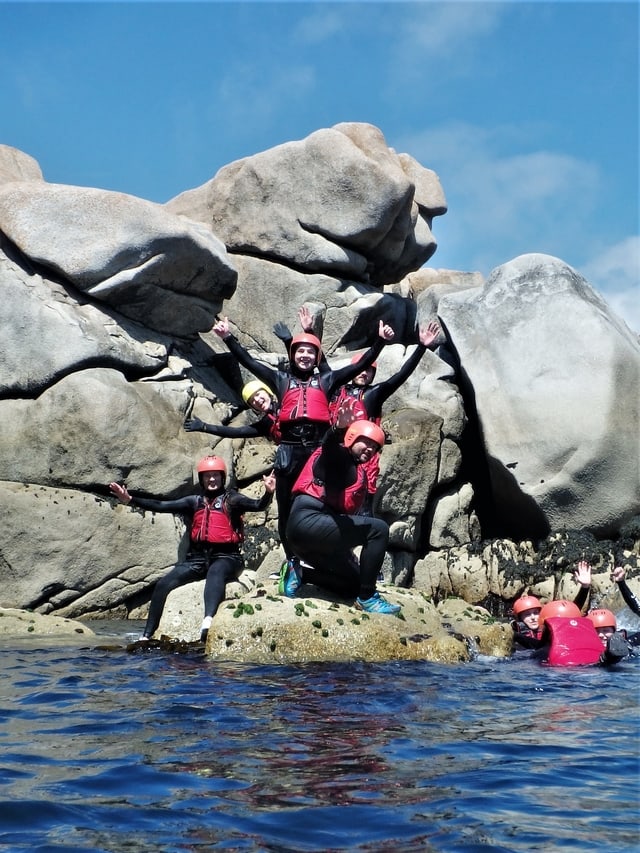 How does Coasteering on the Isles of Scilly work?
Throughout the season, from Easter to autumn, we offer coasteering by demand on one or two days of the week. Whether you are planning a trip to the Scilly Isles, or have just arrived, get in touch and we can let you know what day we can take you out. Alternatively, look on our calendar to see if we are running any sessions.
Our coasteering site is conveniently situated on St. Mary's, just a short walk from Hugh Town. So whether you're staying on the main island, or on one of the off-islands, such as Tresco, getting to us won't be too difficult. Please note that we do not organise travel to and from the islands. As with our coasteering in Cornwall, we will provide you with a winter wetsuit, helmet and buoyancy aid.
As well as your swimwear and a towel, please bring a pair of lace-up shoes you are happy to wear coasteering, as well as an extra pair of shorts to wear over the wetsuit we lend you.
The minimum age for coasteering is 9-years-old. Please let us know if you have young member in your group, as we may need to take this into account during rougher weather. Note that children younger than 14 years of age must be accompanied by an adult to particpate in any of our coasteering adventures.
We need a minimum group of six people to run a coasteering session, but don't worry if you're less than that number, as we will put you with some other eager coasteerers to form a large enough group. We also need the right weather conditions to be able to safely enjoy the water at Peninnis Head, so having a bit of flexibility in which day you are available for coasteering would be a big advantage, but it is not essential.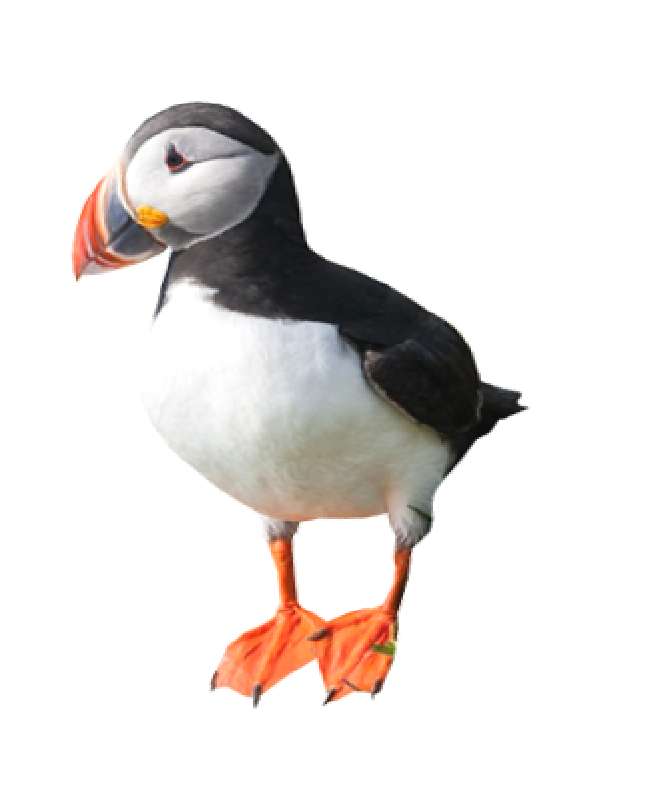 ---
---
How to Find Us
Our headquarters for coasteering on the Isles of Scilly are on the main island of St. Mary's. We will give you full directions when you book your session with us, but our base is a container opposite Peninnis Farm Lodges. This is located just outside of Hugh Town, and so is easily reachable from anywhere on St. Mary's.
We are also just a short walk from the quay, being about 15 minutes on foot. This means if you are staying on St. Agnes, Bryher, Tresco, or St. Martin's, you can easily reach us using the inter-island boat services. Please let us know which island you are staying on when booking so we can make sure you can arrive in time to meet us, and most importantly so that you don't miss the last boat back to your island.