A Look at Coasteering's Origins in the UK and How It Has Spread Around the Globe
Where can I go Coasteering? It is a question we often hear asked. It turns out the answer may be many more places than you may have thought. In this article, we look at how coasteering began, and how it has spread to various corners of our planet. Coasteering originated in the UK, but after the turn of the millenium and, particularly in the last ten years, it has experienced lots of growth. This has primarily been seen in Europe, however we do see coasteering in remote and far-flung places. We also have a look at where coasteering may be developed in the future.
Coasteering in the UK
It is no surprise that coasteering has its origins in the UK. Being a group of islands with a long and proud history of seafarers, explorers and mariners going back into pre-history, the people of these nations have always had a close association with the sea. People used it to make their livelihood, learned how its resources could be exploited as well as how it provided the first line of defence against invasion by foreign powers. Then, during the 20th century, as people began to acquire more time for leisure, the sea started to become a place for pure recreation. As technologies evolved to meet the demands of newly flourishing sports, the UK became home to multitudes of kayakers, surfers, and wind-surfers.
Back on dry land, the UK had also become among the forefront of the development of rock climbing, starting in earnest in the late nineteenth century. With a vast array of sea-cliffs up and down these coasts, rock climbers had visited and established rock-climbing routes on sea-cliffs in every corner of the UK by the middle of the twentieth century. One of the earliest examples of the word coasteering occurring in print was from climbers, Robin Collumb and John Cleare, in their 1973 guide book 'Sea Cliff Climbing'. An amalgamation of the words 'mountaineering' and 'coast', it should therefore be pronounced similarly to mountaineering, with the emphasis on the 'EERing'.
"The main object is to remain in with the rock, and not to avoid particular difficulties by taking to the water again as a matter of course."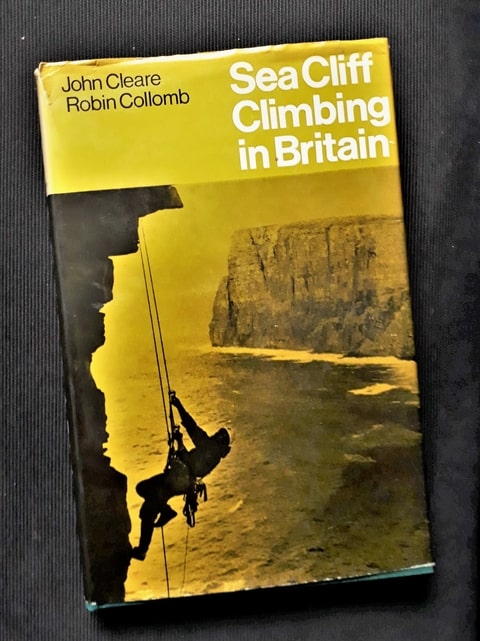 However, it is likely that, despite coining the phrase, they were referring more to sea-level traversing, using rock climbing techniques to move across cliffs, staying close to, but avoiding the water as much as possible. This would have involved traditional, roped rock climbing techniques, as well as cunning lassoes and Tyrolean traverses to cross zawns and chasms. Swims would have been the last resort when no other technique would suffice to cross a particular obstacle. Indeed, Collumb and Cleare say, "The main object is to remain in with the rock, and not to avoid particular difficulties by taking to the water again as a matter of course."
Throughout the 70s and 80s many individuals and small groups of surfers, kayakers, and other people with appropriate experience of the coastal environment, would have quietly enjoyed the occasional coasteering adventure as a diversion from their usual activities, maybe when the weather wasn't quite right for kayaking, or the wind was wrong for surfing. Matt, owner of Kernow Coasteering says, "I remember many adventures exploring the cliffs near my home in Sennen Cove when I was growing up, on days when there was no surf. This was long before we knew what coasteering was. We were simply exploring our local environment and finding things to jump off!"
Wales – Birthplace of Modern Coasteering
In the mid-80s, about the time I was enjoying my first forays into my own coasteering playground near Land's End, it began to be offered as a commercially guided activity for the first time in Pembrokeshire in Wales. The man whose name has gone down in coasteering history as the forefather of the coasteering industry is Andy Middleton. He introduced guided coasteering at his newly founded business at the Twr-y Felin Hotel, near St. David's. Within the space of just a few years, a handful of providers were offering coasteering in this region of southwest Wales.
From here, coasteering's spread across the UK was rapid, but albeit quite haphazard. Unexpectedly, it seems some of the more remote regions of the UK were the first to adopt coasteering outside of South Wales. Whilst it took the best part of ten years to reach North Wales, The Hebrides of Scotland were offering the activity within a few years of Pembrokeshire, with Hebridean Pursuits running coasteering sessions on the Isle of Mull by 1990. The Outer Hebrides were soon to follow, with North Uist Outdoor Centre taking up the torch in 1992.
In these pre-internet days, networking amongst outdoor instructors would have played a huge part in helping to spread the word. Indeed, across the UK, and as we look at coasteering's growth in other parts of the world, the majority of cases began when they had seen or heard about the idea elsewhere and realised they could apply it to their local coastline.
There are exceptions, however. As Hebridean centres were developing coasteering in the northernmost fringes of the British Isles, something was cooking in the UK's southernmost islands. John Fox founded Jersey Adventures in 1993, unaware that coasteering was being offered as a guided activity elsewhere. Locals had been sea-level traversing the coastline of Jersey for decades to reach its secluded coves. With one of the highest tidal ranges in the world, either an impeccable local knowledge, or a willingness to get wet, or both, would have been necessary to reach the coveted 'Venus pools'. These pools, only exposed at low tide, were said to be frequented by local women who, according to folklore, believed that bathing in these pools would increase their fertility.
Amazingly the southwest of England was seemingly asleep as all this coasteering was springing up in relatively obscure parts of the UK. Sooner or later, coasteering in Cornwall was inevitable, with surf schools in the UK surf capital of Newquay realising there was a new activity they could offer their clients.
"We came up with the idea by mistake. Myself and a pal went looking for tunnels on a Newquay headland. We swam around a bit, climbed up and down, jumped off some rocks. I was working at an outdoor activity centre...we went out and re-created the trip. We came up with some routes and started taking groups out. We found another place in Wales that was doing similar. They were calling it coasteering."
Once again, it seems the idea was born independently, rather than emulating what was going on in other parts of the country. Mine exploring legend, Pat Moret, says that coasteering in Cornwall started around the turn of the millennium. "We came up with the idea by mistake. Myself and a pal went looking for tunnels on a Newquay headland with wetsuits, lamps, and helmets. We swam around a bit, climbed up and down, etc., jumped off some rocks. We then saw some kids tomb-stoning, so we got a bit braver. I was working at Lusty Glaze (an outdoor activity centre) at the time. The next day I told them about it and we went out and re-created the trip. Over a few weeks, we came up with some routes and started taking groups out. Early the following year, Lusty Glaze found another place in Wales that was doing similar. They were calling it coasteering."
It didn't take long for the Cornish surf-schools to begin to diversify and include coasteering in their offer, and the activity spread across the county. Newquay remains the coasteering epicentre of Cornwall, with the highest concentration of Cornish providers offering coasteering on the Newquay coastline. Devon, also late to the game, had established coasteering by the mid-noughties. Fast forward to today, and Devon has the highest number of National Coasteering Charter affiliated providers of any region. Significantly more than the entire nation of Wales, where coasteering began.
Coasteering gradually spread to all corners of the UK mainland, as well as most of its groups of islands. From the Isles of Scilly to the Orkney Islands, and from Jersey and Guernsey to the Isle of Lewis, coasteering is now available. It's probably safe to say that no area of suitable coastline in the UK remains where a provider hasn't moved in to capitalise on what has been described as one of the UK's most popular adventurous activities.
Coasteering found its way to the Republic of Ireland in around 2008-2009. One of the first Irish providers was Nevsail Watersports, based in Kilkee, County Clare, o the Wild Atlantic Way. Owner, Dave Neville, told me he set up Nevsail in 2004, to share his passion for kayaking, rock climbing, and other adventurous activities. As coasteering began to gain recognition elsewhere, Dave realised he could add it to Nevsail's package of activities. Along with kayaking, coasteering is now Nevsail's most popular activity.
Dave tells me, "We take participants on an unforgettable Kayaking Clare Tour or Lesson in Kilkee, taking in stunning local inlets, exploring caves and coves, view the stunning cliffs by kayak. After this, participants can try out coasteering in the bay with us too. They seem to go so well together. Also, we have a spot which has been renamed the 'washing machine', in Kilkee and is so much fun for coasteering too."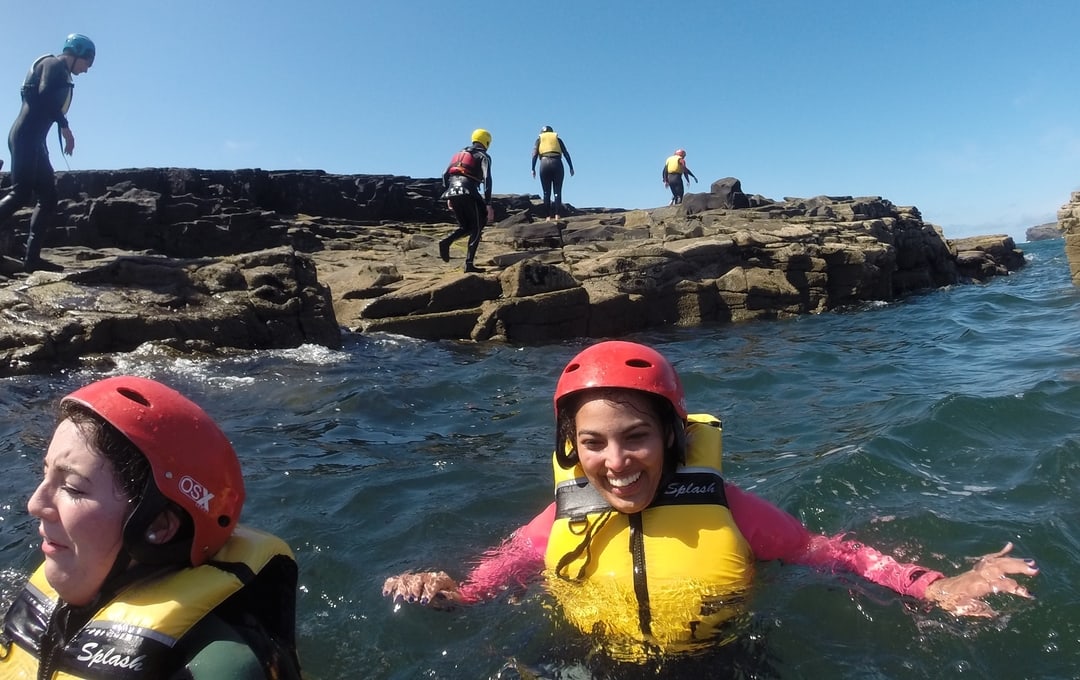 Distant Shores - Coasteering Beyond the UK
Of course, the UK isn't the only part of the world that has a coastline, so I wanted to find out where in the rest of the World coasteering was available, and how it evolved in various other countries. What I found was, unsurprisingly, a mixture of reasons. This includes UK ex-pats, who saw the opportunity to be first movers bringing a brand-new activity to a region. There are cases where a background in similar activities meant the inevitable next-step was coasteering. This is particularly true of many providers in the Mediterranean who came from a canyoning background. It didn't take much imagination to apply their expertise to their local coastal environments, and indeed they still incorporate many techniques essential for canyoning, such as abseiling and even Tyrolean traverses or zip-lines.
Even more interesting were some regions, often at the cutting edge of extreme sports, that seem to remain conspicuously absent from the coasteering scene. As far as I can tell, there are still many more coasteering companies in the UK than the rest of the world combined. Some providers have the privilege of being the only providers of coasteering in their entire continent! Overwhelmingly, most of the countries of the world seem to have no coasteering taking place along their shores.
The following map gives an overview of the various coasteering providers that are currenbtly in operation around the world. The list is not exhaustive, but all regions and countries that are offering coasteering are shown. I have not shown any UK providers, other than a few mentioned in this article. For a definitive list of National Coasteering Charter-affliated providers, check out the map on the NCC's website.
Coasteering in Turkey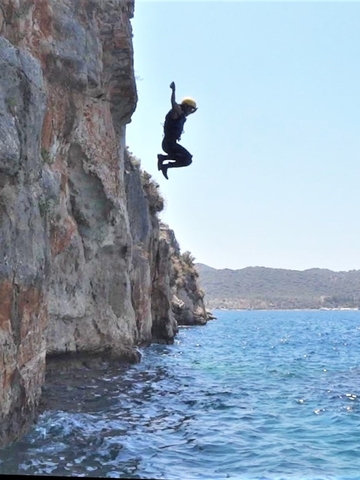 A bit like coasteering's spread throughout the UK, Coasteering's development beyond the UK took an unexpected trajectory. It was Dragoman in Turkey who developed coasteering in their region of Antalya. Founded predominantly as a diving school in 2002, making the most of the Kaş-Kekova Marine Preservation Area and the warm, clear waters of the eastern Mediterranean. Dragoman founder, Gökhan Türe, had heard about the activity happening in Wales and thought the local limestone cliffs around their base in Kaş would be perfect for coasteering. Thus, Dragoman started coasteering in 2004. Bear in mind that coasteering at this time was barely established in places like Cornwall and Devon. To date, they remain Turkey's only provider of coasteering activities. They have a 3km route (I daresay it's easier to cover that distance when you're not fighting the Atlantic swells!) from Büyükçakıl (Big Pebble) beach to Limanağzı Bay. It certainly does look like they have some gorgeous coastline to play with, and the steep, pocketed, limestone cliffs look like they have lots of perfect terrain for boulder traverses and deep-water soloing to reach the higher ledges.
Dragoman were early movers, but it seems that many years went by before other providers started offering coasteering elsewhere in the Mediterranean and the rest of Europe, with all of the other providers in Europe making their entrance on to the scene after 2010.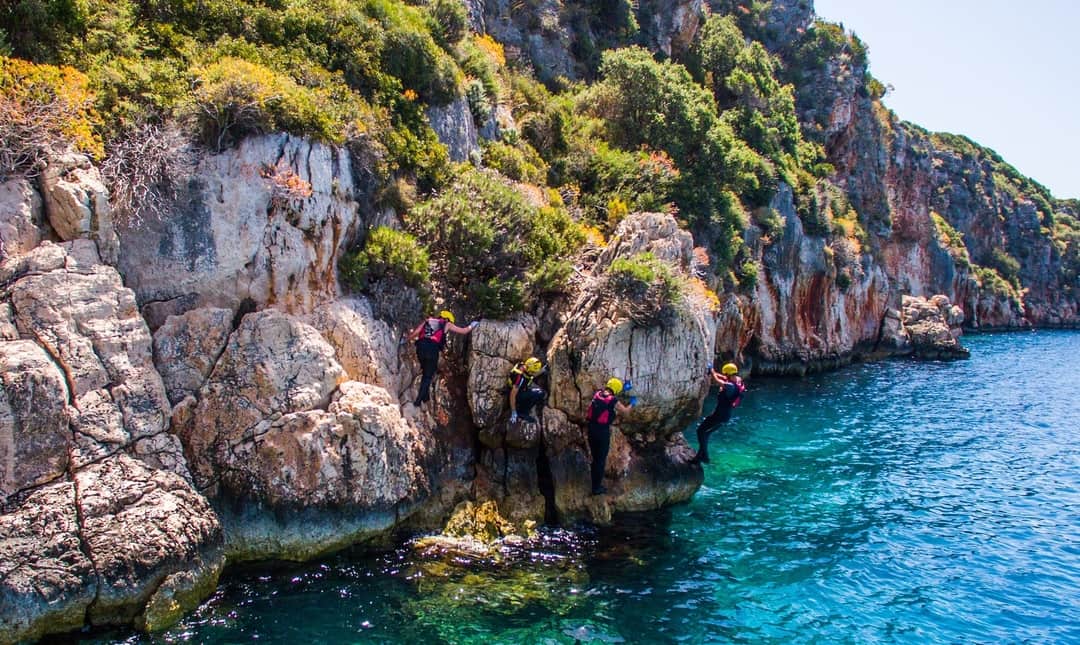 ---
Coasteering in Europe
France
"I structured the Raid Canyon in Brittany for the general public in 2012, but I practiced this approach with my teenage divers for a long time. As a child, I used to crawl along the coast, but without a wetsuit!"
Merely a stone's throw away from the well-established coasteering islands of Jersey and Guernsey, Rando Mer, based at Plougonvelin in Brittany, started offering their Raid Canyon experience in 2012. A 'canyoning' experience on the coast, essentially coasteering, in an ancient landscape of Gneiss cliffs. They have several routes on their doorstep, from sheltered beginner coasteering routes to more advanced routes with more exposure and bigger jumps. Claude Le Guitton has worked as a freelance guide, predominantly in diving, since 1994. Claude says, "I structured the Raid Canyon in Brittany for the general public in 2012, but I practiced this approach with my teenage divers for a long time. As a child, I used to crawl along the coast, but without a wetsuit!"
It seems the French are too busy canyoning in the Alps to have adopted coasteering en masse. The only other provider I could find is based on the French island of Corsica. Les Geckos, offer a wide range of activities, focused around climbing, via ferrata, and canyoning. They also do their canyoning of Corsica's beautiful coastline, thus being France's only other coasteering provider.
The Iberian Peninsula
The Lion's share of Europe's coasteering providers (outside of the UK) is split between Portugal and Spain. Numerous providers now offer the activity on their mainland coasts, and also on their associated islands, in both the Mediterranean Sea and the Atlantic Ocean. In many ways, it's easy to see why these two countries have experienced the majority of growth in the activity. They have perfect climates for spending all day in the water and, especially in the Mediterranean have much calmer seas and smaller tide ranges that can be the blight of many companies in the UK. They are also major tourist destinations for much of Europe, bringing millions of visitors a year, all looking for activities to spice up their holiday. Finally, these countries have fairly strong links with the UK, which would have helped spread the idea of coasteering to these countries. However, could the same not be said of other Mediterranean countries that tick all of those boxes? Let's take Greece, for example. The Greek Islands are another major tourist destination for the whole of Europe and beyond. It also has strong links with the UK. Despite this, we have yet to see coasteering take root here in a big way.
Coasteering in Portugal
Portugal's coasteering can be broken down into three main areas: The Lisbon area, the Algarve, and Portugal's island territories in the Atlantic Ocean. Based to the south of Lisbon, Vertente Natural opened its doors to the public in 2004. Founded as a diving school as well as offering kayaking, they did not start offering coasteering until many years later.
Sheltered from the full force of the open Atlantic, enjoying almost unbroken sunshine and an almost unbroken influx of tourists, the Algarve of Portugal's southern coast is an ideal location for coasteering. Nelson Louzeiro grew up in Lagos and spent lots of time exploring the cliffs and caves in his local area. He first learned about coasteering when he did a lifeguard course in Newquay in 2006. He founded Coastline Algarve and began taking customers coasteering in 2013. Coastline Algarve were the first providers of coasteering in this part of Portugal, and the second company to offer this activity in the country. They have their base near Sagres, the southwestern tip of Europe and a surfing Mecca, and also close to Lagos, known for some of the most beautiful beaches and sea caves in the world. The huge cavern at Praia de Benagil always features highly in lists of the World's best sea caves.
"We are so blessed to be able to do coasteering in a natural park area...The water quality is pristine and the temperature varies between 15 - 21ºC all year round. Our clients often say that it's an adrenaline-filled adventure and that their favourite part is jumping into the cave blowhole!"
Nelson told me, "We are so blessed to be able to do coasteering in a Natural Park area, so we are really immersed in nature and rarely see other people around. The water quality is pristine with great visibility and the temperature varies between 15 - 21ºC all year round, also the Algarve sees 300 days of sunshine per year! Our clients often say that it's an adrenaline-filled adventure and that their favourite part is jumping into the cave blowhole!" That does sound good, I must admit.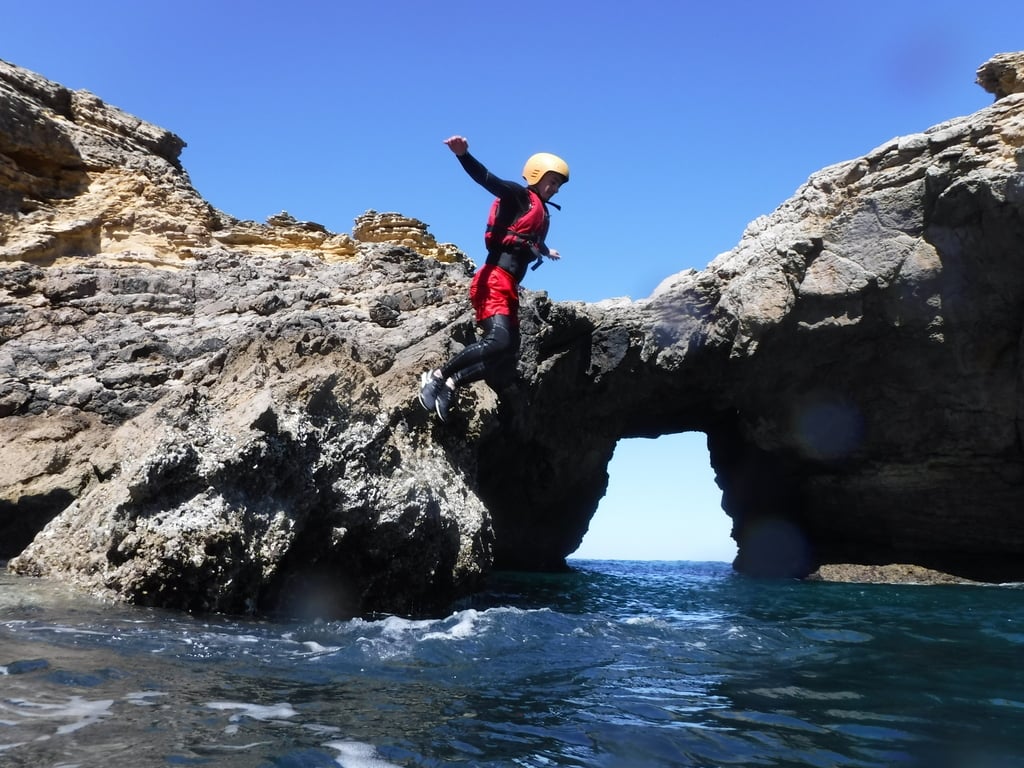 With plenty of coastline to go at, Englishmen Jim Newington and Nick Ainley saw an opportunity and formed Poseidon Adventure, based near Sagres in the Algarve. They began operating in 2019. Jim and Nick met in 2013 when they were both working in an outdoor activity centre in North Cornwall. They went on a staff training day for coasteering and loved it so much that they started working as freelance guides all over the southwest UK. After relocating to Portugal, the pair decided to launch Poseidon.
I asked Jim what makes coasteering in the Algarve so special: "Coasteering in the Algarve is just starting to become more popular. There are a few operators in the area but it's still a relatively unique thing here which makes it special. Sagres is home to big limestone cliffs and it's a peninsula with three coastlines to choose from. So, unless it's a huge swell, there's always a good spot to go coasteering. It's pretty dramatic scenery - they nickname it 'the end of the world'."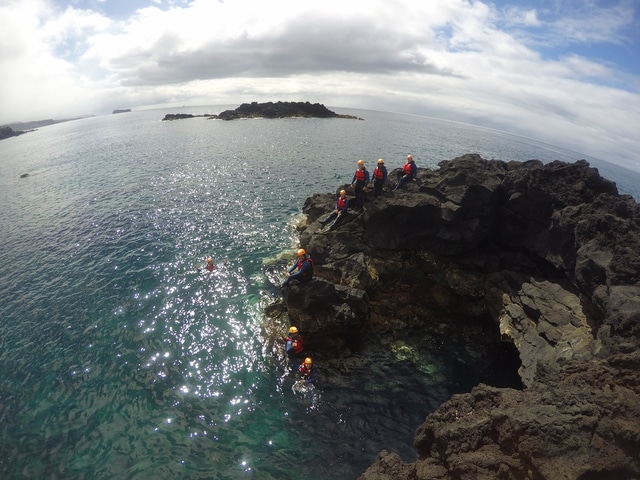 With some far-flung islands to its name, Portugal is now home to some of the more remote coasteering locations currently in use in the world. None more so than the interestingly-named Azorean Active Blueberry. As the name implies, they're located out in the middle of the Atlantic, 850 miles from mainland Portugal. They offer coasteering on the Azore's main island of São Miguel. Paulo Pacheco, owner and guide heard about coasteering whilst searching the internet. They started taking customers on adventures in 2014. "The clear blue waters in contrast with the green view to the Island. As we're in the middle of the North Atlantic we have always some water moments to provide extra fun!" Paulo told me. Being fairly open to the Atlantic where I live in Cornwall, I know exactly what he means!
Coasteering is also available on the Portugese island of Madeira, courtesy of Epic Madeira.
---
Coasteering in Spain
Outside of the UK, Spain probably has the highest density of coasteering organisations, covering most of its corners and associated island territories. In total, it has a similar number of providers to Scotland, which had a head start of several decades in the coasteering scene.
Starting with the mainland, there are coasteering providers dotted along Spain's Mediterranean coast, from Murcia in the south, up towards the French Border, beyond Barcelona.
I spoke with Raul, owner of Xabia Activa, the first company to set up in Spain's Costa Blanca. They have their headquarters in a nature reserve between Denia and Javea, approximately halfway between Alicante and Valencia. I asked Raul how he got into coasteering. "I'm a canyoning and climbing guide. While I was living in Wales, in 2002, I joined the activity a couple of times, it really liked me (sic)." Raul describes coasteering on his patch as a wonderful combination of cave exploration, cultural and environmental explanations, visits to fossil areas, and snorkelling in the cool, clean Mediterranean water.
Near the French border, in the heart of the Costa Brava, Albert Girones, commenced coasteering in 2017 in the form of Aventura Experience. Their base is in the tourist resort of Sant Feliu de Guixols. Albert was aware of coasteering's popularity in the UK, but tells me that it is now becoming more fashionable in Spain. "We started promoting our activity 3 years ago. From a very young age, my father took me and my cousins to the rocks to jump and climb. As we come from an adventurous family and many years doing canyoning we already had almost all the material. Here it is very special because we have very beautiful coasts with spectacular cliffs to be able to jump from, or visit caves. Being an activity that can be done as a family, it has a lot of tourist attraction."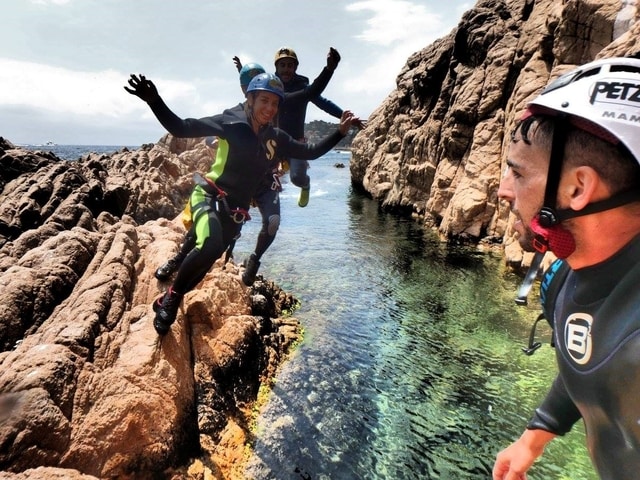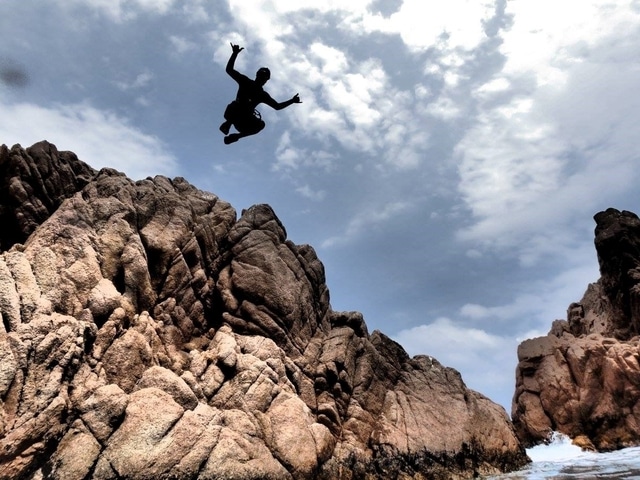 The first place in Spain to pioneer guided coasteering was actually on the islands group of the Canaries. "Our specialty is canyoning, but in the Canaries, we can only do the activity of canyoning in the winter season," Vincent from Mojo Picón Aventura tells me. "So, we were thinking of inventing some activity near the beach for the summer. We knew an area that was considered suitable with deep (sic) cliffs, jumps, caves, and an orography that allowed us to create a unique experience of adventure. We came up with the idea one day to go into the cliffs and going by walking and swimming to get from one point to another. As we went discovering caves, walls, jumps, we were thinking about what we could create. We knew that in Catalonia they had built a via ferrata next to the sea and we liked that idea. On the other hand, in Lanzarote, close to a climbing area, we knew about a zip-line that some guys had mounted from land directly into the water and it was super fun. We looked for a few jumps of different heights and to finish a good area to perform rappelling and we were ready!"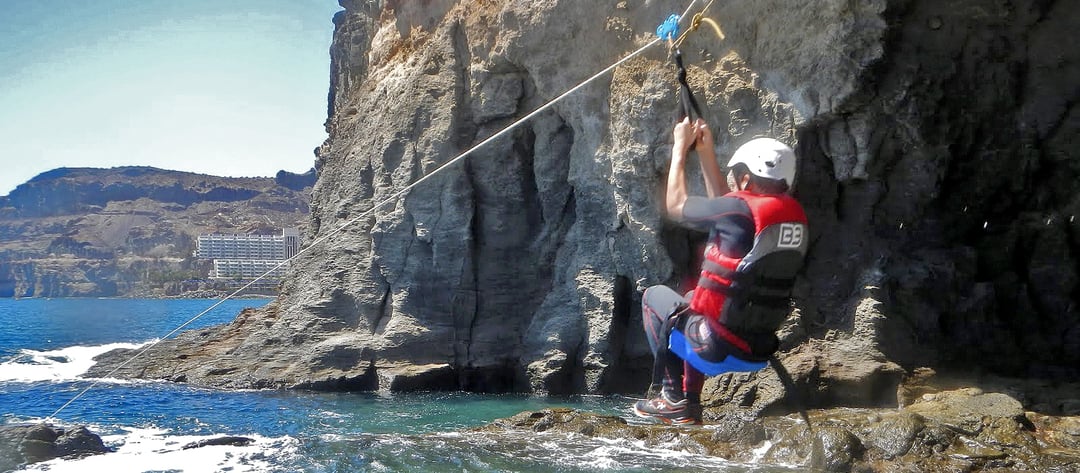 "When we started making it, we didn't even know what it would be called, so we were looking for information on the Internet. It was 2008 and we searched the net, we came up with the term coasteering referring to walks along the coast, a very light version of our coasteering. Also, in an old book from the '70s of English origin, the term coasteering was used by the ancient fishermen when they walked along the cliffs to approach the fishing areas. So we adopted for the term and we already had our exclusive and fun activity."
One of the other providers of the Canary Islands is found on Lanzarote. Monica from Kayak Lanzarote gave me the lowdown on their operation. They got into coasteering on a visit to Cornwall and through social networks, specifically YouTube. The company was founded in 2014, by Ismael Escot. They introduced coasteering in 2017. The whole of Lanzarote is declared as a UNESCO Global Geopark, and Kayak Lanzarote make the most of their location at one of Lanzarote's top attractions, the Papagayo beaches.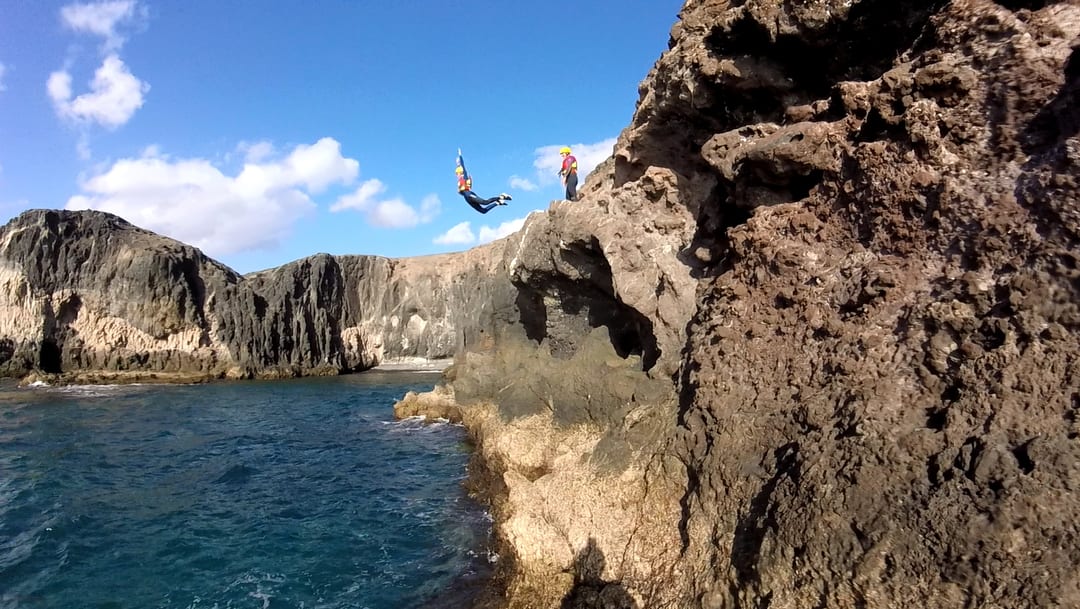 Seemingly, the most prominent location for coasteering in Spain is on the island of Mallorca, which is now home to a handful of companies offering the activity, alongside a range of other activities available on the islands, including canyoning, diving, climbing and deep-water soloing. Regarding, the latter, Mallorca is regarded as an internationally important spot for deep-water soloing, and the sport of climbing over water, without the use of ropes, began here in 1978.
One of Mallorca's providers is Active Alcudia, founded in 2015 by Gerd and Patrick. Gerd told me that, "It began about 6 years ago, Patrick and I were guiding Kayaking Tours along the rocky coast of the La Victoria peninsula. We stopped in the small coves, climbed and scrambled over the rocks, and jumped into the clear water with our kayaking clients. Later we thought that might be a great thing to do and started exploring more parts of the coastline just for Coasteering purposes."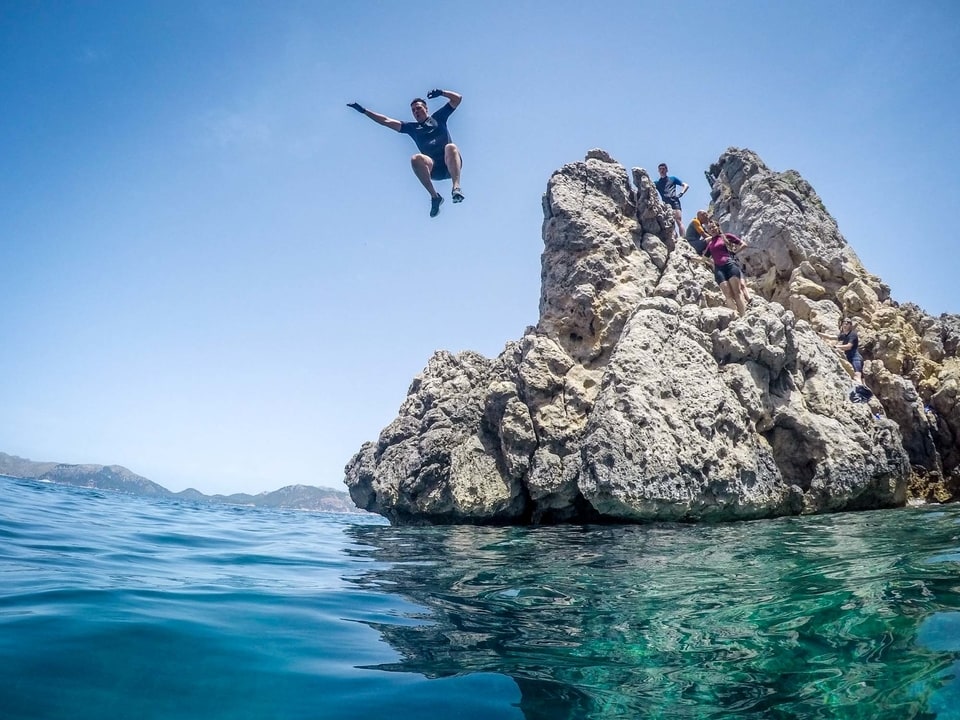 Active Alcudia run their coasteering tours about 15 minutes north of Alcudia, on the La Victoria peninsula. "Here in Mallorca, the water temperatures (20 to 27 degrees C) are perfect for Coasteering from May until the end of October. Also, the ocean is mostly very calm. Therefore, not much special equipment is needed and coasteering is accessible for the whole family." Having to wear a winter wetsuit all year round, and being plagued by rough seas all summer long, I'm more than a little envious.
Gerd continues, "The reason why our tours are unique is that we go to places off the beaten path. You usually don't see any other people there which gives clients a sense of adventure. The beautiful nature with crystal clear water, rugged cliffs, and mountains in the background make it a truly memorable experience for most people. We love to explore these beautiful places and sharing these experiences with our clients makes the tours even more special."
---
Other Mediterranean Providers
Whilst no other Mediterranean countries have more than a few providers of coasteering, between them, most of the European countries which have a Mediterranean coastline have at least one company doing coasteering. The exceptions to this appear to be Slovenia and Albania. They are joined by all of the African and (except Turkey) Asian countries that border the Mediterranean Sea – there is no coasteering taking place on its southern or eastern shores.
Italy and Malta
Moving east from the Balearics of Spain, we next hit the island of Sardinia. Here we find Sardinia Wild Canyoning. Founded in 2012, they added coasteering to their list of activities in 2016 and became Sardinia's first coasteering provider. Mauri, from the company, told me, "I learned about coasteering on YouTube and I thought it was a cool activity that could be introduced in Sardinia, as our coastline has plenty of rocky areas. I then started looking for information about UK safety standards. As I am already a canyoning instructor and I have a lifeguard licence, I decided to start creating a route. I was born in a village by the sea. As a kid, diving was a very common activity for me, so it was natural for it to evolve from a leisure activity to a professional one."
"As a kid, diving was a very common activity for me, so it was natural for it to evolve from a leisure activity to a professional one."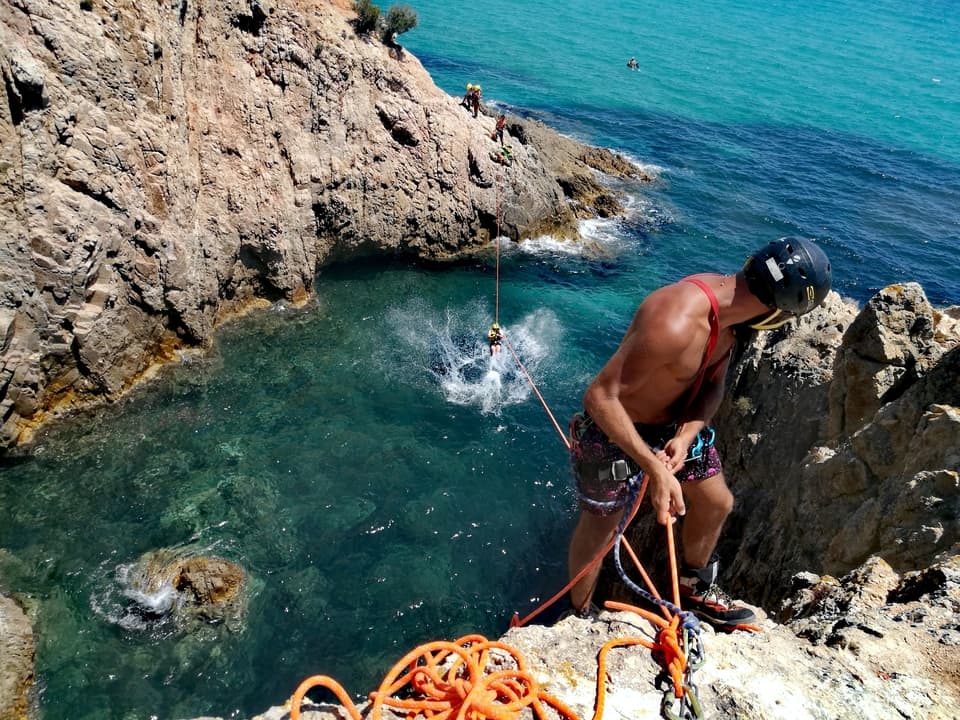 They have some excellent looking adventures and appear to incorporate a lot of manoeuvres from their canyoning repertoire, such as zip-lines. Mauri is certainly very enthusiastic about their coasteering. "To start with, the Med makes it special. The sea is warm, and its colours are stunning, ranging from emerald green to indigo. Some of the routes have been originally developed in what are now protected marine areas, where the local flora and fauna dominate the landscape. It is not uncommon to spot sea urchins, crabs, barnacles, shrimps, and -on very rare occasions- the odd dolphin too!"
The next stop on our list is Sicily, where we find the only other provider of coasteering in Italy, Maremotu.

To the south of Sicily is the small island nation of Malta. Malta is yet another example of a nation with one provider currently fulfilling all the country's coasteering needs. MC Adventure appears to have been active from 2012, and offer a wide range of adventure sports, both on land and sea. They offer coasteering on a committing stretch of coastline on the Xaqqa Cliffs, on Malta's southern coast.
Coasteering in the Balkans
If we head north, taking a swerve around Italy, we find a couple of providers in the Balkans making the most of their Adriatic coastline. Pula Outdoors is based on Croatia's Istrian Peninsula, in the city of Pula. They have an attractive coastline, with clear blue waters and low, limestone cliffs, pocketed with caves, all in all, ideal coasteering terrain.
Active Travels Montenegro offers coasteering on the Lustica Peninsula, which is at the entrance to one of Montenegro's main attractions – the Bay of Kotor.
"Montenegro is one big 'adventure park', offering a number of activities: canyoning, rafting, hiking, kayaking..."
Owner Marko describes Montenegro as, "One big 'adventure park', offering a number of activities: canyoning, rafting, hiking, kayaking..." Marko first tried coasteering, on a trip to Cornwall, during his time living in Bristol, UK. A relatively new activity in Montenegro, they introduced coasteering just two years ago. I asked Marko what made coasteering in Montenegro special. "We run the tours only in late spring, summer, and early autumn, which means that coasteering in Montenegro is taking place in warm waters. The area that we are doing coasteering tours is called the Lustica Peninsula, and the starting point can be reached only by boat. The coast is very rugged, inaccessible and it hides a lot of small passages, caves, and amazing jumping spots. Apart from coasteering the tour also includes a boat ride, a visit to a disused submarine shelter, and visit to the very popular Blue Cave."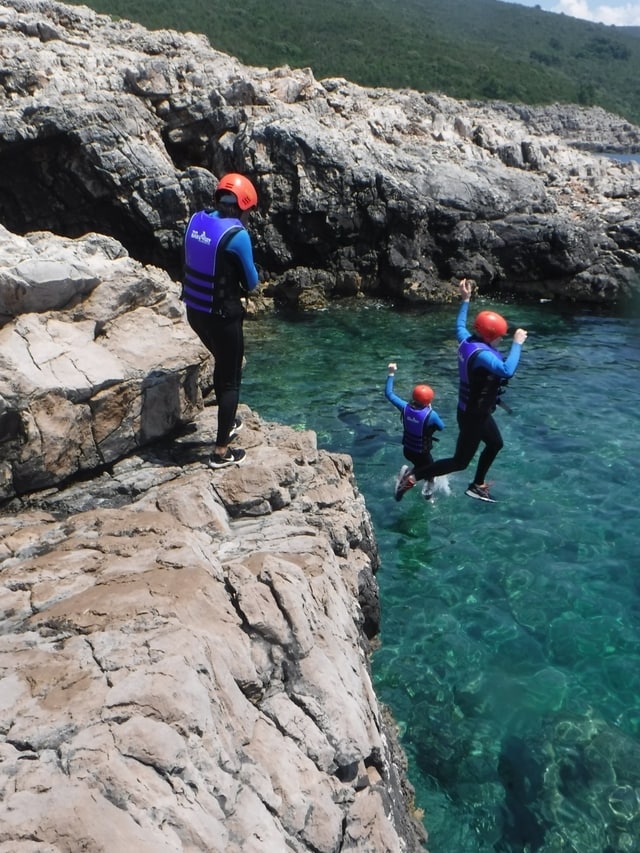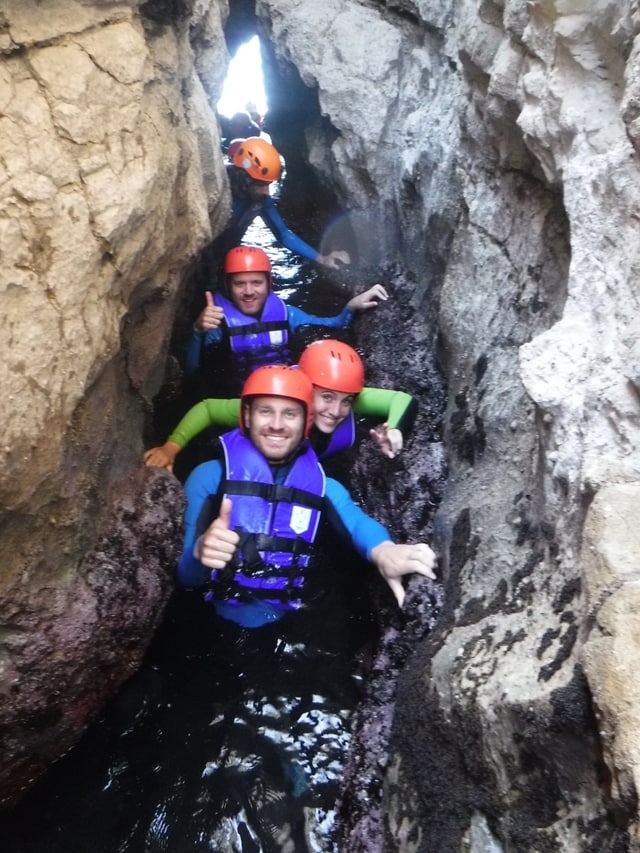 Greece and Cyprus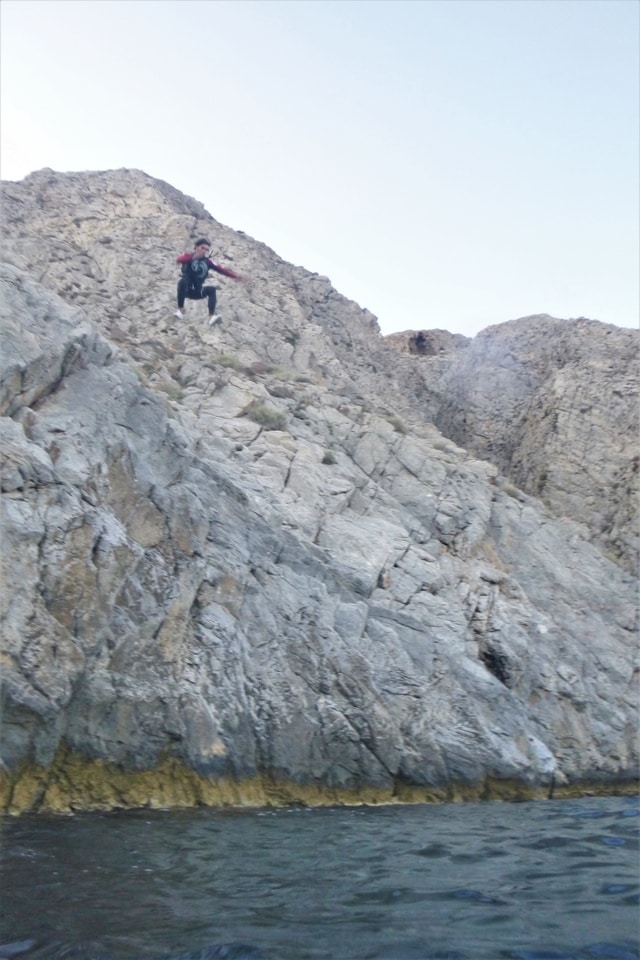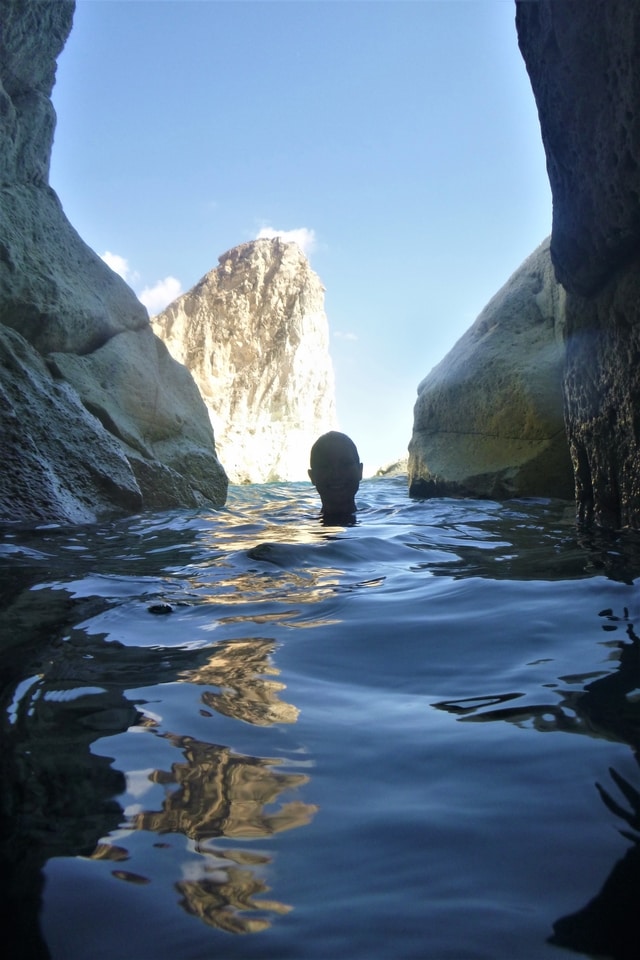 Greece, with its plethora of islands, must surely have massive coasteering potential, and this may be where we see the bulk of any future development of the coasteering industry in Europe. I enjoyed some exploratory coasteering on a holiday in Santorini some years back. A particularly interesting stretch was the pure white volcanic pumice on the island's south coast, at the inevitably named, White Beach, near Akrotiri. At the present time, there are just a handful of providers covering Greece. Available locations include Santorini, Kefalonia, and Greece's largest island, Crete.

Clive Richley is the man who introduced coasteering to Crete, in the form of his company, Pro-Active Adventure Ltd. "Pro-Active operates throughout Wales offering activities including coasteering. In Crete we offer similar activities including coasteering in the Hania district of Crete. We are the only operation offering coasteering in Crete. I used to scramble along sea cliffs with a centre that I used to work at about 30 years ago. We did not know it was called coasteering at the time, it was just fun. We first started taking customers coasteering in the UK in 2000. In Crete we started in 2017.
Crete offers a unique coasteering experience due to the geology of the island. There is no tide to speak of in the Mediterranean so this also provides some interesting opportunities. Our operation, and in particular coasteering, has been of great interest to the Greeks. In fact, a special article was written in the Greek equivalent of "The Times" about us and coasteering in Crete."
Our final stop on our tour of the Mediterranean takes us to Cyprus. Zaphyros Adventure Sports, based in Paphos, is an outfit run by British ex-pats. They offer a range of activities and are Cyprus' only provider of coasteering.
Coasteering in Scandinavia
If you struggle in the UK in summer with a 5mm wetsuit, you may want to skip this section, but coasteering is now available in Scandinavia. Bornholm Outdoor Center, on the Danish island of Bornholm, is the only provider of coasteering in the Baltic Sea. The company was founded by Anders Pederson in 2013.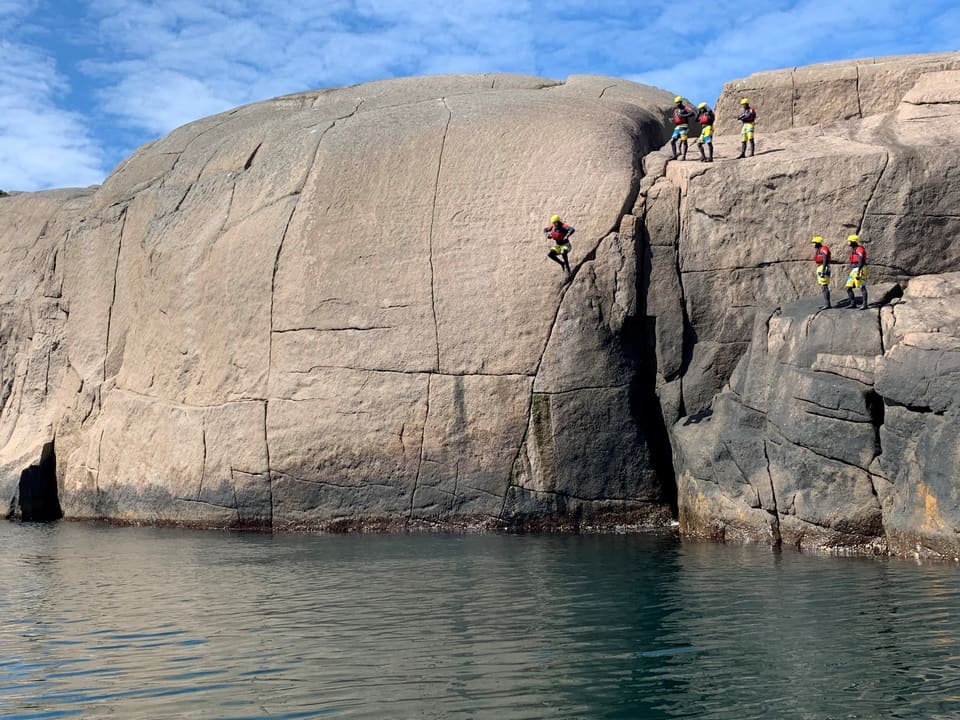 There are also two companies offering coasteering on Norway's west coast. I caught up with Kjetil Bentsen, one of three founders of Coastal Adventures Norway. "We are located in the wild southwest part of Norway, in a town called Egersund. We heard about coasteering from some friends of ours that had been doing this in the UK. We looked up a few videos on YouTube, and then we decided to start a business. We called a few coasteering companies in the UK about equipment and instructors. We flew in an instructor from the UK, Mark Agnew from Mountain Water Experience."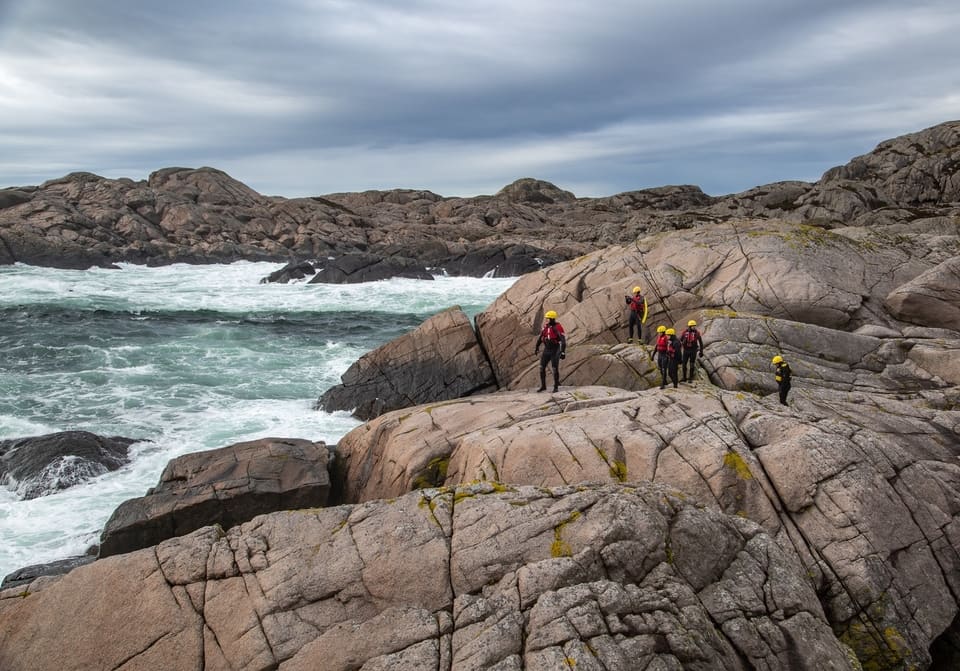 Coastal Adventures Norway is the second provider to establish itself in Norway, and they only began operations in 2019. They also do kayaking, pack rafting, climbing, and tour guiding. I asked Kjetil to tell me about the coasteering in their area. "The coasteering takes place within the UNESCO Magma Global Geopark and is surrounded by spectacular rock formations. There is also no tide here, so we can do coasteering whenever we want to." Check out the amazing granite landscape they use. It actually doesn't look dissimilar to the coastline used at the other end of the world, by the provider in the following section.
---
Coasteering in Africa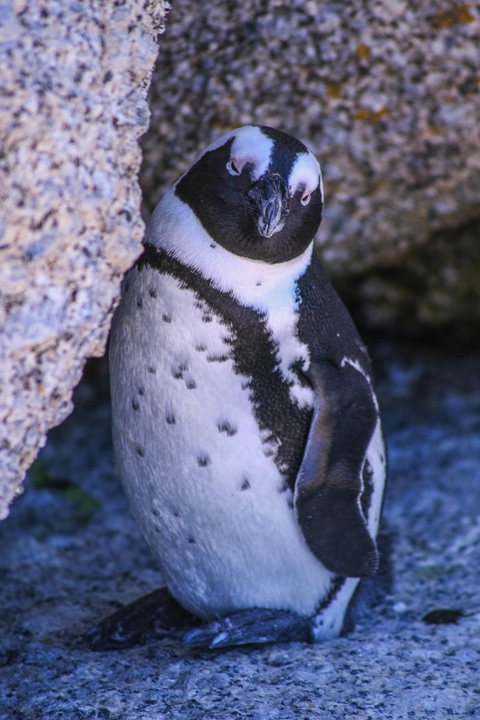 Discounting the Spanish-owned islands of the Canaries, Africa is almost totally devoid of any coasteering action. Just one provider carries the torch for the entire continent. Gravity Adventures are based near Cape Town in South Africa. Marie-Louise and Andrew Kellett run Gravity, which was founded in 1997. Andrew is a world-class whitewater kayaker, so much of what Gravity does is focused on water sports, including kayaking, rafting, canyoning (or 'kloofing'), and SUPing. They added coasteering to their suite of activities about 8 years ago. Their playground looks like a stunning landscape to have an adventure in, and there is the unique bonus of maybe getting to swim with African Penguins, who have a colony adjacent to Gravity's coasteering site.
I must admit, when I heard about coasteering near Cape Town, my first thought was 'sharks!'. I put this to owner, Marie-Louise. "Sharks are very much part of the natural environment in False Bay (along with dolphins, seals, orcas, etc.). But the area where we run the coasteering is protected from the open ocean by rocks and thick kelp beds so sharks are not a major concern." That's a relief!
Amazingly, no one else has followed Gravity's lead and introduced coasteering elsewhere in South Africa, or indeed, anywhere else in the rest of Africa thus far.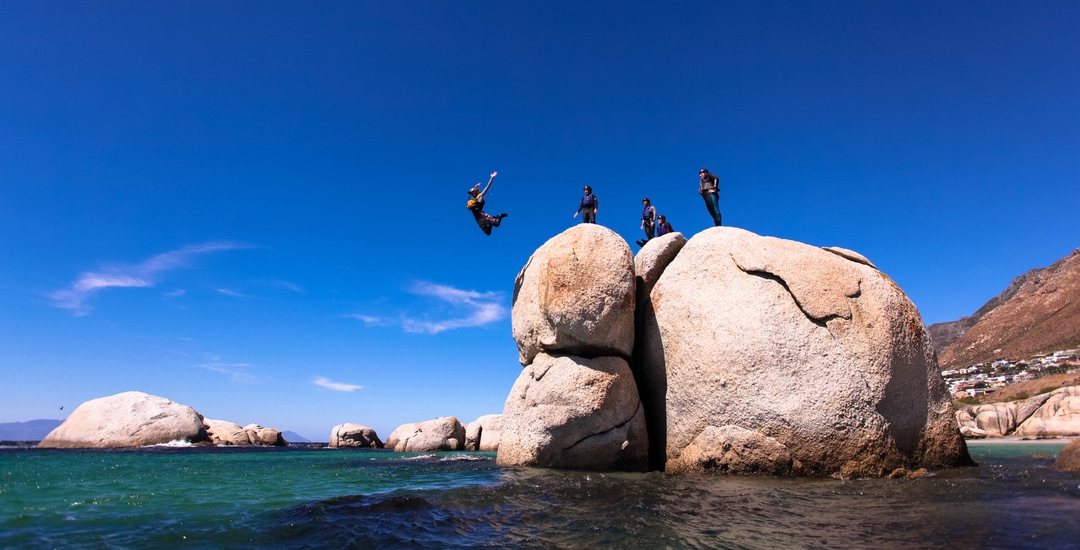 ---
Coasteering in Asia
As we have seen, Dragoman in Turkey adding coasteering to their offer in 2004 meant that Coasteering in Asia got off to an early start and was the first occurrence of guided coasteering outside of the British Isles. Asia comprises 30% of the world's landmass, and with all of that coastline, it stands to reason that Asia should be home to a great many coasteering providers, right? On closer inspection, it's easy to discount Asia's northern coastline, the icy shores of Arctic Russia. Other parts of the continent have coastlines with ongoing troubled political situations, and there is an argument for some cultures being less interested in using the sea for recreation than many European nations.
That still leaves plenty of candidates that would probably lend themselves to coasteering. Southeast Asia is home to many countries that have lengthy coastlines, indeed there are several gigantic archipelagos. Indonesia alone has over 17,000 islands and nearly 55,000km of coastline. Southeast Asia is an international destination for millions of tourists each year, and the tourist infrastructure already includes many provisions for all manner of adventurous activities, all there to enhance travellers' experiences when visiting this region.
I was surprised, therefore, that nowhere in countries such as Thailand or Vietnam, for example, has anyone yet seized the opportunity to launch a coasteering venture there. I did have a client some years ago whose reason for visiting was primarily to see how a coasteering operation worked. He was an English ex-pat who ran an activities company in Vietnam. He had negotiated permission to use a nature reserve to expand his company, and he was keen to add coasteering to his repertoire of activities. Sadly, it looks like, at least to date, he hasn't been successful in launching coasteering in Indochina.
As far as I can tell, there is currently only one other provider of coasteering in the whole of Asia. Surfing Hong Kong offer surfing and coasteering in the South China Sea. Company owner, Anton Dickson explains how they got into coasteering. "I was doing a lot of surf camps for the kids. When it was flat, we'd paddle over to the rocks and start jumping and climbing. I realised the kids enjoyed the adventures as much or more than surfing so I developed from there.
2019 is when it started to become popular. Many locals here don't know of the concept of coasteering, or even walking along the rocks, jumping, climbing, etc. So, it is a real learning experience to be able to think out of the box, problem solve and overcome fears, let alone be put in situations they have never encountered. Just showing the kids a sea urchin, or seeing the crabs scuttle can be eye-opening for them."

With a stunning granite coastline and warm water, what's not to like?!

Finally, I have it on good authority that something is cooking on the Arabian Peninsula too, so watch that space…
---
Coasteering in Oceania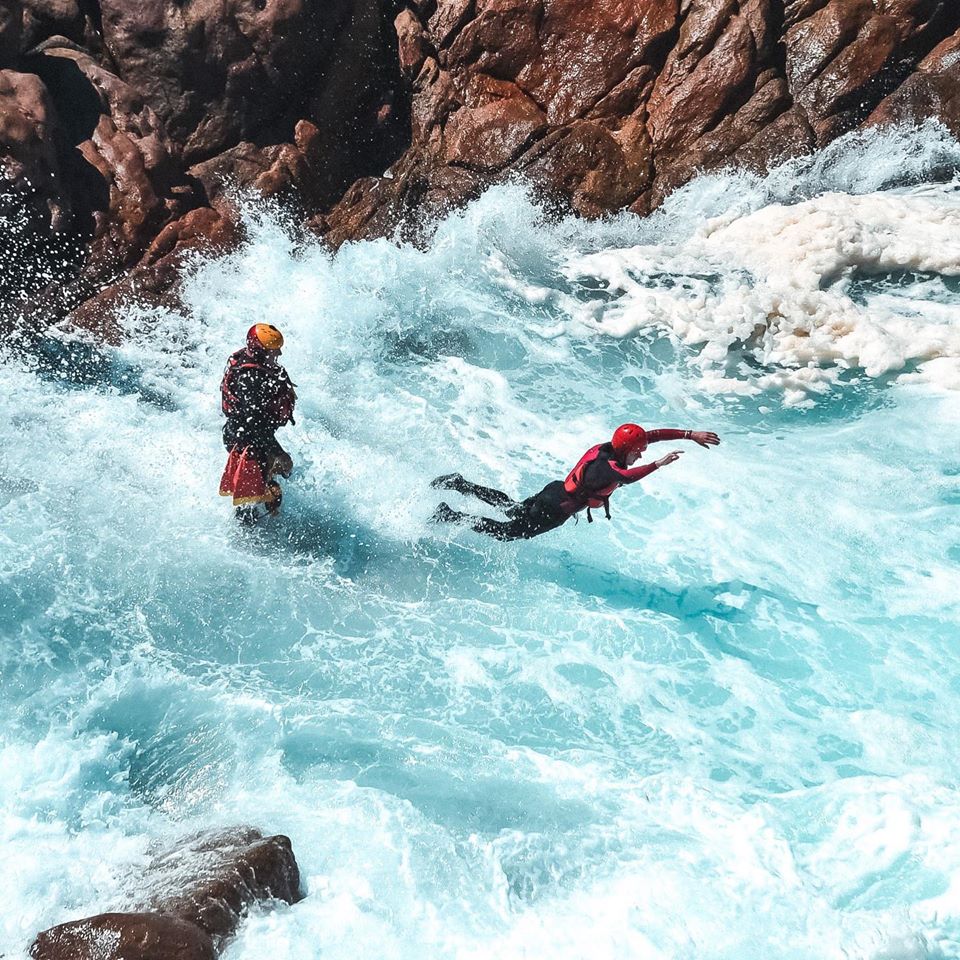 Joining Gravity Adventures in the southern hemisphere are a small handful of providers. Australia is the sixth-largest country in the world, with 25,760km of coastline. Just one provider has this all to themselves. Home to some of the world's biggest surf and best wines, is Margaret River, southwest Australia. Whilst on holiday in the UK, Margaret River local, Dr. Cam O'Beirne, tried coasteering in Newquay. The sea was too cold for his usual pastime of surfing! "I thought that would be amazing to do back home from our granite cliffs overlooking the Indian Ocean," Cam told me. He founded the Margaret River Adventure Co. and started coasteering in 2014. They have been going strong ever since.
The remainder of the southern hemisphere's coasteering action all takes place in New Zealand, with several sites on both Aotearoa's north and south islands being in use. At the time of writing, there were only a small number of providers offering the activity. They are all outdoor education centres and offer coasteering as one of their activities on their residential programmes. Therefore, I'm not sure there are any providers of coasteering offering this activity to the general public.
---
Coasteering in the Americas
It appears that there is no coasteering taking place anywhere in the western hemisphere. It seems that the term coasteering is unrecognised (or should that be unrecognized?) in North America. Some years ago, I came across a YouTube video of guys doing, essentially, coasteering, somewhere in the USA. It's a shame I can't remember what they were calling it, but it wasn't coasteering. It was just a handful of friends doing some coastal exploration for their own enjoyment.
North America is the originator of so many extreme sports, from BASE jumping to bouldering; snowboarding to slacklining. Could it be the Americans are great at innovation, but not so good at adopting outside ideas? This article from the LA Times says, "Coasteering, I learned, is a particularly nasty activity invented by the Welsh that combines swimming, rock-climbing, and cliff-jumping while traversing a rugged coastline at sea level. In short, everything you were told never to do as a child." The author obviously doesn't speak for all Americans, but it's certainly not a glowing endorsement for our beloved activity. The United States and Canada must surely have no lack of amazing coastlines that would be perfect for coasteering, but to date, they remain empty of intrepid coasteerers.
Much of Central and South America are destinations for adventure travel, but again, coasteering has yet to have any presence here. From Mexico's Caribbean coast to the dramatic fjords of Patagonia, there must be amazing coastal wonders awaiting discovery. Maybe soon, ex-pats from Portugal or Spain will open up some areas to provide coasteering adventures, or, as happened in the UK and Europe, some local inhabitants will come up with the idea all by themselves.
---
The Future of Coasteering
We have seen how, from its origins in Wales, coasteering expanded exponentially across the UK. In due course, it began to proliferate all over the Mediterranean, and Europe's Atlantic islands, and eventually some of Europe's more unexpected corners, such as the Nordic countries. It's spread beyond Europe has been very limited up to this point. So what path may the coasteering industry take from here? It's anyone's guess, but I'd expect to see gaps in the map start to be filled up in the Mediterranean first. It's surely only a matter of time before the numerous islands of the Aegean Sea get snapped up by providers. Will we see more providers set up shop in South Africa and Australia? I'm surprised they haven't done so already, and the isolated providers there have been around for enough years for the word to have spread.
I would predict that Southeast Asia may be the region that sees then next phase in the development of coasteering. With a high volume of adrenalin-seeking travellers, and lots of activity companies already offering diving, snorkelling, boat trips and even deep-water soling, the leap to providing coasteering would only be a small one. Within the next ten years, I would expect to see a number of providers establish themselves from Ha Long Bay to the Malay Peninsula.
Of the Americas, my expectation is that the USA will remain in its coasteering-free bubble for some time after coasteering becomes available elsewhere in the region. My money would be on the resorts of the Gulf of Mexico and the Caribbean. In South America, its climate would not suggest it be at the top of the list, but its influx of outdoor professionals from the UK and Europe might mean that Patagonia is where (quite literally) the ice is broken in South America. As a wildcard suggestion, I was told there was great coasteering potential on the Falkland Islands. There could finally be a second location in the world where you could coasteer with penguins!
Disclaimer: Whilst every effort has been made to find coasteering providers in all regions, it is inevitable that some will have been missed, which may alter the story presented here significantly. Of the companies featured in this article, Kernow Coasteering makes no judgement of the quality of service and attention to safety maintained by these providers. Please do your own research and check, where possible, that providers are adhering to the industry standards applicable in their region. In the UK this is the National Coasteering Charter.