Everything You Need to Know About Building Your Trad Rack
In this part of our series of guides on buying climbing equipment we took a look at trad climbing. Traditional climbing, or 'trad' is notorious for its reliance on a lot of equipment. This article will guide you through the maze of trad gear and you'll not only learn what you need, but get an idea of an order in which to acquire it.
Rightly or wrongly, trad climbing is sometimes criticised for its unavoidable 'faff'. It certainly takes to climb a route from start to finish without a single piece of fixed gear, placing and removing every piece of protection, and building and dismantling every belay as you go. And for those of us who enjoy trad cimbing, that is definitely all part of the fun.
Rest assured, trad climbing can afford a level of adventure unlike any other form of climbing we've mentioned so far (such as bouldering or sport climbing). However, the total lack of reliance on pre-installed protection on the rock means the trad climber has to carry enough gear to deal with pretty much any conceivable situation the crag may throw at them.
Thus, a trad climbers' equipment, or 'rack' is necessarily comprised of a wide array of equipment. As one embarks on their trad climbing career, it's fair to say that most of us are not in a position to rush out and buy an extensive arsenal of trad climbing equipment to be able to climb trad routes independently.
This post contains affiliate links. If you use these links to buy something we may earn a commission at no extra cost to yourself. Thanks.
Building Your Trad Rack One Piece at a Time
The good news is, you don't have to get your rack all in one go. You will typically be climbing with more experienced climbers who already have a full rack and rope, and it's usually easy to find a partner who has all the gear and is more than happy to take out less experienced climbers. As long as you're a safe and competent belayer, you're already a valuable climbing partner.
If you don't know any climbers you can get out with, look up your local climbing club, or check out the partners forums on the UKClimbing website. Don't be afraid to ask the necessary questions to ascertain whether your prospective partner is up to the task of leading you before you put your left in their hands. If you've found each other via a forum like UKClimbing, then having a look at each other's logbooks should give you a good idea of where your partner is at.
Of course, don't overlook the immense value that comes from seeking professional instruction at various points in your climbing development.
But with climbing equipment in mind, this article will guide you through what you need, and when you need to get it. We'll start with the bare minimum you need to second a lead climber who has their own rack.
By the end, we'll have covered what you need to be a fully independent trad climber, capable of accessing any trad climb in non-winter conditions. Whether it's an inaccessible sea cliff, or a remote mountain crag, you'll be ready.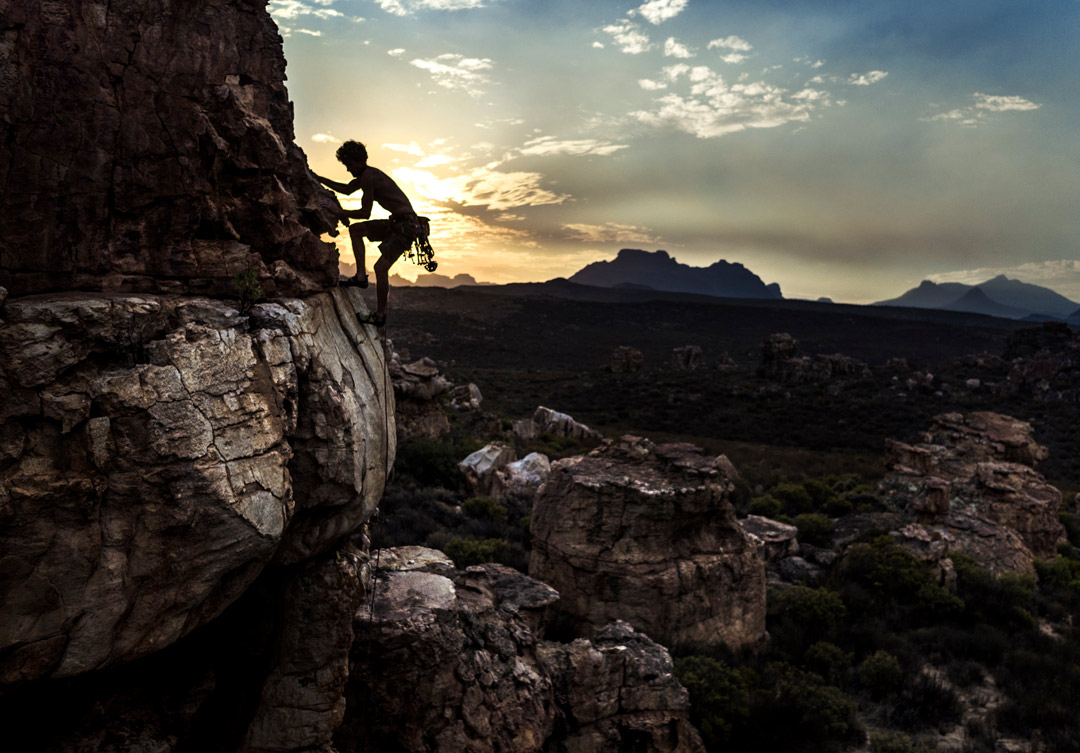 ---
Being a Competent Second
There is a minimum amount of equipment I would recommend you need to realistically start contacting people and arranging climbing meets with them. That is enough gear to be a 'competent second'. A competent second has solid belay skills and is confident enough to follow a leader up the chosen route, removing the gear they have placed along the way.
It's not unreasonable to meet up with a climber who has their own rack and rope and climb on their gear, and that fact is a lifesaver, as that means we can start enjoying trad with having to own a full rack. You cannot expect, however, that any climber you meet is going to be able to lend you personal items, such as shoes, and a harness, etc.
The good news is, that unless you're totally brand new to climbing, you likely already own much of the gear you need. The minimum of personal gear you should aim to acquire to get started in trad climbing is:
Climbing shoes
Harness
Helmet
Belay device and carabiner
Chalk bag
A few carabiners and slings
Nut key
Prusik loop
If you already have the basic climbing equipment, such as shoes, harness, helmet, etc., from other types of climbing, then you may want to go straight on to building your lead trad rack here.
Climbing Shoes for Trad Climbing
As with all forms of climbing, the choice of shoes is exhaustive. Broadly speaking it boils down to two parameters: comfort and performance. If you're planning long days at the crag on moderate to medium difficulty routes (for you that is), then comfort is a high priority.
There's nothing worse than suffering a long, easy trad route in your tightest, most aggressively downturned shoes. And of course, if you're pushing your limits at a hard single-pitch headpoint, you're going to want the right shoes for the job.
The chances are if you're reading this, you're new to trad climbing. Therefore, I recommend aiming for a shoe that prioritises comfort over performance. If you're completely new to climbing altogether, any of the following shoes would be good options for getting started.

If you've already spent a long-time indoor climbing, bouldering or sport climbing, it's likely you will already own a pair of more aggressive shoes. You may want to consider acquiring a more comfortable shoe that you can wear for long multi-pitch routes without suffering too much.
My current personal preference is the Tenaya Tarifa. For me, they are the perfect balance of comfort and performance. In addition, they're completely vegan, which for me is an important consideration.
---
Trad Climbing Harness
For me, there is only one choice of harness for trad climbing – the Renegade by DMM. Optimised for trad climbing, it's lightweight and comfortable enough to do a bit of hanging around in. It therefore doesn't have any unnecessary bulk you might get with some other harnesses that are aimed more at sport climbers who expect to be doing a fair bit of hanging around as they work routes.

But what really sets this harness apart are its 7 gear loops. To the best of my knowledge, no other climbing harnesses offer this. Maybe it's because I've used one for so long now, I really would struggle to manage with a 5-loop harness.
The way I rack my gear on to the harness is to put my rack on the first two loops of each side of the harness. The third loop on each side is a great extra space to maybe have some slings, carabiners, and prusik loops. As with most harness, it has the central loop at the back. This is where I keep my belay device and a large HMS carabiner for building trad anchors.
Note that there is a female version of the Renegade harness, the Puma. This has 7 gear loops also, on all sizes except the smallest size. Certainly, at crags across the UK, the DMM Renegade/Puma is one of the most common harnesses you will see people wearing.
Belay Device and Carabiner
You will, of course, need to be able to belay your partner to be able to trad climb. A plethora of belay devices exist today, and many have often unusual methods to provide extra features, such as assisted braking.
At the time of writing, certainly in the UK, the traditional tube-type belay device still dominates. Its widely understood method of operation, ease of adapting to abseiling, and importantly, the ability to belay two ropes simultaneously, mean that no other kind of device looks to be replacing the tube-style belay device any time soon.

Here are two classic examples that are widely used. Don't forget, you'll also need a suitable carabiner that works well with your chosen belay device. A medium size locking carabiner is what you're looking for. This allows sufficient working space inside the carabiner to prevent the harness interfering with its function. Also, a carabiner that is too large will decrease the friction achieved as the rope goes around the bar of the carabiner, reducing its effectiveness.
Many manufacturers will sell a belay device and carabiner combination, so you know you are using the best carabiner recommended by the people who made it. But something like the DMM Rhino will do nicely.

Being the most critical connection in your safety system, there's no harm in going above-and-beyond a locking carabiner to an even more secure locking mechanism, like some kind of twist lock mechanism which can require two or three coordinated movements to open. They're easy to use and bombproof choices to make sure your belay carabiner doesn't come undone at the wrong moment.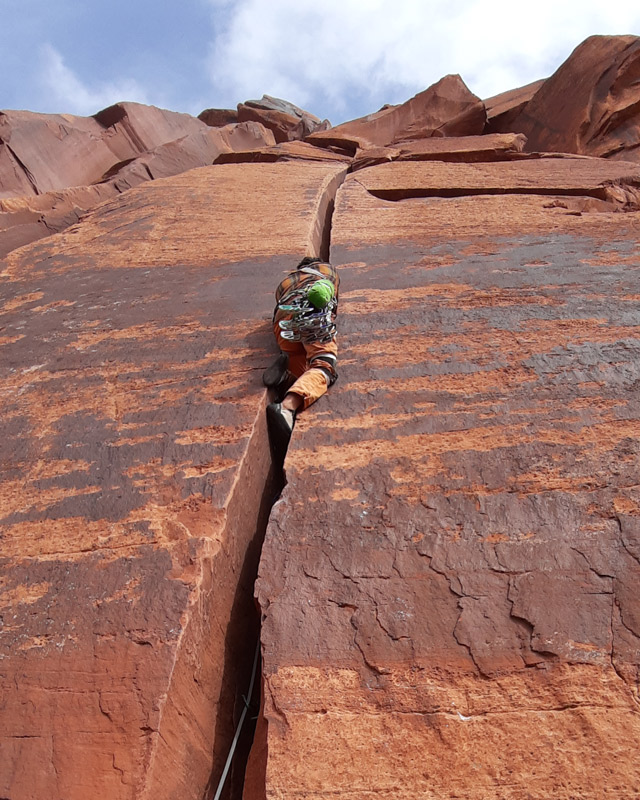 ---
Helmet for Trad Climbing
Rockfall, dropped equipment, the actions of other climbers at the crag, not to mention climbing falls, all have the potential to cause injury to climbers. One could argue that due to its more adventurous nature, these hazards are greater for trad climbers than, say, sport climbers.

The bottom line is, I strongly recommend you own a helmet for trad climbing. As your experience increases, you may make judgement calls not to wear it on every climb. But certainly starting out, get yourself a helmet and wear it for all your trad climbing escapades.
The EN number for climbing and mountaineering helmets is EN 12492 (UIAA Standard 106). Make sure you are buying all of your kit from reputable climbing brands and that each item has the relevant certification to make sure it has been approved for its intended use.
Helmets do vary in their weight, comfort, fit, ventilation, and so on. You may need to try a few before you find 'the one', but all of the following examples are popular choices. One thing I ensure, is that your helmet has clips that allow easy attachment of a head torch. The occasional foray into stil being on the route well after sundown is all part of the rich trad climbing experience!
Unisex Climbing Helmets
Women's Climbing Helmets
Men's Climbing Helmets
Chalk Bag and Chalk
Don't forget, as with all forms of climbing, the use of chalk is ubiquitous. If you don't have one already, chalk bags are inexpensive. A simple, small, cylindrical bad that can be clipped to the harness, or even better, worn around the waist via a built-in belt, or a piece of accessory cord.
You can get anything from a bog-standard chalk bag to a fluffy animal that you can take climbing with you. Being a non-life-critical piece of equipment, you can use any chalk bag that takes your fancy.
Believe or not, not all chalk is made equal. Different manufacturers use slightly different compositions in their brands of chalk. The result will be a different feel in terms of texture and moisture.
Whilst you'll find that all kinds or chalk are usable, trying different brands will help you eventually find the one that works best for you.
At this point you've got the bare minimum of equipment to climb with a well-equipped lead climber. They may need to lend you some bit and bobs, depending one the routes you plan to plan to climb. Are they multi-pitch, do they require abseil access, as well as a variety of factors?
But before you start acquiring gear to do your own leading, be the best second you can be and get a few extra items that you won't need to lend every time you go climbing.
Locking Carabiners
As well as your belay carabiner, get hold of a two to three extra screwgate locking carabiners. These will come in handy for attaching to trad anchors, ground anchors, plus umpteen other uses, including easily solving problems that without, could become serious snafus.
Prusik Loop
One of these carabiners will be home to your prusik loop. Made out of a short length of accessory cord (typically 6mm) linked by a double fisherman's knot, these simple pieces of kit allow you to independently back up your abseils, as well as perform a myriad of jobs in any self-rescue situation. I recommend you don't embark on any objective requiring abseiling, or any multi-pitch climb, without a prusik loop on your harness.
You can also buy pre-sewn prusik loops if tying two fisherman's knots is too much work for you.
Slings
At this point, having one or two slings in your arsenal is also a good idea. Their primary use will be a use as a lanyard attached to your harness by 'lark's foot'. This enables you to rapidly connect to anchor points and safeguard yourself when, for example, setting yourself up for an abseil.
120cm Dyneema slings are what you're after for this purpose.
Nutkey / Nut Tool
As well as providing coffee, snacks, and foot rubs for your climbing partner (OK, maybe not), you can impress them greatly by having your own nut key. Whilst one nut key can be shared by a climbing duo, it's generally easier if each climber has their own.

We've all been out climbing with one nut tool, only to find that you've just led a pitch and YOU have the nutkey. And you just know that number 7 wire is not going to come out without a fight. Stuck gear can ruin a pitch and cause a considerable amount of faff if it has to be retrieved after a pitch is completed.
Seconding a lead climber and cleaning the gear is invaluable experience for eventually placing you own gear and leading routes. The more time you have removing other climbers' gear and analysing the placements they have used, the easier you will find it to learn to place bomber gear of your own. It's inevitable that a fair amount of the pieces you remove will need a bit of encouragement with a nut tool.
---
Building Your Lead Climbing Rack
Now things really start to get exciting. You've been doing a fair bit of trad climbing and you're equipped and capable of seconding and cleaning trad routes. All the while you've been observing and learning about how to place the various types of trad gear. You've also been learning more and more about ropework and how to build bombproof trad anchors.

You've been regularly climbing with experienced partners, using their rack, and you've enhanced this knowledge with some days out with professional rock-climbing instructors. This is all preparation for the next stage of your climbing journey – leading your own trad climbs.

It's likely that before you start getting the first items of your own trad rack, you've done some leading with an instructor, or with an experienced friend, using their gear. Needless to say, your psyched to take this further and get tooled up to hit the crag and lead your own climbs and find your own adventures with your own trad climbing gear.
I'll state once again, you don't need to go and buy a complete rack at this time. Gradually buy some pieces and use them in conjunction with your mate's rack. Then, as you can afford to, you can get more and more elements until you finally have everything you could conceivably need.
Long before this, you will have enough gear to lead certain types of routes, depending on their length and options for protection. So, let's get started.
Nuts or Wires
The bread and butter of any climbing rack are nuts, or wires (I'll hereafter refer to them only as nuts). These tapered alloy chocks are designed to nestle in constrictions in cracks in the rock, and when placed correctly will remain in place until removed by the seconding climber.
Individual nuts can be purchased, but you'll need to start off with a set. All manufactures will give their nuts a number, typically from 1 to 10 (although number below one and fractions do exist!). A complete set of wires won't set you back much, and on short to medium-length routes a single set of wires should allow you to adequately protect a route without the need for additional gear.
You will also need a carabiner to carry your nuts on. Personal preferences differ, but I enjoy using oval snap gate carabiners to store my nuts. I use the DMM PerfectO. One of these will easily hold a single set of nuts.

Why do I mention a single set? Well, as you climb longer, more challenging routes, you may well decide you need more nuts. Whether you need a whole additional set is up to you. You may just want to buy a few single nuts of sizes you need.
For example, I have only singles of the largest nuts i.e., 8-10. I have doubles in the 3-7 range, and triples of sizes 1 and 2.
You may want to consider buying a comprehensive set of protection. For example, DMM offer some 'starter sets', allowing some savings to be made by buying in bulk. These can include a full set of nuts, as well as hexes, and even offset nuts (both of which we discuss below).
Quickdraws for Trad Climbing
Nuts aren't much use without quickdraws. Quickdraws are your linking piece that joins your item of protection to the rope. They consist of two (usually) snap gate carabiners, joined by a short length of material. This allows the rope to run smoothly, and as the sling or dog bone between the carabiners can move, it lessens the likelihood of gear being lifted out of its placement as you push on upwards.
Finally, the ability for the quickdraw to twist, reduces the chance of a catastrophic failure caused by metal-on-metal twisting during a sudden fall.
Trad and sport climbing carabiners do vary. Whilst you could use any quickdraw for either sport or trad, generally speaking, trad optimised quickdraws tend to be designed to be as light as possible. And that's because saving weight, where possible, is paramount for trad climbers, as we're carrying much more gear than just the quickdraws needed for sport climbing.
You will need a minimum of eight quickdraws starting out. In my opinion this will only allow you to climb short routes, so choose your objectives wisely. I'd strongly recommend placing more, rather than less protection, when stating to lead your first climbs.

The more experience you have at placing gear, the better. It is also normal for your gear placements to be less than perfect when starting out. If you've only placed a handful of pieces, and several of them fall out as you're climbing above them, that's not a great situation to be in.
So, as I say, eight is a bare minimum for quickdraws. Try to add to that umber as soon as you can, going up to ten or twelve. You may want to include some quickdraws of different lengths as you increase the total number.
A couple of extra short quickdraws may be of use for protection close to the ground or a ledge. A couple of longer quickdraws will be useful for rope management on wandering lines, of placing gear deep in a wide crack, or under a small overlap or roof.
Quickdraws are often sold in sets, and small savings can be made by buying a number of them in one go.
Slings and Carabiners
The slings you already acquired as a competent second will do you fine here. But you may want to add a couple more.
A few extra 120cm slings are amazingly useful if you are climbing a route that offers some natural threads or spikes that take a good sling placement. As well as being some of the most bomb-proof placements you can find, there's something incredibly satisfying about using a good thread or spike placement.
Typically, every sling you own will (eventually) want its own small screwgate carabiner. This allows you to take advantage of as many uses of this combo as possible, including building anchors that may require many different pieces.
You may also want to acquire a 240cm sling. These can be super-useful for quickly building anchors on multi-pitch routes, especially if you are leading all the pitches and don't want to continually incorporate your end of the rope into the anchor.
You will also want one large carabiner to use as your master point for any anchors you build. Classically, this will be a large HMS carabiner, capable of safely holding two clove hitches without compromising its function.
Does the Modern Trad Climber Need Hexes?
That jangling sound of metal-on-metal hexes clanging together at the crag is a less common sound at the crag these days. Generically known as hexes, owing to their shape, these oversize items of protection were essential items in the racks of early trad pioneers. But with the advent of cams, they became less and less relevant.

So do you need hexes in your rack? The next items you may want to acquire for your climbing rack may be some hexes. There are a couple of reasons you may want to invest in a set of seagull bashers.
Firstly, as a novice lead climber, they are incredibly reassuring pieces of kit to place. They are easy to place and it's easy to judge the quality of their placement. Additionally, being so obviously big and strong, they are extremely reassuring to place.
Secondly, the alternative to hexes are cams, which cover the same size range as hexes (plus much more). Cams are inordinately more expensive, and you can get a set of three hexes for little more than the price of one number 3 cam.

Therefore, they do serve a place in a beginner's trad climbing rack. However, they will doubtlessly eventually be superseded by cams. Cams' superior versatility cannot be denied, and there's simply no point in carrying both hexes and cams in your rack. Once you've gotten confident at placing cams and can afford a few, it will be time to say goodbye to your hexes.
Cams
Cams are simply amazing achievements of engineering. Their deceptively simple, spring-loaded concept means they act as 'active protection' – they are continuously gripping the rock, rather than just passively sitting in a crack.
They do take a bit of experience to learn how to place effectively, and some learners do take a while to become confident with their cam placement. Once mastered, however, their versatility is unmatched, and cracks of all orientations and sizes can take a cam. This includes parallel-sided cracks that lack the constriction required for a good nut or hex placement.
When you're starting out, the first cams you will want to get will be the ones that cover the size range where your hexes would, or used to, be. Different manufacturers use different numbering for their sizes, but as an cam pioneers, Wild Country's cam sizing is widely understood. Therefore, I'd recommend for your first cams, go for sizes 1, 2, and 3. This will equate to sizes 3, 4, and 5 in DMM dragon cams, for example.
As you get the chance to add more cams to your rack, simply work your way downwards in size, to size 0. This is a standard set of cams, and used in conjunction with nuts, will allow you to protect most routes, broadly speaking, up to and including HVS.
Preferences for cams, like anything, vary considerably. And indeed, most people who will passionately vouch for one brand of cam over another, have had spent a disproportionate amount of time using that particular device over others.
As you get the chance to climb with other climbers and use their gear, you'll start to develop your own personal preferences.
Having used Dmm Dragon cams for a long time, I'd a huge fan. DMM seem to excel at taking an initial idea and tweaking it to make it even better. Nowhere is this more apparent than with their Dragon cams.

Their feel, the tension of their springs, and the relatively recent addition of teeth of the lobes are all just fantastic features. The built-in extender on the sling is an awesome feature too, as you can decide on the fly whether to use it or not.
Note that, cams are generally sold without an accessory carabiner, so you will need to get one of them, ideally for every cam you use. However, some climbers do economise of both cost and weight by grouping cams together on one carabiner and then detaching them and necessarily adding them to a quickdraw when placing them on the lead.
This is an extra level of faff I don't need when wanting to hurriedly place a cam on lead, so I have an individual carabiner for each cam. To easily be able to choose the required cam from your harness, I'd recommend pairing it up with a carabiner that matches the cam's colour.
As with quickdraws, a snap gate carabiner is the carabiner type you want in this case.
Extendable or Alpine Quickdraws
As you climb longer and more meandering routes, the need for careful rope management will increase. An integral part of this is the use of extendable quickdraws, where necessary (also known as Alpine draws).

In addition to your standard quickdraws, you will want 2 – 4 extendable draws on your harness. An extendable quickdraw consists of a 60cm dyneema sling, coupled with two snap gate carabiners.

I'd recommend choosing carabiners that correspond to the snap gates on your quickdraws, so that you can easily be consistent in which carabiner you clip to the rope, and which carabiner you clip to the protection.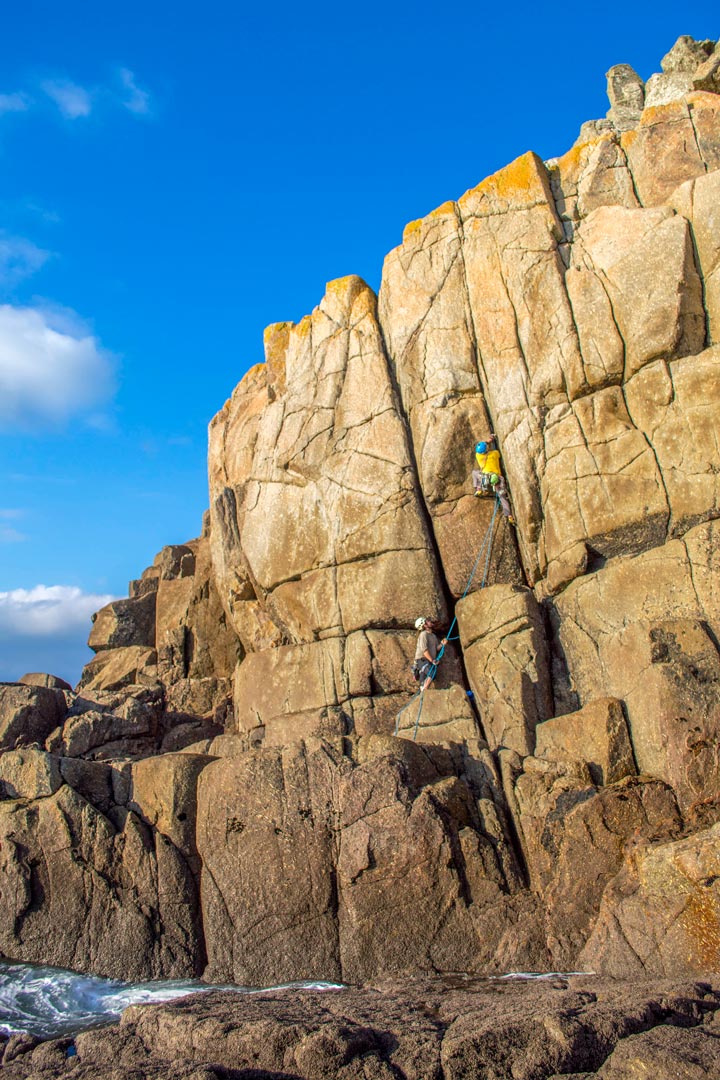 Climbing Rope
Of course, at some point, if you're going to be an independent climber, you need to have your own rope. This article is written on the assumption that you're gradually building up your rack whilst still climbing on other people's gear, and mixing and matching racks as you steadily acquire more gear.
Thus, the time at which you buy your first trad climbing rope will vary. But at a minimum, armed with a set of nuts, quickdraws, and enough gear to build a safe anchor, you could get a rope and climb carefully chosen routes with this bare minimum of equipment.
Climbing ropes is a huge topic in itself, so go here so see the accompanying article to this guide that talks just about ropes.
At a bare minimum, you need a single rope of 50 to 60 metres in length. It's worth paying a little extra for a dry-treated rope that will undoubtedly last longer than an untreated rope.

You will likely move on to using two half ropes to trad climb. Here you have the choice to buy a single half rope and team up with a buddy who also has a half rope. But bear in mind, you should not climb with just a single half rope.

One way of future-proofing yourself is to get a triple-rated rope. A triple-rated rope can be used as either a single, half ,or twin rope (twin ropes are generally the reserve of ice climbers). With all things being equal, this will be the costliest option for your climbing rope. But it obviously gives you the greatest versatility and may prevent you having to buy twice, or even thrice if, for example, you were to buy a single rope and then two half ropes.
Also consider if you need to get a dedicated abseil rope. If you're regularly climbing sea cliffs, for example, you should consider getting an abseil rope. Setting up a retrievable abseil, using your climbing ropes to abseil, and pulling them down afterwards is a good option a lot of the time. However, there as many occasions where using a bespoke abseil rope is a better choice.
For abseiling, climbers tend to prefer using semi-static (low stretch ropes). These make for a more pleasant and ultimately safer abseiling experience, as the sea-sawing effect of stretchy, dynamic ropes is reduced, lessening the chance of damage to ropes on any sharp edges.

Most (but not all) abseil ropes come in more drab colours than dynamic ropes. They conform to standard EN 1891, and ideally should be type 'A'.

At this point, you are now a fully-equipped trad climber. With all the gear we've gone through thus far, you should have enough kit to independently climb a wide variety of objectives, from sea cliffs, to mountain crags up to medium grades.
But what are you going to climb?
Climbing guidebooks
One of the joys of climbing, apart from climbing itself, is thinking about what you are going to climb next! What classic routes are there to be climbed? What esoteric, off-the-beaten-path routes are out there that tickle your fancy? Where can you go to get lots of mileage, or hone a particular technique? And what are the routes you want to climb that will be test pieces and help push your climbing to the next level?
All of this, and much more, will be found in climbing guidebooks. At the very least, you're going to want to have guidebooks that cover your local area, or the area you will be climbing in most often.
For your local area, a definitive guidebook such as one by the Climber's Club should be your go to. Once you've climbed out the classics at your local crags, you should find stacks more to go at in your local area. Finding unknown gems in remote crags, away from the crowds, in one of the coolest things about trad climbing.
If you're heading on your trad climbing travels, you may want a guidebook that gives more broad coverage of a wider area. You've only got time to climb the classics, and don't necessarily need to know about some slimy, unrepeated, E5 that relied on a rusty peg that no one has been able to confirm is even still in existence.
The guidebooks by Rockfax have come to dominate this latter type of guidebook. Their photo topos are hard to beat, and they only include the essential classics for any given crag.
Of course, these days, there is a vast amount of information online on crags and routes everywhere. This can include notes by people who have climbed these routes. This can give invaluable information, such as current bird-nesting activity, recent rockfall, or anything else that may affect your route that was not apparent at the time of publication of the guidebook to that area.
Getting lost in guidebooks is a splendid way to spend one's free time. Learning about new areas, creating tick lists, as well as impressing your friends with your guidebook collection, are all fine reasons to keep buying climbing guidebooks. Indeed, which climber worth their salt doesn't have at least a few shelves' worth of climbing guidebooks in their house?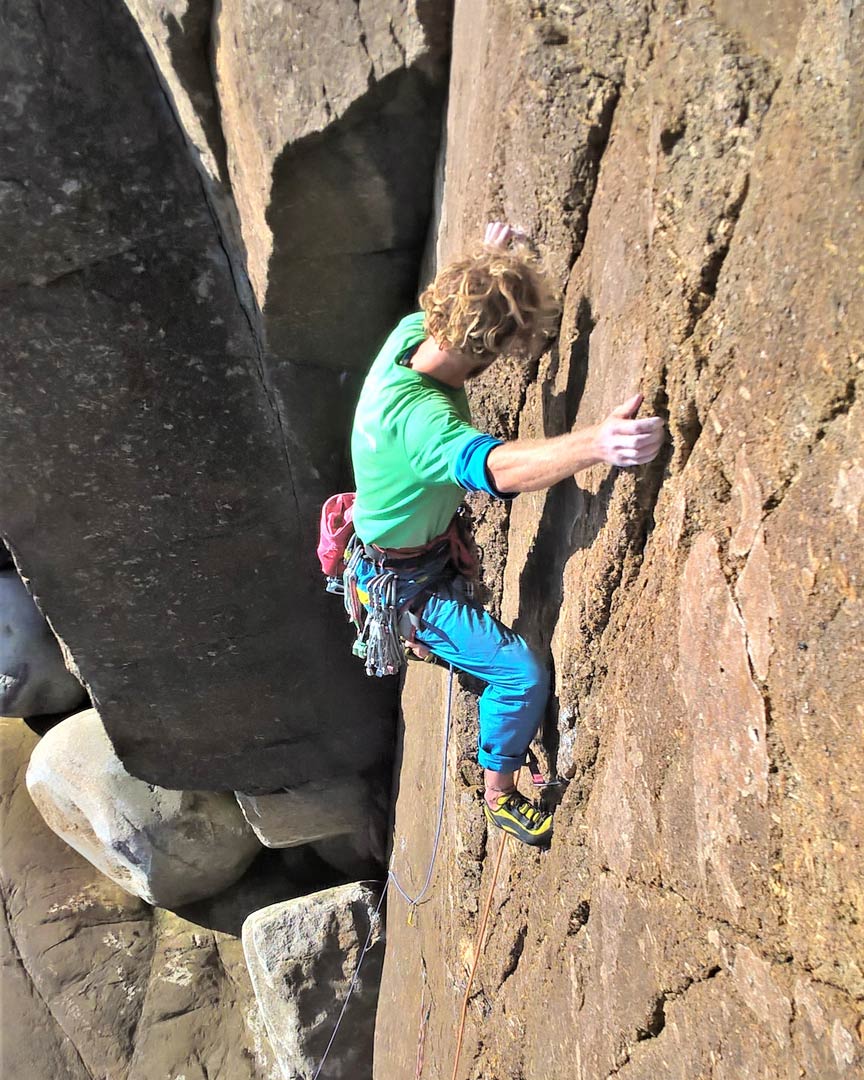 ---
Specialised Climbing Gear
Once you have a fairly comprehensive climbing rack, and your climbing experience increases, you may find yourself wanting to climb routes that require some more specific gear. A world of wonderful and whacky protection options is available, from the very tiny, to the very large.

There are even devices out there with intriguing names, such as tricams, Big Bros, and skyhooks. These ultra-niche devices are beyond the scope of this article. Just pray you're never rock climbing and suddenly wish you had a few warthogs with you!
Offset Nuts
Offset nuts are fantastic! I carry a full set of offset nuts alongside my regular nuts. Designed to fit in flared, and oddly shaped cracks, where regular nuts don't sit well, these things can occasionally really get you out of trouble. The only thing I'd caution is that they can sit so well that they can be devils to remove!
In a similar vein, Wild Country Superlites, latterly emulated by DMMs Halfnuts are also useful alternatives. I have some of these in the smaller sizes that I keep on a carabiner with my micros.
Micro Climbing Gear
It's fair to say that as climbs increase in difficulty, it's usually the case that the amount of available protection decreases. What protection is present is usually at the smaller end of the scale. At the very least, you may gradually want to augment your set of nuts to include some duplicates at the lower end, e.g., sizes 1-3.

However, as you enter the E grades, you may want to include some micro wires. Micros require experience to place effectively, so only after getting a lot of mileage on the sharp end of the rope should you even consider adding these to your rack.
A well-seated placement is critical, as well as consideration as to whether the full force of a climbing fall on to such a small piece of protection could lead to rock failure.

There are various types, such as simply smaller alloy wires, as well as brass versions, often known as IMPs (standing for immaculate marginal protection). Both alloy and brass micro wires are available in offset versions as well. If I had to choose just one type of micro protection, for me it's brass offsets.
---
Crack Climbing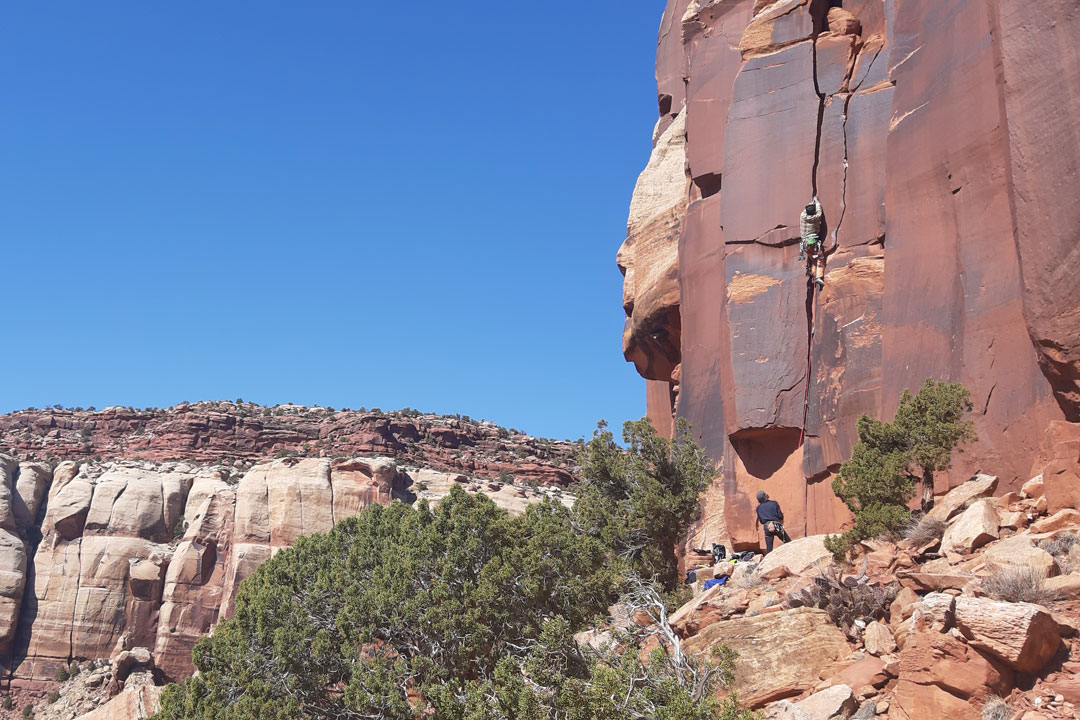 Crack climbing is a specific sub-genre of climbing. It's definitely an acquired taste, as generally speaking the only holds are the ones you create by stuffing parts of your body into the crack and wedging them into position so that they'll hold.
Thus, it has a reputation as being a very painful and brutal form of climbing. And therein lies the appeal for many of those who gravitate towards 'jamming' as it's known. Sadly, this reputation deters a lot of people from trying this wonderful form of climbing.
Like any new skill, the first few times we try it, we will suck. And with crack climbing, at first it will hurt. But with perseverance, once you have mastered some basic jamming skills, it doesn't need to be painful. It does remain brutal though, that's for sure.
Of course, cracks come in all shapes and sizes. Arguably some of the hardest size cracks to climb are the very thinnest, where only the tips of one's fingers can get purchase in the crack. And in such a size, footwork is very tricky. Normally our technique in crack climbing is to jam the toes/feet/leg in the crack. At the thin end of the scale, that just isn't possible, so if there aren't good footholds on the face, you're in for a hell of a time.
Protecting Yourself When Crack Climbing
As mentioned above, the pain and blood lost (in very real terms) crack climbing does put a lot of people off from trying the fine art of crack climbing. But with the right protection, these traumas can be reduced or eliminated altogether.
Climbing Tape
The traditional choice of crack protection is some good old sports tape. This can be a small amount applied just where it's needed, or at the other end of the scale, full tape gloves can be made. If made correctly, this can be fashioned into a fully reusable tape glove.
Crack Climbing Gloves
If you think making a full glove out of tape and then ripping it off your hands is a lot more trouble than it's worth (I do!), then you should consider climbing crack gloves. I'd go further and say that, if you plan to climb crack on even an infrequent basis, get yourself some crack gloves.
They're so convenient to use, and can be put on and taken off in seconds. The best ones I have used so far are ones by Ocun.
There are those who may say that gloves, and even tape, are cheating. But then again, you could then say that so is wearing climbing shoes? When the foremost crack climbers in the world are all taping and gloving up, I don't lose any sleep on the topic.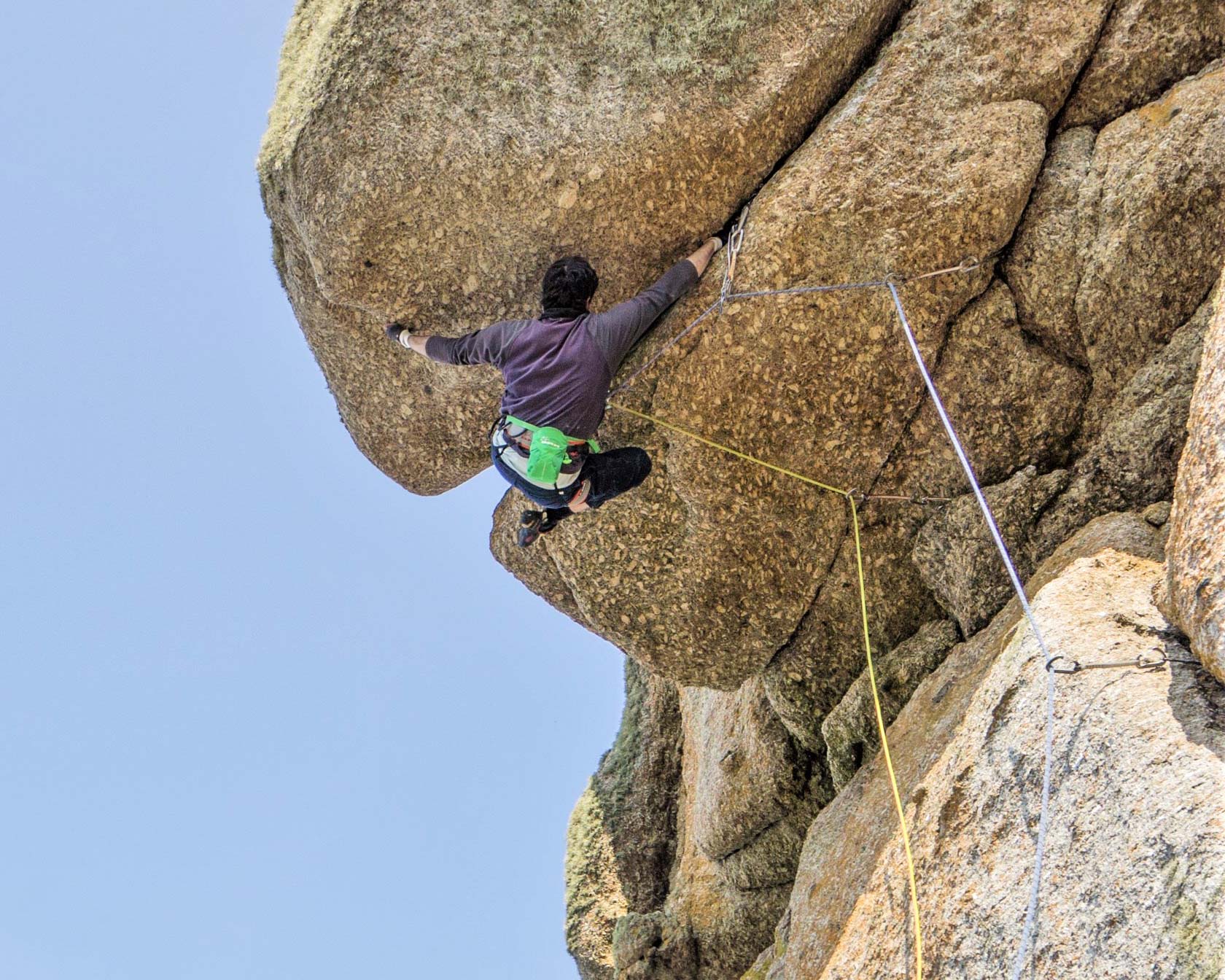 ---
Protecting the Crack When Climbing
In terms of protection, cams are the weapon of choice for crack climbing. Often being largely parallel-sided, nuts don't tend to work well in cracks. And of course, the crack doesn't have to be very large before even hexes no longer fit at all.

Depending on the shape and length of your crack, you may be able to climb using your existing rack. Shorter sections of crack will only require a few cams, and there may be other options for nut protection in the vicinity.
However, for longer cracks, you may need to double, or even triple-up for certain sizes of cam. Indeed, for very long cracks (i.e., outside the UK), it's typical for climbers to share racks, or temporarily borrow cams for specific cracks that may require multiple cams of the same size.
Giant Cams for Crack Climbing
When you see someone heading to the crag with a couple of cams as big as their head dangling from their bag, you know they're in for some serious fun. They're going off-widthing!
Off-width cracks are cracks that fit into that dreadful size where nothing fits in the crack to create a secure jam. These are generally cracks that are wider than fist-sized, but smaller than a chimney (which you could comfortably get inside).
A hideous sub-genre within a sub-genre, off-width cracks can be the stuff of nightmares. They can also be lots of fun and very satisfying battles to overcome.
The predominant protection for wide cracks is massive cams- cams big enough to span the width of the entire crack. This will start with a #4 (DMM #6) for baggy fist or hand/fist size cracks, up to #6 cams which will protect the awkward end of squeeze chimneys that you can only half get into.
Wild Country recently started producing their outrageously sized number 7 and 8 cams. They are difficult to get hold of, but can protect cracks up to more than 12 inches wide. They're probably only going to be of interest to you if you're a wide crack addict who spends most of their time souring the canyons of the US desert looking for unclimbed obscenities most sane people steer well clear of.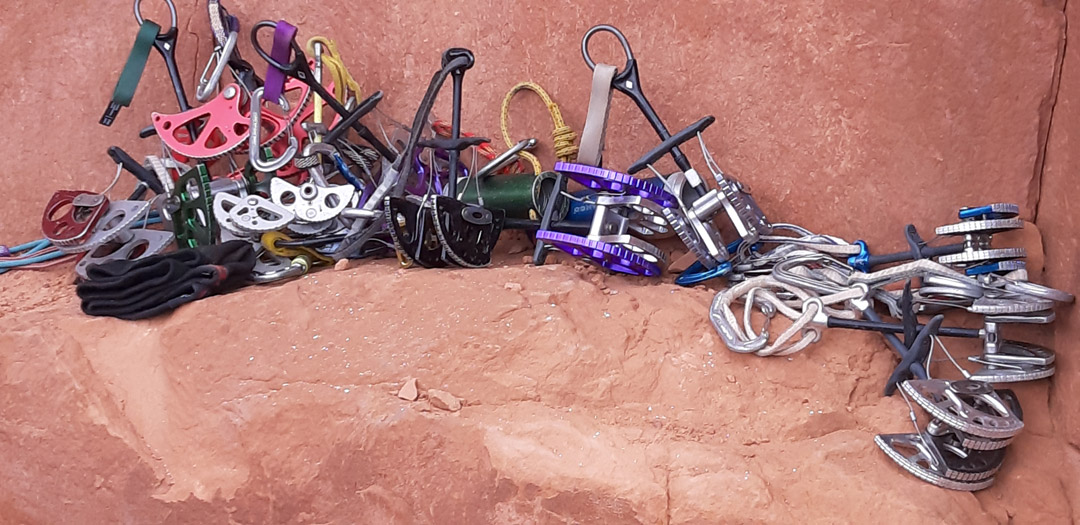 From your first pair of shoes, to niche protection such as giant cams, we've covered it – everything you need to know to get kitted-out for indoor climbing, sport climbing and trad climbing. Rome wasn't built in a day, so build up your rack over time.
As you gain more experience, you'll figure out what kind of climbing interests you most, and what gear you're going to need along the way. Enjoy the journey, it's so much fun!
---