Buying Equipment as a Beginner Rock Climber / Indoor Climbing
Buying rock climbing equipment can be overwhelming, especially if you are new to the sport. In this blog, we aim to guide you through the process. Not only do we recommend what you need for the many various types of climbing you may want to enjoy, we also recommend an order in which you acquire your kit.
Why So Much Climbing Equipment?
There's no denying that climbing can entail a huge amount of equipment. Different sub genres of equipment may require more gear than others, but knowing what to get and when can be a veritable maze, especially for people new to the sport.
The good news is that you don't have to rush out and buy every conceivable piece of climbing equipment to enjoy the sport. Each type of climbing, e.g., trad climbing, sport climbing, bouldering, etc., has a fairly unique set of equipment required to enjoy it safely. As a beginner climber you maybe don't know ultimately what kind of climbing you'll spend most of your time doing.
And that's great news! You can start with some generic pieces of equipment, and slowly build your arsenal of equipment as you gain more experience and figure out whether you want to spend most of your time fiddling nuts into cracks, clipping bolts, or falling on foam pads.
This post contains affiliate links. If you use these links to buy something we may earn a commission at no extra cost to yourself. Thanks.
This guide will be divided into sections, so if you're searching for a specific type of climbing, following the links below to jump straight to that section. However, if you're just getting into climbing, then sit back, and start from the beginning.
Seeing a fully equipped climber doing their thing at the crag, there's no doubt that they have invested a small fortune in their equipment. But Rome wasn't built in a day, and in most cases, climbers will slowly accumulate their gear over a long period of time.
And you can do the same. So, let's take a look at what order you might start with, and where you might go next. Hopefully, we'll be able to help you avoid costly mistakes, and make the process of building your climbing rack fun and enjoyable.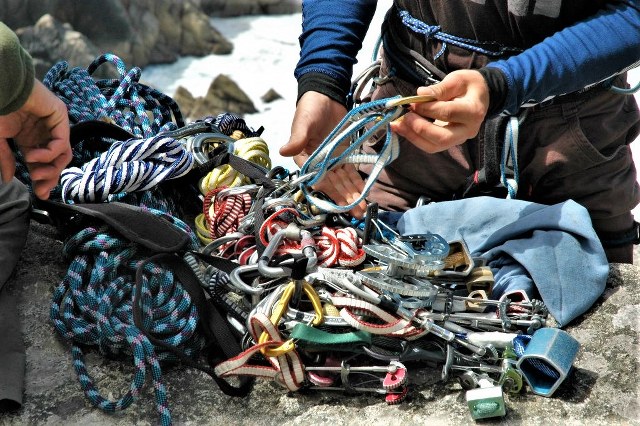 ---
Climbing Shoes
The majority of climbers new to the sport these days get their first taste of climbing at an indoor wall. This is the ideal way to give climbing a try to see whether it's for you or not. During your initial taster session at a climbing wall, the wall will almost certainly lend or hire everything you need for the session. Under the supervision of a qualified climbing instructor, you can spend a couple hours exploring the vertical world and simply decide whether climbing is for you.
If you're still reading, we'll assume that it is. Great news, you've just made a very good life decision! Whether you will be going to climbing walls, or want to immediately seek tuition to start getting you trained up for climbing outside, you're going to need some climbing shoes.

Whilst some people can climb E4 in trainers, it's safe to say that no one who takes rock climbing seriously does it without wearing climbing shoes. Climbing walls will absolutely insist upon this, as the transfer of mud and other dirt from street shoes onto their climbing holds is something that nobody wants.
If you've never looked into the world of climbing shoes, you may be discovered at just how overwhelming the choice is. Innumerable brands tout shoes in every possible colour. The shoes can be relatively flat soled, or aggressively down-turned and asymmetrical. They may be lace-up, or they may be Velcro. Where do you even start?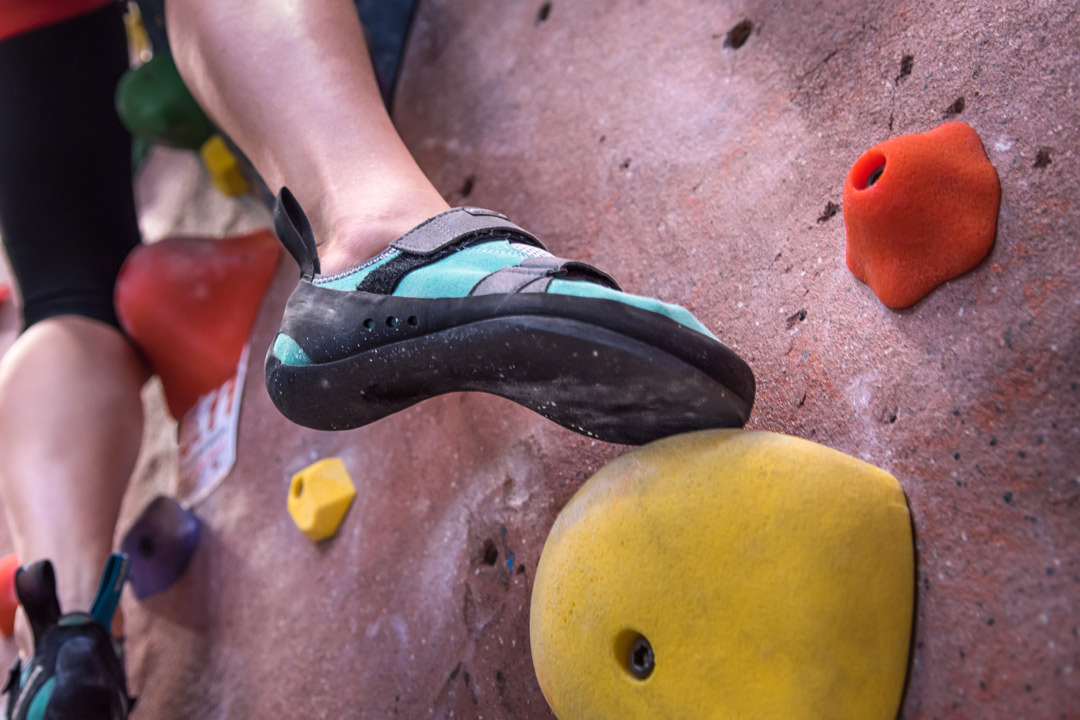 Beginner Climbing Shoes: Comfort is King
For your first climbing shoes, one quality above all others is paramount – comfort. Until you have learned some decent foot technique and your feet have grown accustomed to being abused like a kimono doll, there's no advantage in causing your feet unnecessary discomfort. Straight away, you can disregard any down-turned or asymmetrical climbing shoes. These shoes are optimised for steep ground. Your footwork, and your finger strength aren't ready for that yet!
As our feet vary in size and shape so much, ultimately, it's worth trying a pair before you buy. If you don't live near a climbing gear retailer (most climbing walls sell at least a small range of kit), make sure the online retailer you choose has a generous returns policy if you buy shoes that don't fit.
Living and climbing in west Cornwall, I simply don't have any climbing shops within a few hours' drive of me. I therefore have almost aways bought shoes online after doing my research.
Recommended Climbing Shoes
With so many climbing shoes on the market, and such variety in people's feet, offering any recommendations for climbing shoes is a tough task. As with most of the kit in this guide, I'd recommend sticking to better-known climbing brands. When we get to life-critical safety equipment, I'd insist upon it. But more on that later.
La Sportiva are one of the top dogs in climbing footwear. From climbing shoes and trail shoes, to mountaineering boots, you can't go wrong. Their Finale climbing shoe is widely regarded as a great, comfortable beginner's climbing shoe.
By far the most comfortable climbing shoe I've ever worn is the La Sportiva Cobra. Neither lace-up or Velcro, they are actually a slipper. Unusually soft, they allow surprisingly technical climbing whilst remaining super-comfortable. Trust me, that really is unusual. The one downside is that they do wear out easily. Particularly if you are a beginner with undeveloped footwork, the indoor climbing environment could make short work of them.
Not necessarily an ideal beginner's shoe, I have settled on the Tarifa shoe by Tenaya. In fact, I like it so much, I have three pairs of them, all a half size apart! Thus, I have my comfortable, climb-all-day pair, a trying-hard pair, and something in the middle. Not being too aggressive in shape, going for a larger, more comfortable size, you could do worse than get some Tenaya Tarifa's early on in your climbing career.
---
Chalk Up: Chalk for Rock Climbing
Unless you're in a minority, you're probably going to be seeking the benefits of using climbing chalk to improve friction and reduce moisture on your hands. Thus, as well as a pair of climbing shoes, I'd recommend getting a chalk bag straight away too.
This is a small cylindrical bag that can be worn whilst climbing, allowing immediate access to chalk whenever you need it. The chalk bag is normally situated behind you where it doesn't get in the way of climbing, but can be reached easily by either hand when needed.
I would not recommend clipping the chalk bag to your harness via a carabiner. For me, at least, this makes the chalk bag hang too low, and swing around unnecessarily. Instead, get a chalk bag that includes its own clip-up belt.
Alternatively, you can use some accessory cord instead of a bespoke belt. The advantage of using cord is that if you find yourself in some dire situation on a rock face and have run out of gear for self-rescue, or have dropped your last prusik, the accessory cord can be called into action.
All the well-known climbing brands make chalk bags, and I've included some below. Choosing a well-known brand should give some assurance that your bag won't fall apart in short order, but there are infinite options for cheap chalk bags out there.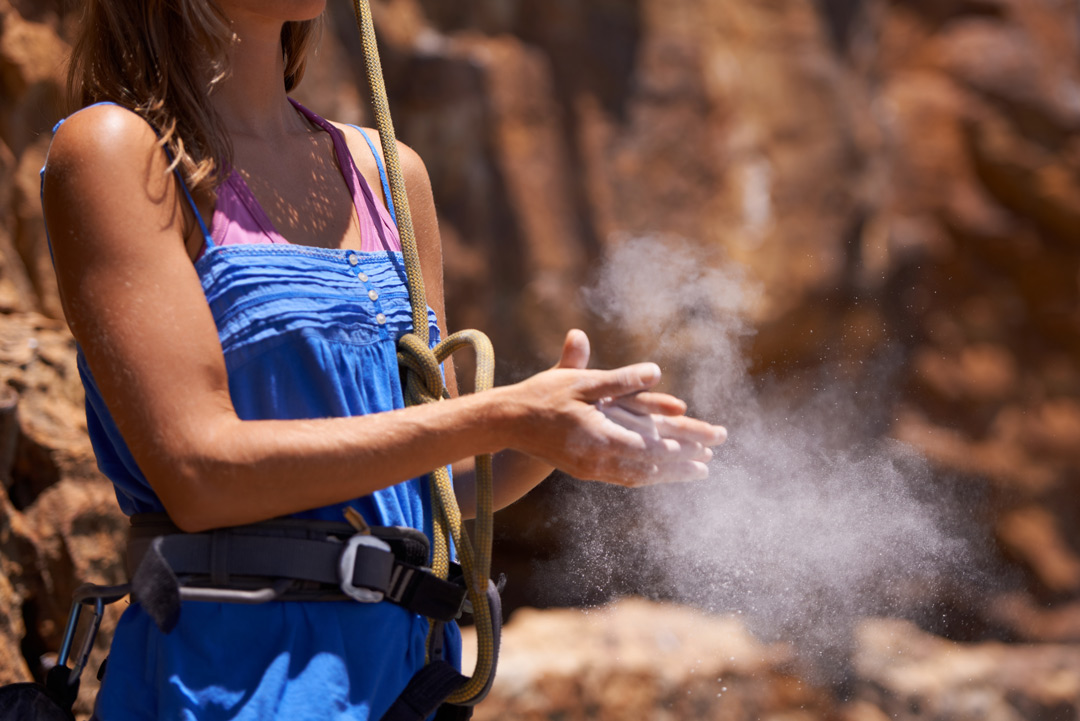 As the integrity of your chalk bag isn't life-critical, it's OK to use any chalk bag you like. In fact, chalk bags are a potential way to express yourself climbing, as they come in all shapes and sizes. For example, your chalk bag might look like an animal, or it might help YOU to look like an animal. The choice is endless.
Chalk: The Magic Dust of Climbing
Chalk itself is a commodity that does need to be replaced quite frequently. I've included some of the better-known examples below. All chalk is not made equal, and the exact composition of chalk (which in climbing chalk is mostly magnesium carbonate) will vary from brand to brand.
How fine it feels, how moist it feels, and so on will be different. Only by trial and error will you figure out your preferred type of chalk. And you thought chalk was just chalk, right?
Armed with just a pair of climbing shoes and a chalk bag, you have all the equipment you need to visit your local climbing wall and use the bouldering area ad infinitum.
You can also join groups bouldering outdoors, on the presumption that some of those people will have bouldering pads and spotters available to keep you safe.
In the meantime, if you want to indulge in other types of climbing, i.e., roped climbing, indoors or outdoors, you're going to need to borrow or hire additional equipment for now.
But don't dismiss how much fun and value you can get from just indoor bouldering at this stage. It's great for developing finger strength and getting the foundations for good technique.
For those who want to include full-length routes in their list of vertical activities, read on.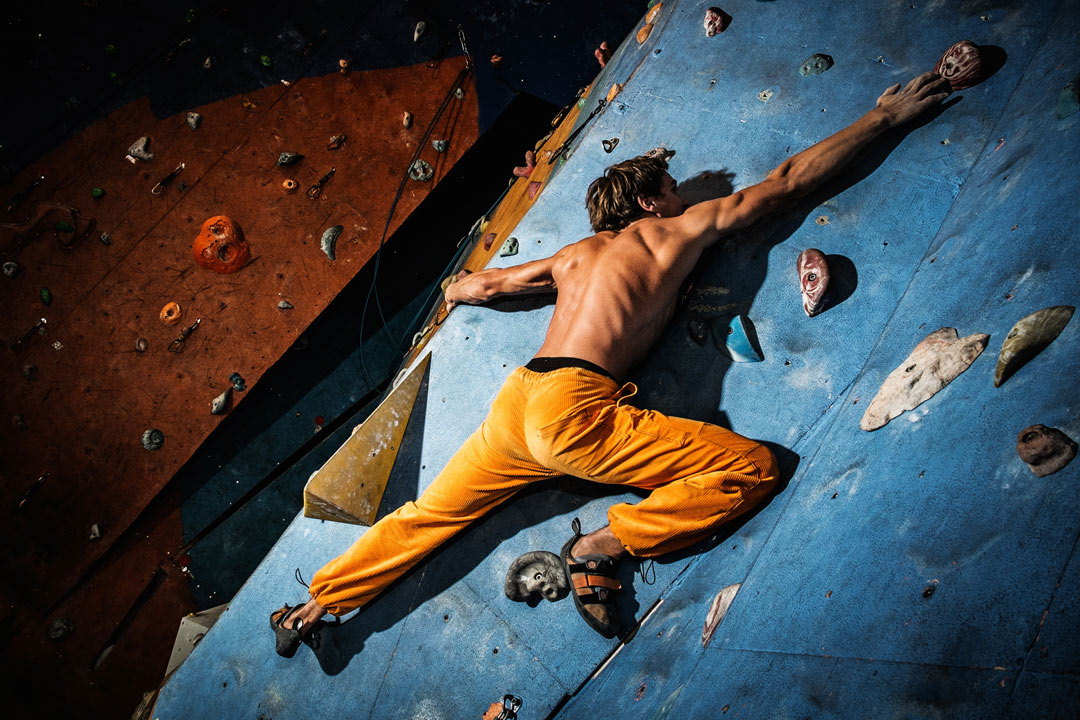 ---
Essential Equipment for Roped Indoor Climbing
With three more crucial pieces of gear, your climbing horizons will increase exponentially. You can now enjoy the world of roped climbing, yay! And thus, you're have started a journey that may start with top-roping in your local climbing gym, but could lead you to climbing big walls in Yosemite.
In addition to your climbing shoes and chalk bag, to enjoy roped climbing at its most basic level, you will need:
A rock-climbing harness

A belay device

A locking carabiner
Climbing Harness
For most forms of climbing, apart from bouldering, you are going to be attached to a rope. And a rope is not much use without a rock-climbing harness. A harness is the attachment point for the rope, and in rock climbing is designed to safely arrest you, should you fall.
Long gone are the days when pioneering rock climbers would simply tie the rope around their waist, essentially solo the route, before pulling their partner up the route in a questionable body-belay. Some surprisingly hard routes were put up in this style before the forerunners of modern climbing equipment started to appear on the scene.
From this point on, much of the equipment you acquire for climbing will be life-critical, i.e., its unexpected failure could have disastrous consequences. Luckily, we live in a safety-conscious world, and where appropriate, the climbing gear we use, will have been subjected to a pre-determined set of tests. Upon passing those tests, the manufacturer can display the appropriate safety information on their product.
In the EU and the UK, that is the EN number. The specific EN number for climbing harnesses is EN 12277. It is important before buying a harness that a) it has EN12277 displayed clearly on its label, and b) it is a sit-harness, appropriate for rock-climbing. Harnesses come in many forms, and serve many different purposes, whether it's caving, industrial rope access, arborism, or many more.
For the USA, or other parts of the world where the UIAA safety standard prevails, then the equivalent certification for climbing harnesses is UIAA 105.
Even when we narrow it down to rock-climbing harnesses, the array on offer is mind-boggling. Every notable manufacturer of climbing equipment (as well as a great many we should simply ignore) make several different models.

So long as they meet the correct standards, they are all going to broadly do the same thing. Variations exist in how much padding they have, as well as their weight. Harnesses optimised for sport climbing will have an emphasis on low weight, and will likely have less gear loops. Conversely, a harness optimised for trad climbing may have an emphasis on comfort, in preparation for those hanging belays, as well as maybe more gear loops.
Taking these factors into consideration may influence which harness you go for, if indeed you have decided on what your climbing focus will be at this stage.
I'm a huge fan of the DMM Renegade harness. Optimised for trad, it's useful for all forms of climbing, being very light. I use it predominantly for trad climbing, but have done long days sport climbing and indoor climbing without discomfort.
A slightly cheaper option would be the CAMP Energy climbing harness. CAMP have earned themselves a name for making cheap, but perfectly adequate, climbing equipment. As you progress beyond the climbing gym, it will still prove useful, particularly for sport climbing.

For a more comprehensive list of harnesses suitable for indoor and sport climbing, go here.
Belay Device and Carabiner
At the other end of the rope to the climber, you will be belaying. This simple, but crucial skill, should be learned early on in your climbing career. Once you've mastered belaying, you can walk into any climbing wall in the world, and after demonstrating your competence, you and your partner can climb on all of their pre-rigged top rope systems.
Assisted Braking Belay Device or Not?
Belay devices generally fall into two categories. There are traditional-style devices that offer no kind of assisted braking. Then then are those that, one way or another, offer some additional braking mechanism.
Note, that in almost every case, the manufacturers of assisted braking devices make it very clear that their device provides assisted braking only, and should never be used hands free.
There is no doubt that assisted braking devices should be safer. However, they can also be prone to incorrect usage (essentially forgetting about the assisted part). In conjunction with this, the potential to learn bad belay habits can become ingrained, and the lack of these fundamental skills could have serious consequences when the user transfers to another belay device.
Unassisted 'tube' belay devices certainly have serious scope for human error. However, with proper tuition and oversight of a novice user, they can instil good habits, not only for belaying, but ropework in general. No doubt, whoever you learn to climb with will impart their opinion on you, but do your own research.

Also, at the time or writing, there is no universal agreement about which type of belay device should be used by beginners. Your local climbing gym may well have very strong ideas and may forbid the use of certain types of belay device in their wall.
Imparting my trad climbing opinion, I still rate the value in learning good habits on a traditional tube-style belay device, and have included two popular choices.
Make sure you choose a tube-style device that has extra braking grooves in which the braking rope should always be orientated. Examples of this include the Black Diamond ATC-XP and the DMM mantis.
The Petzl Grigri
For assisted braking devices, new variations seem to appear all the time. The ubiquitous choice remains, however. That is the Petzl Grigri. Despite being a trad-head, I do love the Grigri.
They are a great choice is so many situations. They do take a while to learn to use well, and whilst they are very safe, don't be surprised if your lead-climbing partner is getting annoyed at you consistently short-roping them until you get used to paying out rope.
The Petzl Grigri has been through a few iterations. The widely available version is the Petzl Grigri Plus.
Choosing a Suitable Carabiner for your Belay Device
Why are there so many different types of carabiners, you may ask? Well, again, they all have their specific applications, and we'll look at that more in the subsequent articles in this series. Ensure that the carabiners you use for climbing are genuine and marked EN 12275 and UIAA 121.

The carabiner used in conjunction with your belay device will typically be medium to large. This allows plenty of room between the tie-in loop of your harness, so that the device's use is not compromised. It also allows room to tie-off the belay device, if needed.
Even the locking mechanism itself requires us to make choices. Your belay attachment is one of the most critical parts of your climbing system, so at the very least your need a screwgate carabiner. However, you can go for extra security by getting a twist-lock gate, or having an additional clip that ensures your carabiner is not only locked, but prevented from cross-loading too.
Manufacturers often sell a belay device with an appropriate carabiner as a pack, so as well as making a small saving, you know you are getting what the manufacturer considers to be the most appropriate carabiner for the job.
---
Lead Climbing Indoors
What, we're lead climbing already? Well, yes! After your first climbing taster sessions, you got your shoes and chalk and got seriously stuck into indoor bouldering for the next few weeks or months. Not too long after that, you were taught how to belay and got the necessary equipment to climb as a partnership, with one of you climbing and one of you belaying the other end of the rope.
The next logical progression from here is to learn how to lead climb indoors. There is a whole new set of skills required to manage the greater risk here, so make sure you seek the appropriate tuition before starting to lead climb.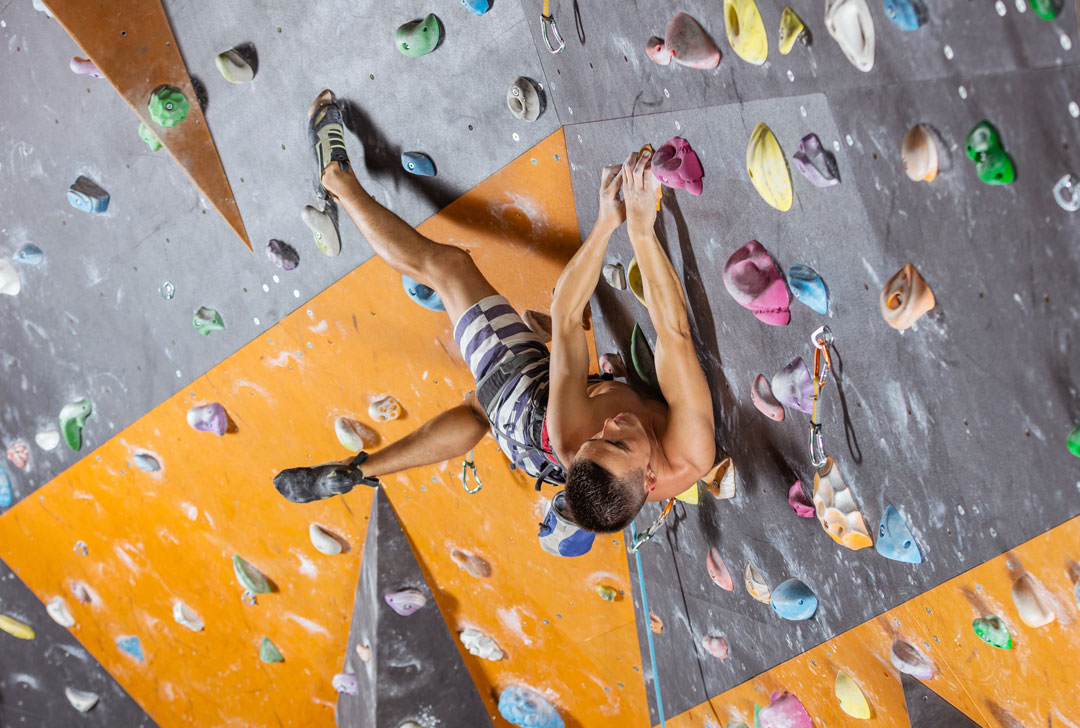 As far as equipment goes, it's very good news. You only need one item of extra equipment to be able to enjoy lead climbing at an indoor wall. You guessed it, you're going to need a rope. As ever, climbing ropes come in a huge array. As a result, we've written a separate guide just for climbing ropes. Check that out here.
Please have a quick read of that article to learn more about ropes. But for now I'll just say that for lead climbing indoors, you want a single rope (that's a specific rope type). Check with your regular wall to see what the minimum rope length required to climb their routes is. But in general, a 50 metre rope will cover you for most indoor climbing routes.
And with that, you're fully equipped to take part in the full gambit of indoor climbing styles. Your next steps in climbing will likely take you either in the direction of sport climbing, or traditional climbing (and there's no reason you can't do both), so jump to those articles to continue your guide to getting tooled up for the crag.