A Guide to Adventurous Activities on the Isles of Scilly
The Isles of Scilly are the perfect place for a relaxing holiday. But relaxation is not our trade! So we hope you enjoy reading our guide to adrenalin sports and adventurous things to do whilst on the Isles of Scilly. Being an archipelago, it's no surprise that most of the activities on Scilly are focused on the sea. But there are also a few land-based options on offer as well. Activities range from guided experiences with local providers, or equipment rental to conduct your own adventures. The islands are also suitable to a small number of specialist activities, for example, kite-surfing, for which you need to come fully equipped and experienced to look after yourself.
Coasteering on the Isles of Scilly
Naturally, we'll start with the coasteering. I was first alerted to the coasteering potential on the Isles of Scilly by a picture in the Climbers' Club guide to west Cornwall. This sole picture of a pristine world of immaculate granite next to the sea definitely warranted further investigation. Fast forward to today, and Kernow Coasteering has been leading coasteering trips at Peninnis Head, on the main island of St. Mary's for over five years. Peninnis Head is a spectacular venue and is certainly one of the best sites for coasteering I have ever visited.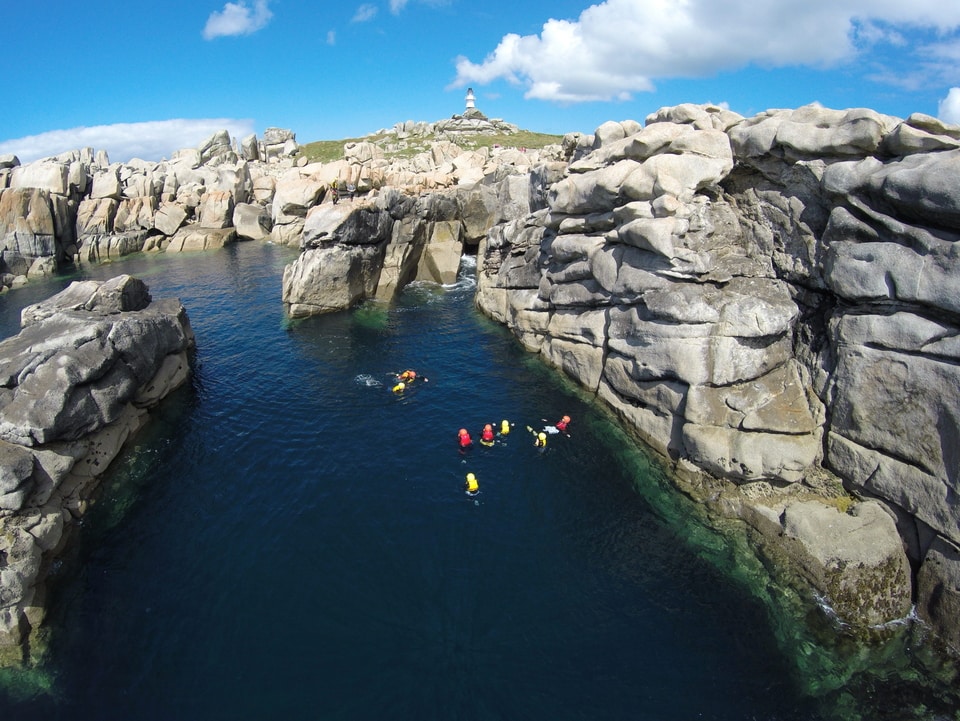 "Peninnis Head has more cliff jumps along its length than anywhere else I know. The simple truth is that during a typical coasteering session we simply don't have time to do them all."
What makes it so special? Firstly, the scenery is absolutely stunning. Like the coastline of West Cornwall, it is made of beautiful, golden granite. Subtly different in texture from its cousins on the mainland, the granite of the Isles of Scilly has weathered uniquely, almost as if sculpted by giant hands. Peninnis Head is quite an anomaly for the islands, which are predominantly flat and the majority of the coast is made up of golden sandy beaches (which isn't such a bad thing) or endless boulder fields. The development of craggy cliffs is actually quite limited, especially when compared to mainland Cornwall. There are small crags, here and there, but Peninnis Head stands alone in its stature as a well-developed craggy section of coastline. This results in a section of coastline perfect for coasteering, giving an adequately long and interesting route with lots of features and countless jumps.
The other comparable site on the inhabited islands of the Isles of Scilly would be at Shipman's Head on Bryher. However, it has some serious disadvantages as a coasteering site. Its exposed position on the north of the islands means there would only be a handful of days a year where the sea would be calm enough to safely coasteer. Peninnis Head, on the other hand, is on the more sheltered southern side of St. Mary's, and also gets a little bit of shelter from the west by St. Agnes. Also, Shipman's Head is at the far end of Bryher, which in itself is an order of magnitude more remote than St. Mary's.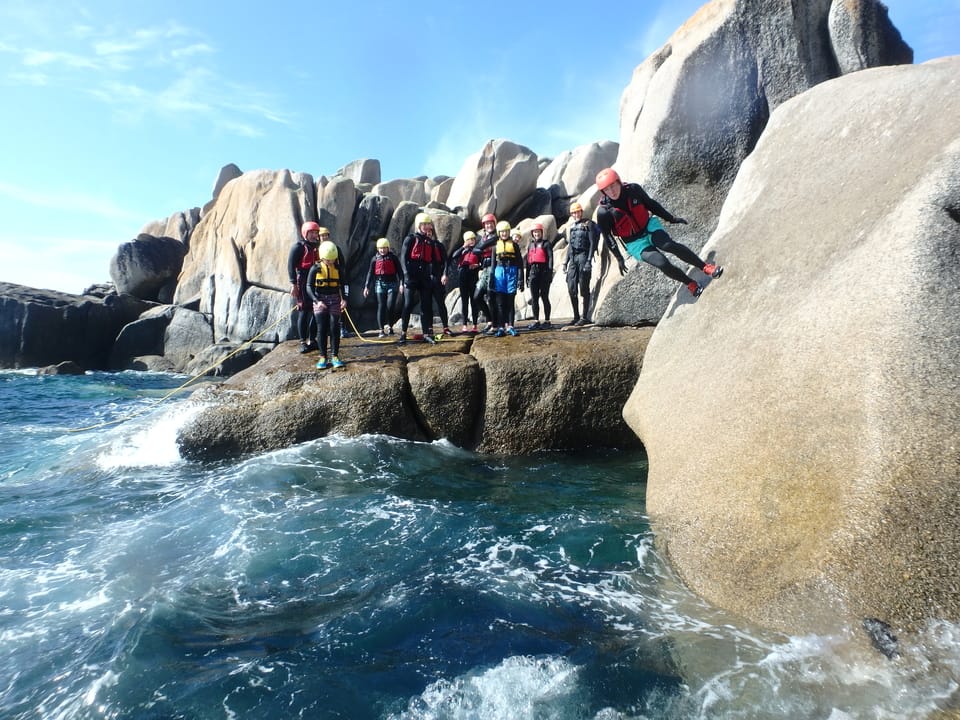 The attributes of Peninnis Head don't end there. It has more cliff jumps along its length than anywhere else I know. These vary from nice, small intro jumps to no shortage of beefy big jumps. The simple truth is that during a typical coasteering session we simply don't have time to do them all. Peninnis Head's unique geomorphology makes it a rarity in terms of tide. Most coasteering locations are very tide dependent, primarily to ensure the jumps have enough water underneath them to make them safe.
At Peninnis Head, many of the cliffs keep going far below the water, meaning we have deep water and even at the lowest tide we can still get our jumps in. The problem is, with a tidal range of up to 7 metres, the jumps at low tide can get very big! This makes Peninnis Head unusual, in that it can be better to coasteer here at low tide. When the tide is low a world of intertidal wildlife is revealed that we typically don't see coasteering elsewhere. This includes brightly coloured seaweeds, algae and sponges that can give the place an almost psychedelic appearance.
As I always say, coasteering is about much more than cliff jumps. Rest assured that Peninnis Head also has a host of interesting features to enhance our enjoyment of our coasteering journey here. Interesting gullies, caves, sluices, slipways, blowholes and other features continue to surprise as we make our way around the coast. We even have the 'wall of death', a steep rock face where you can attempt to run sideways across before plunging into the water below.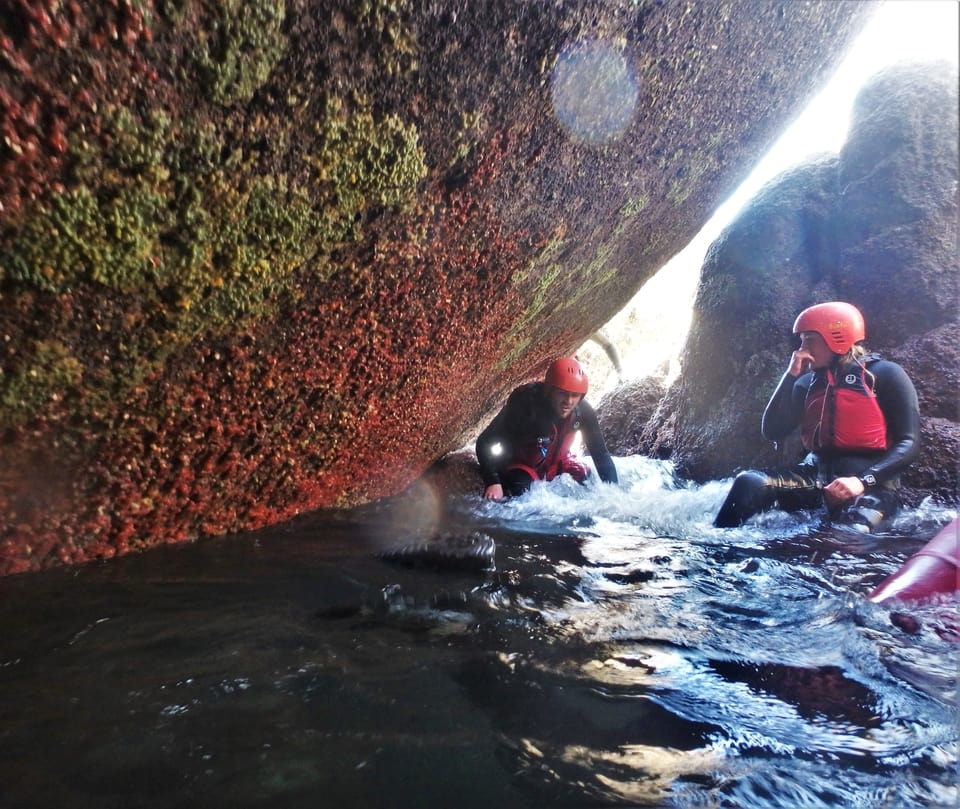 Kernow Coasteering are the Isles of Scilly's only provider of coasteering. We feel that taking part in this activity at a location as special as Peninnis Head is a 'must do' if you are visiting the islands. We run regular sessions, by demand, throughout the season. Don't hesitate to get in touch if you would like to experience coasteering on Scilly for yourselves.
Wild Swimming on Scilly
Wild swimming seems to be especially popular with the inhabitants of the Isles of Scilly. Given the islands' small land mass and amount of open water available, it's a no brainer. The rules are simple: there are no rules! Simply get in the sea and swim. It's up to you whether you wear a wetsuit or not, but the purists may look scornfully on if you are donning neoprene for your wild swimming adventure.
"For the ultimate Isles of Scilly wild swimming experience, you should consider Adventure Scilly's Scilly Swim Challenge."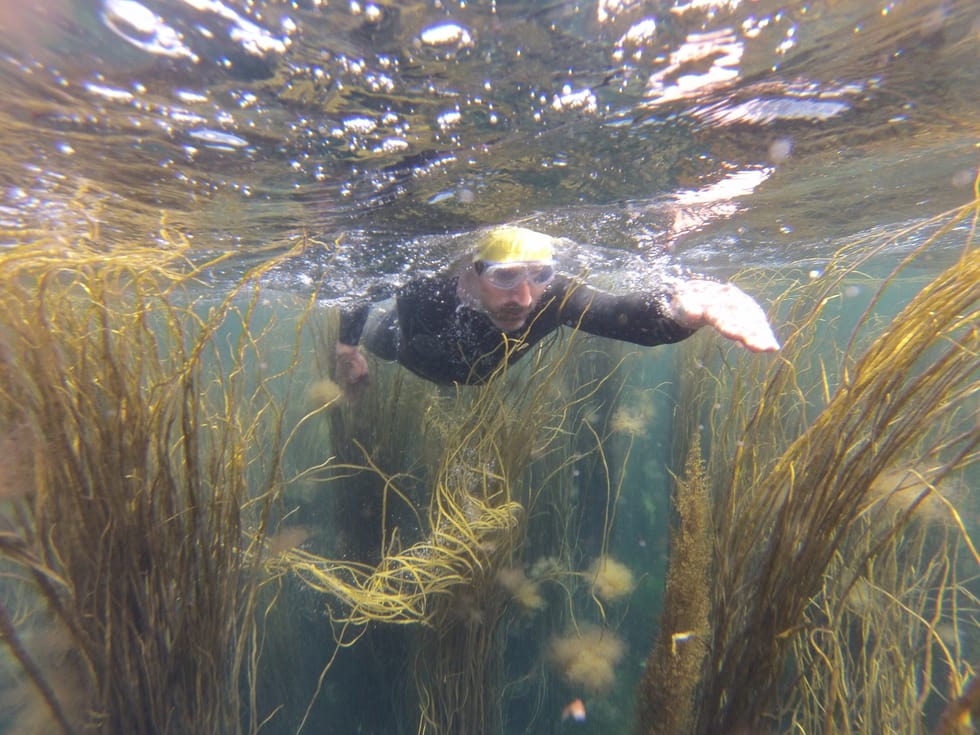 With all of the inhabited islands having numerous beaches facing all aspects, it's usually possible to find somewhere sheltered to get a wild swim in. With their proximity to Hugh Town, Porthcressa, Town Beach and Porth Mellon are the obvious choices if you are on St. Mary's. There's no reason not to seek adventure further afield. Just get on the coast path and head to your chosen spot.
It goes without saying that, especially if you are going somewhere more isolated to swim, let someone know your plans and that they know to raise the alarm if they have not heard from you by an agreed time. Bear in mind that there are no lifeguards on duty on any of the beaches in the Isles of Scilly. If you want to meet the local wild swimmers, you may be able to reach them on the Facebook group Scilly Sea Swimmers.
Longer forays out of the coves and bays are indeed possible, but a knowledge of how to interpret weather forecasts, suitable equipment, as well as a realistic assessment of your personal abilities is essential if you are going to head along the coast or inter-island. If you want to get the most of wild swimming during your visit to Scilly, we recommend you employ the help of Adventure Scilly. You can join one of their tours which include a varied itinerary of swimming and other activities, including yoga, and they can also provide a range of accommodation. In addition, they can provide a bespoke experience so get in touch with them.
For the ultimate Isles of Scilly wild swimming experience, you should consider Adventure Scilly's Scilly Swim Challenge. Hosting the event in several formats, they organise these swim events which swim between all the inhabited islands. They are incredibly popular events that sell out within hours, so if you are interested get over to their website now and register your interest.
The ultimate Scilly swim challenge is swimming from Cornwall to the Isles of Scilly. Beth French was first person to achieve this remarkable feat in 2014. She finished the swim in less than eighteen hours. With approximately 28 miles to be covered (before you add in the effects of tide) and much more complicated tides, this feat is significantly more challenging than swimming the English Channel. The challenge was not completed by a man until 2019, when Cornishman, Mark Richards, made the crossing in less than twenty hours.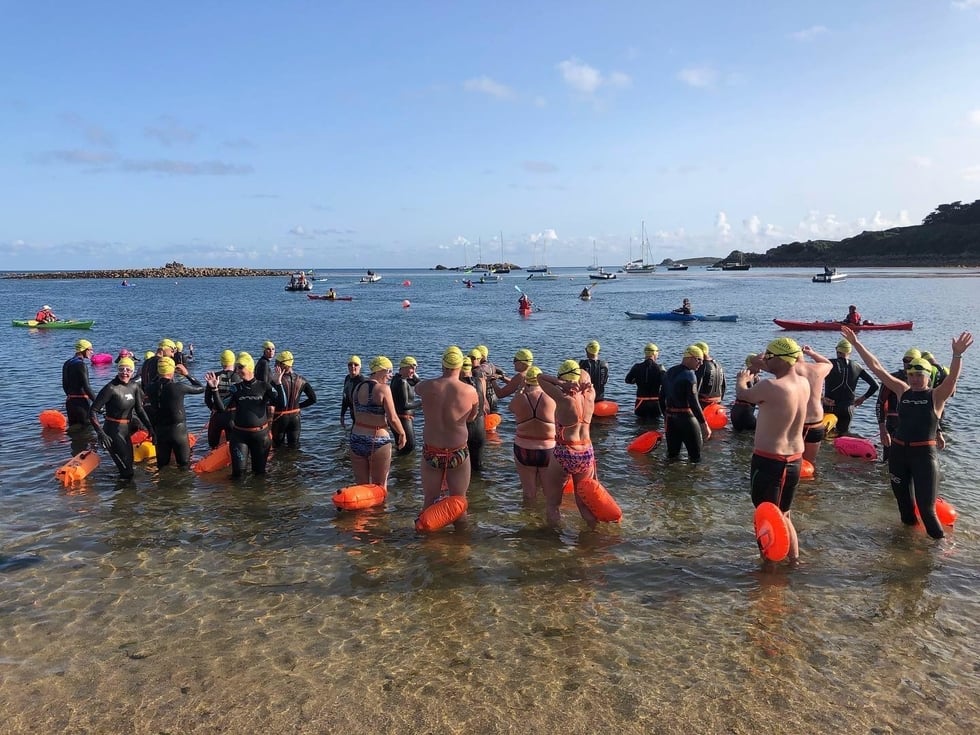 Kayaking and SUP on the Isles of Scilly
Kayaking has been perennially popular on the Isles of Scilly. Wild swimming has its limitations in the amount of distance that can be covered, and coasteering even more so. Kayaks are perfect for exploring the coastline of these islands. Appropriately equipped and experienced kayakers regularly make lengthy voyages out to even the Western Rocks or the Eastern Isles on calm summer days. Several people annually make the crossing from mainland Cornwall, which reputedly takes 6 to 7 hours in normal conditions. With advance warning, the Scillonian can transport kayaking equipment so contact Isles of Scilly travel to find out more.
Sit-on-top kayaks can be rented from various outlets, with each of the five inhabited islands of the Isles of Scilly having somewhere where kayaks can be rented, such as St. Agnes Watersports.
Kite-Surfing on Scilly
With plenty of coastline, long sandy beaches, and stretches of water between islands sheltered from the open ocean, the Isles of Scilly is a hot spot for kite-surfing. In fact, kite-surfing world champion Steph Bridge ranks Scilly in the top five kite-surfing destinations in the UK. With its crystal-clear waters and endless array of stunning beaches, kite-surfing must be an incredible way to explore these islands for those who can. St. Martin's Flats and Tresco's Pentle Bay are the choice spots.
At the time of writing, there are no kite schools on the islands, so this sport is only an option for experienced kite-surfers who bring their own equipment. However, if you are thinking of heading to Scilly for some kiting, it turns out that local lifeboat cox, Pete Hicks, is a keen kite-surfer. Seek him out to get expert local knowledge. Given the islands' remoteness, and the lack of any lifeguard cover, only competent, self-sufficient kiters should head to the islands. For anyone interested in learning wind-powered waters sports, the Sailing Centre on St. Mary's offers instruction in windsurfing and sailing.
Surfing on the Isles of Scilly
With its position in the open ocean and coastline facing all directions, one would assume that the Isles of Scilly were a magnet for surfers. With countless beaches and reefs able to take advantage of every possible swell and wind direction, why is this not the case? The simple fact is, the islands are not known for surf at all. There are no reliable surf breaks on any of the islands. This must just be due to a misfortune in the geomorphology of the sea bed around the islands. Whatever the swell conditions, no rideable waves are reported to occur on the islands. There is one exception: a near-mythical reef north off Tresco, called Golden Ball reef. Inconsistent, and requiring a paddle of c. 800m, suffice to say only a handful have ever surfed it.
Supposing it was different and Scilly was chock-full of quality breaks on all of its islands, I think it's safe to say the entire archipelago would have a very different character. Rather than a peaceful getaway to enjoy isolation and tranquillity, it would be a busy surf resort, full of bars and nightclubs and crawling with people. It's not my place to suggest whether that would be better or worse, but it certainly would be very different!
Rock Climbing on Scilly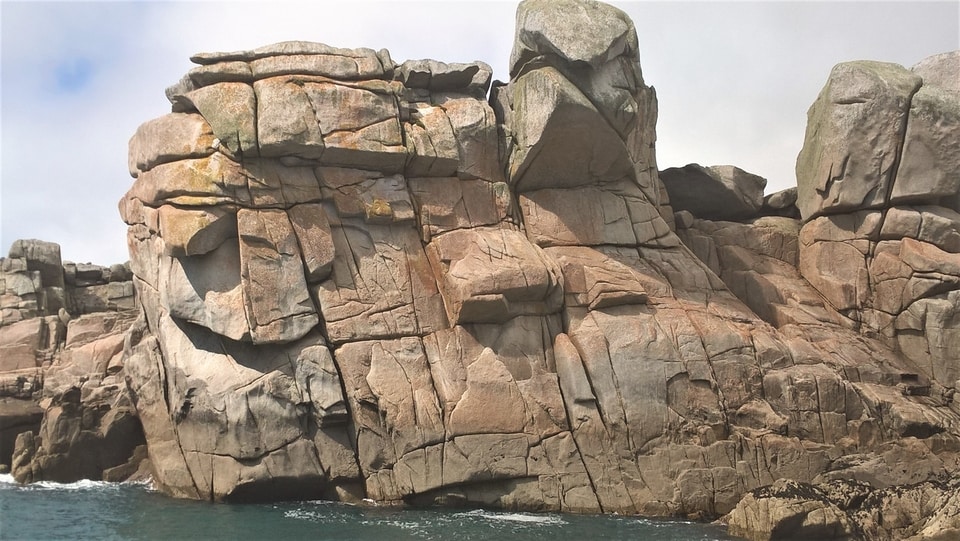 With its limited development of crags and cliffs, the Isles of Scilly will never become a major destination that draws climbers from far and wide. However, there is a worthwhile amount of great quality rock climbing to be done. With a number of established routes, as well as plenty of unclimbed (or unrecorded) stuff to go at, any climbers who make the effort to venture to climb on Scilly's rock will be rewarded.
Rock climbing was well-established on the UK mainland by the early part of the 20th century, with numerous classic routes being established at this time up and down the mountains and sea cliffs of the UK. It is therefore somewhat surprising that the first recorded routes climbed on the Isles of Scilly were not climbed until 1977, by J Bassett and D Bassett. It is possible that routes were climbed before and not recorded. It is equally probable, however, that with no resident climbers on the island, the plentiful unclimbed rock on Scilly had escaped attention until this time.
It seems that for the remainder of the twentieth century, the development of rock climbing on the Isles of Scilly can be attributed to a mere handful of visits by holidaying climbers. Most notable were two visits on subsequent years by southwest pioneers Andy Grieve and Sean Hawkin. This strong partnership, who had established numerous hard routes in the West Country, established a smattering of quality, hard routes. Island Life, E3 6a, with its stupendous roof crack, and Rock Hard Peninnis, E4 6b (and Scilly's hardest recorded route), still have no known repeats.
The early 2000s saw activity from a new resident to the islands. Murray Hodgson, with a handful of visiting activists, developed various climbs from Peninnis Head, on the southern tip of St. Mary's, around as far as Deep Point, St. Mary's easternmost point. The climbers chose not to publicise their efforts, so there is uncertainty as to what lines have been climbed and what rock remains untouched. More recently, various members of Kernow Coasteering's Isles of Scilly battalion, led by Matt George have established some new routes from Peninnis Head to the Giant's Castle and beyond. They also documented ascents of other routes which must certainly have been done before, such as at Carn Leh, a diminutive crag near Old Town, perfect for beginners. We hope to develop more routes when time allows over the next few years. A couple of particularly devilish off-width cracks have been noted by the committee...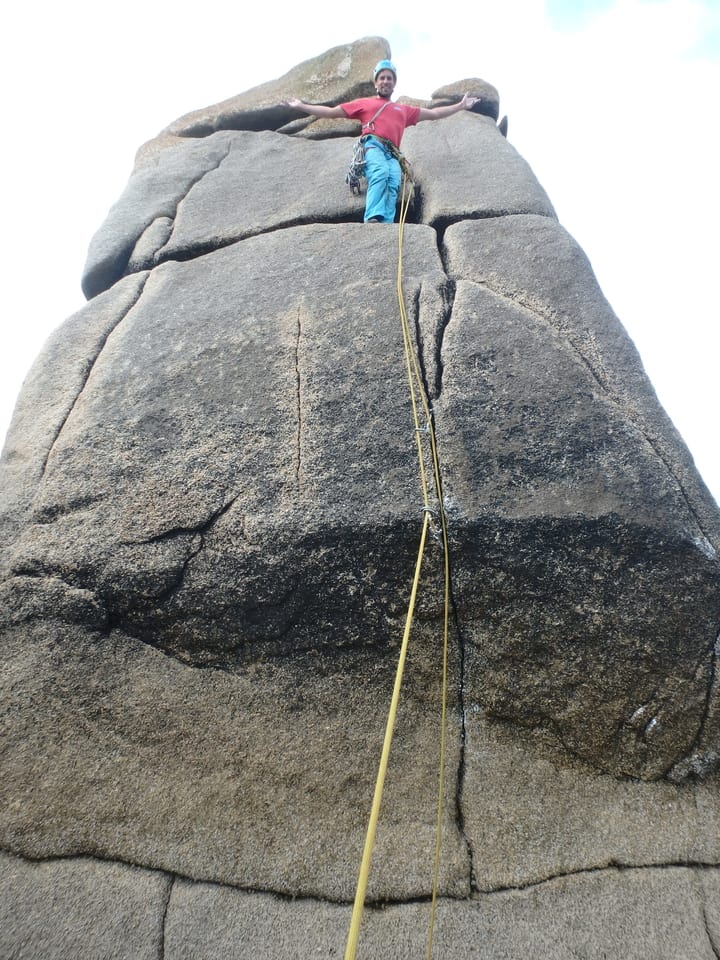 Leaving St. Mary's, the diminutive nature of the craglets of the off-islands has left little potential in the way of roped climbing. A small crag is home to some routes at the eastern end of St. Martin's, near Mullet Pool.
Bouldering on Scilly
Boulderers and traditional rock climbers often don't mix, so we've included a separate section for these two churches of the same sport. In bouldering the focus is on short, difficult problems. Due to the diminutive nature of the problems usually climbed, ropes are not used. For protection, boulders will often use special foams pads, or mats, which they can fall on if they fail to complete, or 'send' a problem. Without the added complications of placing protection 'on lead', route-finding or any of the other factors that come into play with climbing longer routes, bouldering focuses on simplicity and the emphasis is often on pure difficulty. Problems that are larger in scope, and indeed almost route length, are termed high-ball.
With plenty of granite, but a comparative lack of well-developed crags for rock climbing, that leaves plenty of scope for bouldering. Boulderers tend to be even worse at recording their exploits than rock climbers, but there is no shortage of problems to attempt. So, if you're a boulderer, it's well worth chucking a couple of pads on the Scillonian. There's plenty to go at on St. Mary's, and there's good reason to take your pads island hopping too, with recorded bouldering at various locations on St. Agnes and St. Martin's. With no guidebook available, have a look on ukclimbing.com to point you in the right direction.
In a similar manner to the rock climbing of the Isles of Scilly, there are some truly quality problems to be found, but no rich concentrations of problems to draw hordes of climbers here. The result is an undiscovered world of bouldering at your disposal if you have the time and motivation to go and find it.
A guide to the various adventurous activities available on Scilly. The Isles of Scilly have no shortage of activities on offer to get the adrenalin flowing. These range from guided activities with various providers, to pursuits for experienced, independent adventurers. Naturally, this archipelago offers a range of water-based pastimes, but there are also excitement for any land-lubbers out there, assuming they survived the crossing on the Scillonian...