Advanced Rock Climbing Cornwall
"Great teacher, fantastic day, only regret is not squeezing another days climbing in before leaving Cornwall!"
Our advanced climbing course is perfect If you have quite a bit of experience already; you climb outdoors or indoors regularly and you are confident at belaying. Cornwall's vast choice of climbs in all grades and styles, ensures we can tailor a course to best suit your needs. Get in touch and tell us about your level of experience and what you want to learn or improve at.

You might want to learn how to lead climb, including the necessary skills or placing gear and building 'bombproof' anchors. You may simply want to focus on climbing harder routes and pushing your grade. Or you can never know too much rope work, whether it's to be more efficient at the belay, or maybe learning some essential problem solving and rescue techniques that every climber should know.
As well as mastering the technical skills required to lead your chosen climbs, there are plenty of other elements to lead climbing that we can help you work. This includes managing the 'head game' and developing the judgement to know when to climb, or occasionally when to back off.

In addition to all this, we'll make sure you have a solid foundation in the nuts and bolts of climbing. This includes how to place good, trustworthy protection, rope management, and very importantly how to build bomb-proof belays and how to safely bring up your second climber.
Learn to Lead
If you have experience seconding a lead climber, then it may be time to try the real thing. Our instructor will double-check that you have all the skills you need to embark safely on your first lead climb, including placing protection as you go, and building an anchor at the top so you can safely bring your partner up the route behind you.
Depending on where you're at the next stage may be a simulated lead, where you are still protected by a top rope, or the real thing, with our instructor close by to give guidance and ensure you are safe. Leading your first climb is a huge milestone for any aspiring climber, and is an experience you will never forget. Our instructors are here to guide you safely through every step of the process so you can learn to lead with confidence.
---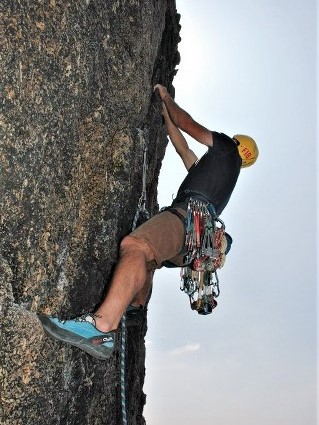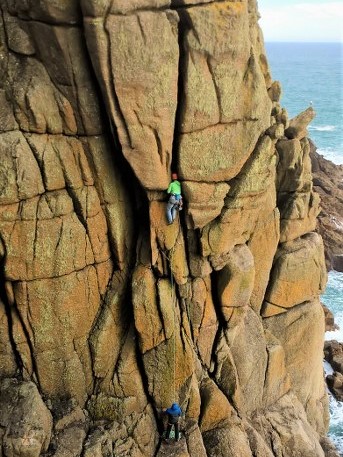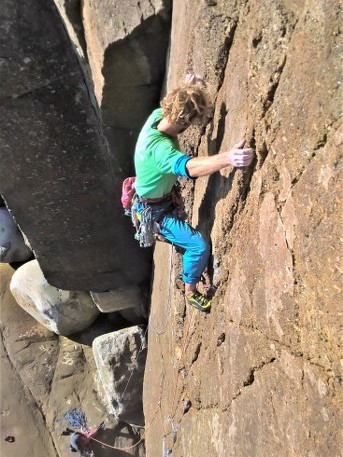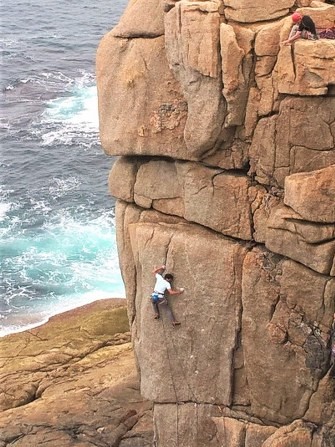 Climber Harder
Maybe you simply want to climb harder routes? Cornwall has plenty of great rock climbs, at all levels of difficulty, to choose from. We can help you to find some routes that will challenge you, no matter what level of climber you are. We can look at improving your technique to help you succeed on harder climbs.
The crags we use in Cornwall all have a wide selection of grades and styles, so wherever you are at ,we can home-in and work on increasing your skill. You can second your instructor, or we can set up ropes on hard climbs and really work on specific grades or styles of climbing you want to improve on.
Here at Kernow Coasteering, we have a particular fondness for crack climbing, so if you're up for the challenge, we're more than happy to get you jamming and chicken-winging in those gnarly Cornish cracks!

ADVANCED ROCK CLIMBING
£180 per day
(1 or 2 people, full day)
---
Knowing the Ropes
If you're confident with your climbing skills, but need to know more about rope work, how to climb safely, and how to get yourself out of tricky situations, we're here to help. Learn advanced rope techniques, knots and anchor building systems to make your climbing simpler and safer.
You can also learn more about how to place protection quickly and safely, and even techniques on how to deal with complex problems, such as helping a stuck or injured climber. You can learn all the skills climbing Cornwall's cliffs to enable you to climb safely anywhere in the world.
Advanced rock climbing programmes are on a maximum of 2:1 client to instructor ratio. Previous rock climbing experience is required. If you do not have enough experience, contact us to talk about doing a different course, or maybe a package over several days - we'll take you as far as we can.
As a regular climber, hopefully, you have your own shoes, harness, and helmet that you are comfortable using, but don't worry if you don't, as we can provide everything you need. Advanced climbing courses last a full day..
ADVANCED ROCK CLIMBING COURSES
Instructor:Client ratio 1:1 or 1:2

The minimum age for these courses is 12, but note that under 18s must be accompanired by their parent or legal guardian.
---