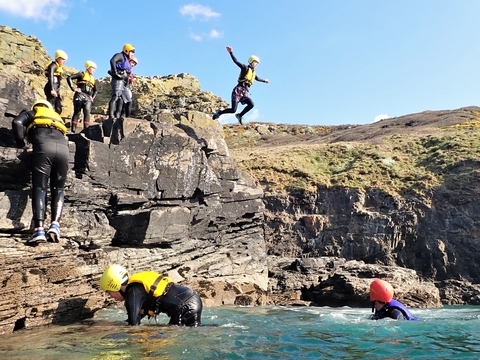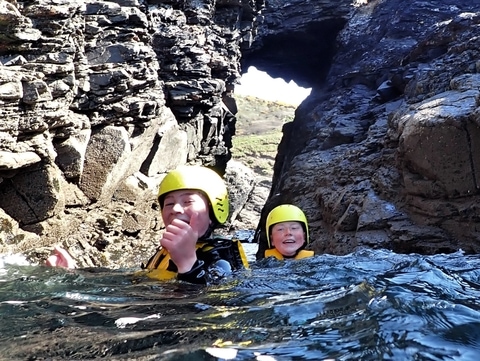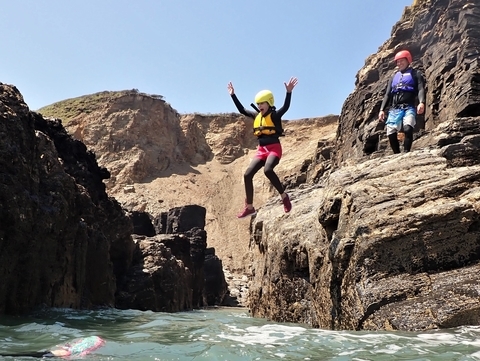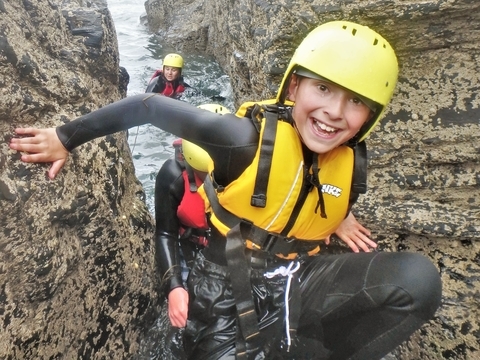 ---
Beginner Coasteering in Cornwall
In our aim to make coasteering in Cornwall accessible for all, we have introduced our Beginner Coasteering in Cornwall experience. These are available at peak times and are run at our most-frequently used spot for coasteering, Praa Sands in west Cornwall. Beginner sessions are run at low tide and consist of approximately two hours in the water. These sessions are perfect for anyone who wants to experience coasteering, but at a more relaxed pace, slightly less physically demanding and not featuring our largest jumps. This experience is also perfect for young children and families.
Coasteering at Praa Sands
We have been coasteering at Praa Sands since 2014 and have an unmatched knowledge and experience of this route. You can read about why we like it so much in this blog post. Praa Sands offers a coasteering route with stunning scenery and incredible variety, making it perfectly adaptable to run our beginners' coasteering sessions.

Praa Sands has all of the ingredients required to make a perfect coasteering route. It's a breath-taking slice of the Cornish coastline and its packed full of interesting features, including numerous gullies, caves, and sea arches to explore and swim through. The route is also immediately adjacent to one of west Cornwall's longest sandy beaches and offers all the facilities you could ask for, including ample parking, restaurants and beach shops.

Even though our standard coasteering sessions are open to all abilities and require no previous experience, if you're going coasteering for the first time, there may be various reasons you may want to consider a beginner coasteering session.
"Great session, will definitely book again. Matt and Lee were great hosts, the kids felt safe and had loads of fun - what more do you want?!"
---
Coasteering with No Pressure
We hear from a lot of people who are concerned that they'll feel pressure when coasteering with a group, either to do jumps, or to generally be expected to be as adventurous as possible. Whilst our coasteering guides will never pressure you to do anything you don't want to do; you may prefer to join a group of like-minded individuals looking for a leisurely coasteering experience with no perceived pressure to do anything you don't want to.
At Kernow Coasteering, we're very experienced at managing groups with very differing levels of abilities and ambitions, and we make sure that everyone is challenged to the level that they are looking for. Despite this, if you think you'd be more comfortable in a group who are all looking for something a bit slower paced and less adrenalin-filled, maybe a Beginners' Coasteering experience is the one for you.
BEGINNER COASTEERING IN CORNWALL
£45 per person
(approx. 3 hours)
To Jump or Not to Jump?
Firstly, there's the jumps. Jumping is not a requirement on any of our coasteering trips. However, if you don't think jumps are your thing and definitely aren't looking for the big ones, this may be the trip for you. With less emphasis on jumping, and no jumps greater than 5 metres in height, you can relax knowing that you're with a group who aren't looking to set any new high-diving records either.

Our beginner's coasteering sessions still feature a large number of small to medium jumps. You can simply pick and choose the ones you want to do, or you can avoid them altogether!
Coasteering and Swimming
As a water-based activity, swimming is definitely an integral part of coasteering. If you want to try coasteering but you think that your swimming ability might not be quite up to doing a more challenging trip, then our beginner's session has got you covered. Whilst there is no avoiding swimming altogether, as we carry these sessions out at low tide, there is more exposed rock to walk on and less obligatory swimming required to get around the route.
Almost everyone who goes coasteering is surprised about how tiring the swimming element is. If your group feel that their swimming ability is not the best, we would recommend that you consider a Beginners' Coasteering session.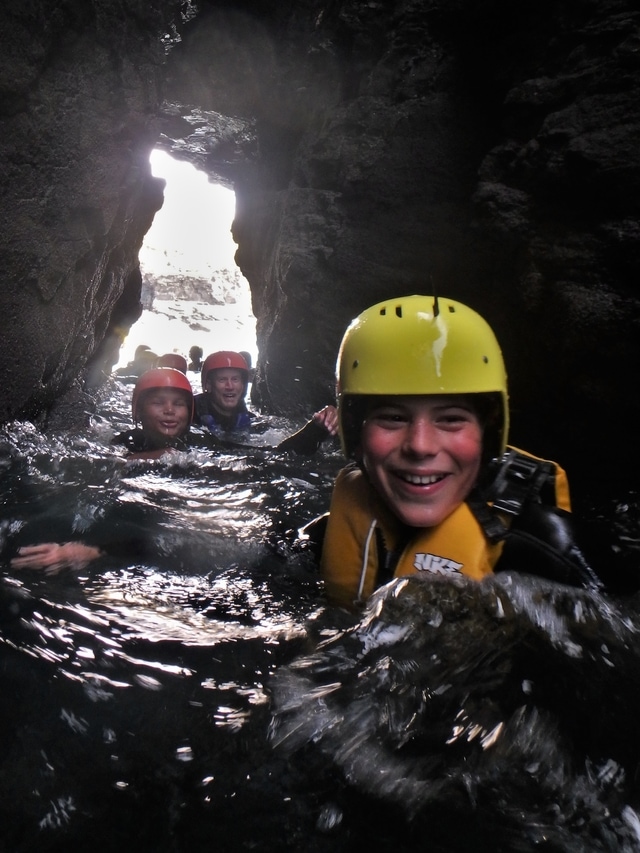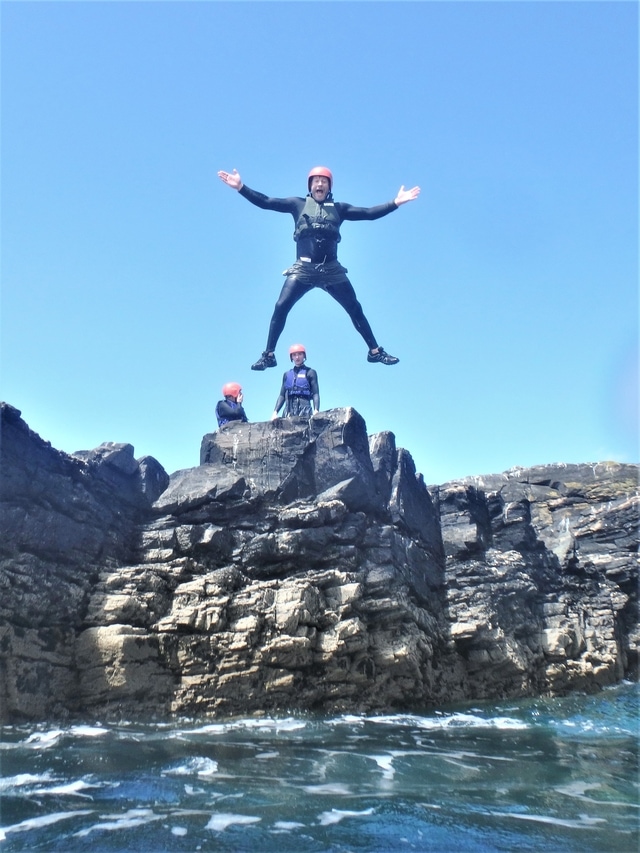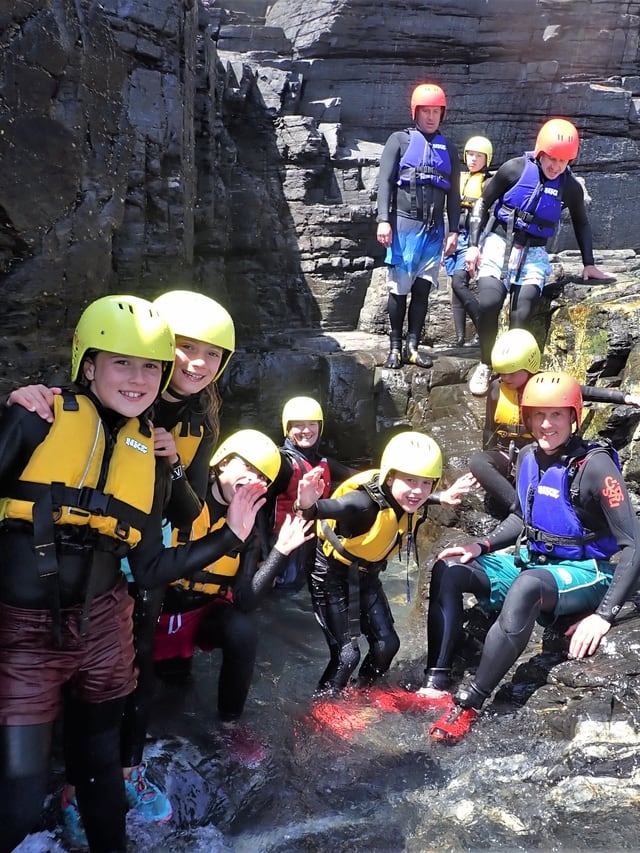 What if I'm Unfit?
There's no denying that coasteering is a bit of a workout, and after a couple of hours swimming and scrambling around the Cornish coast with us, you'll definitely be feeling it. You're already on to a winner with our beginners' coasteering sessions, as we're already reducing the amount of swimming required. In addition, we'll be moving at a slower pace and not covering quite as much ground as our standard coasteering sessions. That's going to leave you with plenty in the tank afterwards to enjoy the rest of your day.
If you feel that you level of fitness might hold you back, consider joining a beginner group. You can still enjoy all the exciting aspects of coasteering, without feeling you're having to break your neck to keep up with a faster-moving group. Coasteering is an adrenalin-filled adventure for some, but it's also a relaxed way to explore the coastline and enjoy being in the intertidal environment.
---
Coasteering for Children
At Kernow Coasteering, our minimum age for coasteering is 9-years-old. If you have very young children in your group (i.e., 9 or 10), you may decide that beginners' coasteering is the best option for your family. It is swimming through the sea, particularly when there is a little bit of swell, that young people find challenging. Note that children younger than 14 years of age must be accompanied by an adult to particpate in any of our coasteering adventures.

The jumps on this session will still be plenty big enough for the young'uns, and more importantly, we do find that the very young can struggle with the sea conditions on our Standard Coasteering Sessions. If you're unsure which option is best for you and your family, Contact us to have a chat to help you decide.
It is likely that your brave children will be adamant about doing the biggest jumps we can offer prior to the session. But, once coasteering begins, it can be a very different story. In most cases, our small and medium cliff jumps are plenty enough for younger coasteerers, and a beginners' session comes with the added bonus of less swimming required, and more options to swerve sections of rough water. All good news for keeping everyone in the family happy during your coasteering experience.
---
What About Rough Seas?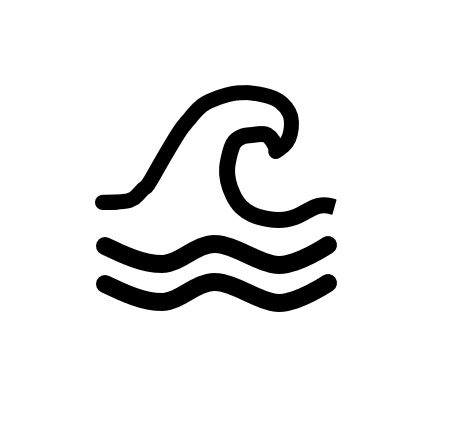 It's certainly true that sometimes we go coasteering in quite rough sea conditions. However, everything stated about our beginners' coasteering sessions still holds true. At low tide, there is more rock exposed, giving much more shelter from the swell, as well as much more opportunity to avoid rough sections of sea via ledges only exposed at low tide. Coasteering in rough seas can be a challenging experience for anyone not used to it and the chances of the Atlantic being bath-tub calm on any given day are slim. If you don't want to be battling the ocean swells and want to keep your coasteering on the calmer side, then you'll probably prefer a beginners' coasteering session.

If you have booked this experience with us and the sea conditions are forecast to be particularly rough, we may contact you to suggest an alternative day, with calmer sea conditions, to enjoy our coasteering on instead.
Low Tide Coasteering
Coasteering at low tide gives you a few bonuses that you can't get on our standard coasteering in Cornwall experiences. At low tide a whole world of nature is revealed, normally hidden when coasteering at high tide. The intertidal habitat is revealed in all its glory, and you can get up close and personal with the many plants and animals that live here.

This includes many incredibly colourful seaweeds, multi-coloured sponges and many others that occupy this turbulent ecosystem. Our knowledgeable guides can share their knowledge of these diverse species with you, from blue-rayed limpets to strawberry anemones. And, rest assured, that crawling through endless forests of kelp is not part of this experience.
We're confident that once you've competed one of our Beginner Coasteering in Cornwall sessions, you'll have a wonderful sense of achievement and that your appetite will be sufficiency whetted to try one of our more challenging coasteering sessions on your next visit to Cornwall.
Safe Coasteering with Experienced Guides
Kernow Coasteering are the longest running coasteering provider operating in west Cornwall. Our guides have unmatched experience in guiding coasteering in this part of Cornwall, so you can rest assured knowing that you are in the safest hands. Our guides will provide you with all the support and encouragement you need to get the most out of your coasteering experience, allowing you to have fun and enjoy experiencing the magical Cornish coastline, up close and personal.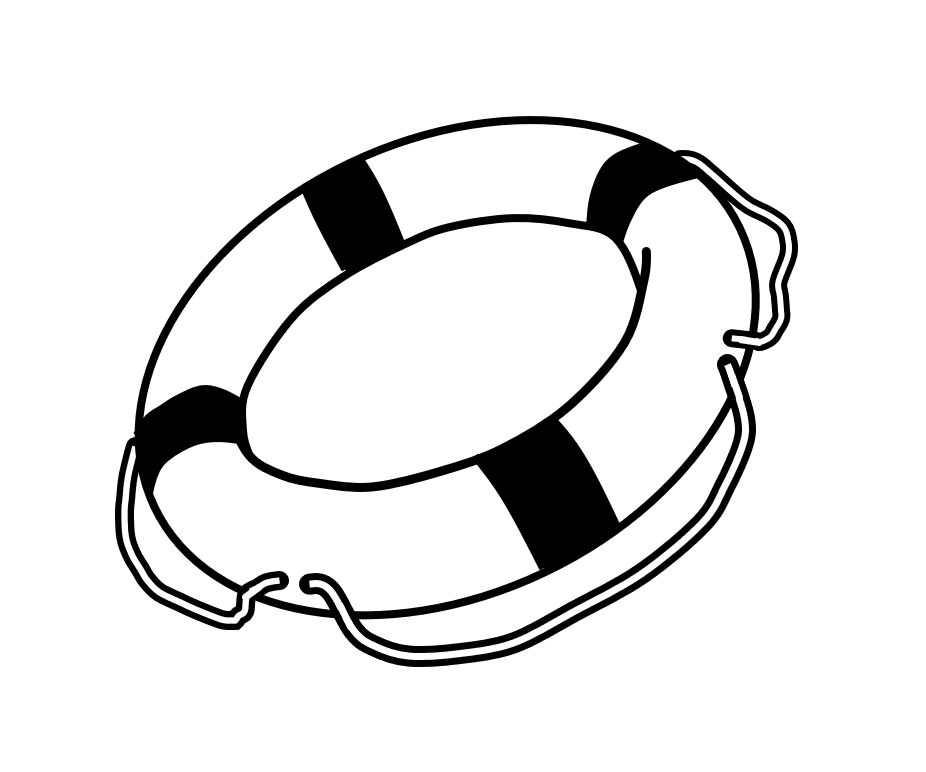 ---